The Umbrella Winter Market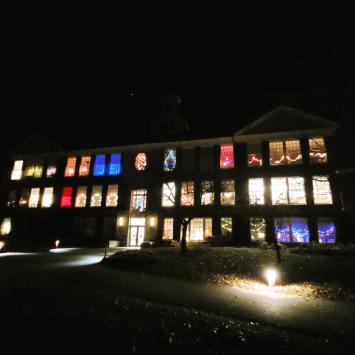 Friday, December 2, 1-5pm
Saturday, December 3, 10am-5pm
Sunday, December 4, 10am-5pm
The Umbrella's Winter Market is an annual three-day show and sale of artist, artisan, and hand-crafted work on all three floors of our beautifully renovated space in Concord, MA. It features dozens of Umbrella Studio Artists, regional Guest Artists, an annual "Off-the-Wall" show with small works under $300, Ceramics Program holiday sale, Arts Education info table, prizes drawing, and more.
Plus, view the "Lost and Found" Gallery Exhibition, an outdoor Lathe Demo with Palo Coleman, live music on Saturday and Sunday afternoons, refreshments in the cafe, and a sale of painted art doors from "Go Out Doors - Neighbors" public art installations.
Sunday, Dec. 4, Noon-3PM, enjoy our free Arts & Environment Drop-in Family Day in Room 222, creating holiday ornaments or decorations using natural materials including dried orange slices and cinnamon sticks with instructor Kathryn Bartholomew. 
This Year's Participating Umbrella Artists
Andy Newman - Paintings
Anne Denna - Paintings
Barbara Willis - Fiber Art and Weaving
Carole Parrish - Paintings
Cat Johnstone - Sculptures
Christiane Corcelle - Visual Artist
Craig Elliott - Drawings
Deb Richardson - Fine Jewelry
Denise Kracz - Paintings
Ilse Plume - Book Art and Monoprints
Jean Lightman - Paintings
Jill Goldman-Callahan - Paintings
Julia Miner - Paintings
Lesia Shaw - Paintings
Linda Bond - Mixed Media
Linda Grom - Paintings
Lois Andersen - Paintings
Lonnie Harvey - Monoprints
Louise Arnold - Paintings
Margaret Savage - Paintings
Max Payne - Mixed Media
Nancy Arkuss - Sculpture
Nancy Roberts - Photography
Paul Ruhlmann - Sculpture & Fine Furniture
Pierre Chiha - Photography
Sarah Paino - Paintings
Susan Ticknor - Paintings
Suzanne Hill - Ceramic Arts
Tina Forbes - Ceramic Arts
The Nature Connection - Therapeutic Nature Programs
Wayne Geehan - Books and Illustrations
Zachary Mickelson - Ceramics
Winter Market Guest Artists
Alice Rosa, Alice Rosa Botanical Art - Botanical Art
Ann Szerlip, Ann Szerlip Glass Designs - Handmade Glass Serving Pieces
Bija Satterle, Bija's Bees, Bija's Bags - Raw Honey & Handmade Bags
Chikako Mukai, Chikako Designs - Fiber and Clothing
Diane & Jeff Stangroom, Town Farm Design - Handcrafted Wooden Artisan Boxes & More
Hilary Taylor, Merlin's Silver Star - Handcrafted Jewelry & Sparkling Silver Ornaments
Jamie Palmer Keating, JPK Art - Alphabet and Animal Art for All Ages
Jennifer Reis, Better Than The Gift - Gift Wrap 
Joann and Jonathan Prescott-Roy, Intricate Geometries - Jewelry from Metallurgy & Mathematics
Julie Hagan, Turning Grace - Handmade Woodturned Gift Items
Julie Kohaya, Heavenly Cranes Jewelry - Japanese Paper Jewelry
Katherine Rudolph, Katherine Rudolph Jewelry - Contemporqaary Sterling & 18K Gold Jewelry
Marian Ives - Whimsical Metal Ornaments
Nancy Marland Wolinski, Nancy Marland Jewelry - Contemporary Silver & Polymer Jewelry
Peter Gudmand, Concord Revolutions - Woodturned Trees & Sail Bags
Peter Judge, Peter Judge Woodworker - Woodcrafted Furniture with Patinated Metals
Phil St. Germain, Saint Germain Crafts - Woodturned Crafts
Rebecca Welsh - Wearable Fabric 
Robert Bicknell, Robert Bicknell Photography - New England Photography
Sholeh Regna, Sholeh Regna Jewelry and Sculpture - Porcelain and Marbled Birch Jewelry & Ceramics
Susette Durso, Birds by Suzette, Bird Books & Giclée Prints
Suzanne Grey, Suzanne Grey Studio - Horse Sculptures from Found Materials
Theresa Kelly Ruhlmann, Kelly Fabric Creations - Handcrafted Placemats & Floorcloths
Special thanks to David Rosen for photos of Winter Market 2019 -- the first to be held in our new building!