Winter Market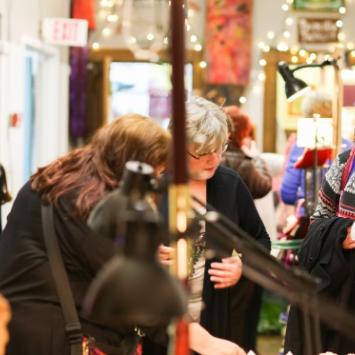 Join us for our 2018 Winter Market!

Friday November 30, 1:00PM - 6:00PM
Saturday December 1, 10:00AM - 5:00PM
Sunday December 2, 1:00PM - 5:00PM
Celebrate the holidays with The Umbrella! For one weekend a year, The Umbrella transforms into a bustling marketplace with work from over 50 local artists, a small works gallery exhibition, live music and baked goods.
The Umbrella's Studio Artists, faculty and students are joined by guest artists from throughout Greater Boston for this popular annual event. Meet the maker behind your gifts this season - you'll have a story to tell when you give the gift and you'll be supporting local artists for their work year round! 
The Umbrella's Ceramics Studio will be hosting a group sale of pottery and sculpture. Our community of faculty, students, and independent studio artists will be showing off a wide variety of artworks.
Off the Wall, our annual small works show, will be shown in the still transitioning gallery, opening November 30 through January 3 with works smaller than 14" x 14" and priced under $300, perfect for gifts and supporting local artists.
Musketaquid Arts & Environment will host ornament making with natural materials and an acorn raffle.
Haute Coffee will have beverages and treats for sale.
Mystic Quartet will perform at 1:00PM on Saturday December 1 and Second Wind at 1:00PM and Them City Ducks at 2:00PM on Sunday December 2.
Winter Market 2018 Guest Artists
Participating Umbrella Studio Artists