Winter Market 2021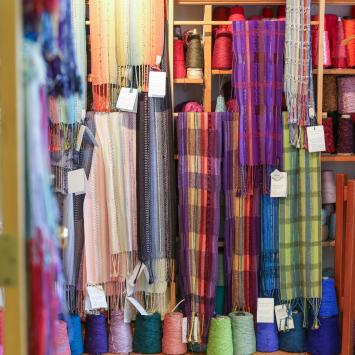 Save the Dates for our 2021 Winter Market!
Friday, December 3: 1-5
Saturday, December 4: 10-5
Sunday, December 5: 10-5
Featuring dozens of Umbrella Studio Artists, regional Guest Artists, annual "Off-the-Wall" show with small works under $300 (in-person and online), Ceramics Program holiday sale, "New Directions" gallery exhibition, live music, Arts Education info table, prizes drawing, and more.
(For health safety, food will NOT be available this year, but The Umbrella encourages attendees to patronize our many excellent local restaurants. Or better, stay afterward to enjoy dinner-and-a-show from The Umbrella's local hospitality partners and The Umbrella Stage Company, presenting the family friendly, epic musical adventure, The Old Man and the Old Moon.)
Volunteer to help out at the event! Sign up here: Winter Market 2021
KNOW BEFORE YOU GO: For admission into the event, all attendees (of all ages) MUST provide proof of full vaccination by showing an original vaccination card, a photo of the card, a digital vaccine record, or proof of current negative test. Anyone exempt from/ineligible to receive the vaccine or unable to verify vaccination status must present proof of a negative PCR COVID-19 test result taken within 72 hours of the time of entry; a rapid test administered by a healthcare professional within 24 hours of the time of entry; a photograph of self-administered at-home test showing proof of date and time, or an official school email showing proof of current negative pool-testing may be provided. Rapid COVID tests are NOT available at the theater. Regardless of vaccine status, ALL patrons must wear a properly fitted CDC-approved face mask inside the building. The Umbrella will operate at limited capacity with distanced seating and upgraded MERV-13 HVAC filters. We reserve the right to reseat patrons as needed in accordance with our COVID protocols. All tickets will be held at the box office to ensure the safest, most accurate experience for all patrons. These policies are in effect as of November 17, 2021 and are subject to change.
The Umbrella's full Covid safety guidelines can be found here.
Participating Umbrella Artists
Andy Newman - Paintings
Anne Denna - Paintings
Barbara Willis - Fiber Art and Weaving
Carol Krauss - Photography and Mixed Media
Cat Johnstone
Craig Elliott - Drawings
Deb Loverd - Paintings and Prints
Deb Richardson - Fine Jewelry
Denise Kracz - Paintings
Gaby Chiha - Photography
Hillary Kane - Ceramics
Ilse Plume - Book Art and Monoprints
James McGregor - Drawings, Paintings, and Books
Jean Lightman - Paintings
Jill Goldman-Callahan
Kim Blodgett - Mixed Media
Linda Bond - Mixed Media
Linda Grom - Paintings
Lonnie Harvey - Monoprints
Louise Arnold - Paintings
Margaret Savage - Paintings
Max Payne - Mixed Media
Nancy Arkuss - Sculpture
Nancy Roberts - Photography
Paul Ruhlmann - Woodworking
Pierre Chiha - Photography
Sarah Paino - Paintings
Sing Hanson - Photographer
Susanne Meterko - Paintings
The Nature Connection - Therapeutic Nature Programs
Wayne Geehan - Books and Illustrations
Zachary Mickelson - Ceramics
Winter Market 2021 Guest Artists
Ann Szerlip, Ann Szerlip Glass Designs - Fused Glass Beads and Functional Wares
Chikako Mukai, Chikako Designs - Fiber and Clothing
Hilary Taylor, Merlin's Silver Star - Jewelry
Jeff and Diane Stangroom, Town Farm Designs - Wooden Keepsake Boxes 
Julie Hagan, Turning Grace - Wood Turned Gifts
Julie Kohaya, Heavenly Cranes Jewelry - Japanese Paper Jewelry
Kim Collins, Artful Beadworks - Beadwork
Marian Ives - Whimsical Metal Ornaments
Nancy Marland, Nancy Marland Jewelry - Playful Contemporary Jewelry
Peter Gudmand, Concord Revolutions - Woodturned Trees and Treasures
Phil St. Germain, Saint Germain Crafts - Woodturned Crafts
Robert Bicknell - Photography, Prints, and Notecards
Sarah Caruso, Sarah Caruso Ceramics - Ceramics
Susan Bryant Caron, Susan Bryant Caron Handcrafted Jewelry - Silver Jewelry
Terry Kelly Ruhlmann, Kelly Fabric Creations - Fabric Floorcloths 
Tinka Pritchett, Tinka Designs - Felt Wearables
Special thanks to David Rosen for photos of Winter Market 2019 -- the first to be held in our new building!