Winter Market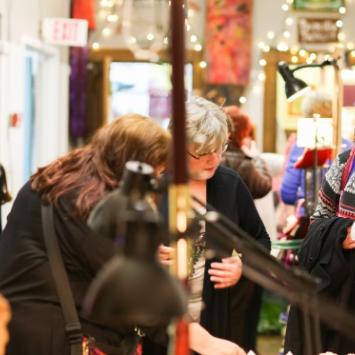 Save the Date for our 2019 Winter Market!

Friday December 6 - Sunday December 8 2019
Celebrate the holidays with The Umbrella! For one weekend a year, The Umbrella transforms into a bustling marketplace with work from over 50 local artists, a small works gallery exhibition, live music and baked goods. Schedule details, partcipating vendors, food, and performances to be announced. To get an idea of what kind of vendors to expect, check out our list of participating vendors from last year!
Call for Vendors
The Umbrella's Winter Market is an annual three-day juried show and sale of artist, artisan and hand crafted work in Concord, MA.  This sale has a dedicated following built over three decades.
This year, Winter Market will take place Friday December 6 - Sunday December 8 2019.  In addition to the juried vendors and resident artists, The Umbrella will be filled with a flurry of activities as part of our grand opening year of our new facility. The show fee for the three days is $180. This fee directly supports our marketing and promotional costs for the event.
If you are interested in applying, please send the following in an email along with at least 4 JPEGs of work you wish to show at Winter Market to Jess Muise
jess@theumbrellaarts.org
.  Please submit images of current work you wish to sell at the sale. 
Name:
Business/Studio Name (if different): 
Address:
Phone: 
Website:
Social Media handles/links:
Short Bio and Description of your work (or link to this content online:
Applications are due by 11:59PM on Monday, July 22.  We will notify you of our decision by July 31.  If you are accepted as a vendor, the $180 show fee will be due by September 1.
For more information, contact:
Jess Muise, Visual Arts Manager