Sarah Chapman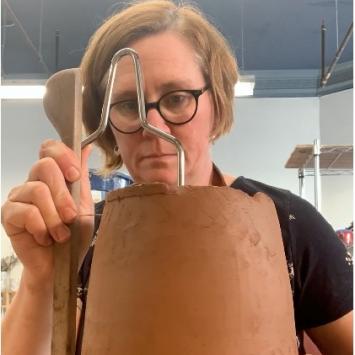 Sarah Chapman has been a studio potter based out of Mudflat Pottery School in Somerville, MA for the last decade. She lives in West Concord Massachusetts with her husband, teenage children, and rescue dog, Kofi. Sarah has lived and worked in the greater Boston area for over 20 years.
Sarah began her art-making early in childhood. Having moved to Cape Cod at the age of 4, Sarah spent all of her summers first attending classes and later working in the clay studio at the Truro Center for the Arts at Castle Hill. Sarah's artistic endeavors have included Pottery, Printmaking, Photography, and Graphic Design. She also has experience in metalworking from jewelry making to welding. She studied fine arts at Cabrillo College in California, The School of the Museum of Fine Arts in Boston, and Mudflat Studios for over 15 years. It was at Mudflat Studio where she took part in their  1-year technical education program for hands-on ceramic technical skill building for clays, glazes, kilns, and firings.
In 2009 she re-discovered the art coil building and has been using this technique combined with other hand-building techniques in all of their work. Sarah combines the ancient technique of coil building with a modern artistic aesthetic. Her surface techniques incorporate printmaking techniques such as monoprint, etching, and screenprinting as well as sgraffito and painting.
Sarah comes to The Umbrella Arts Center as a new teacher eager to teach coil building, hand-building, and surface design to all those interested in expanding their clay vocabulary.  Sarah shows and sells her clay work at the Mudflat Gallery in Somerville, Tanuki Gallery in Brewster MA, and on her online shop at Sarah Chapman Ceramics.