Artist-in-Residence
About The Artist-in-Residence Program
The Umbrella's Artist-in-Residence program offers a year long residency in a vibrant multidisciplinary art center with 50 artist studios, an independent ceramics classroom, makerspace, performance and gallery spaces in historic Concord, Massachusetts. Our Artists-in-Residence create new bodies of work for exhibition at the culmination of their residency and engage the greater Concord community in their practice throughout the year. Applicants must be within the first five years of finishing a BFA , MFA or equivalent training program. 
2022-2023 Artist-in-Residence: Ponnapa Prakkamakul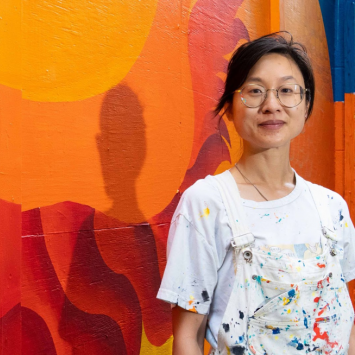 Artist Talk with Ponnapa Prakkamakul on Tuesday, November 15, 4-5pm
Ponnapa is a Thai visual artist and landscape architect based in Massachusetts. Her body of work overlaps between fine art and landscape design focusing on the relationship between humans and the surrounding environment. She uses the painting process as a tool to experience and form connections with landscape in order to gain a better understanding of cultural displacement and a sense of place as an immigrant.
Ponnapa holds a Master's degree in Landscape Architecture with honors from the Rhode Island School of Design where she received Lowthorpe Fellowship Award upon graduation. Her work has been featured in the Boston Globe, the Boston Herald, and the Provincetown Banner.
Ponnapa currently is a member at Kingston Gallery and a registered landscape architect at the interdisciplinary design firm, Sasaki.
To learn more about Ponnapa, visit her Artist page here!
2022 Ceramic Artist-in-Residence: Katie Bosley Sabin 
Join us for Katie's Artist talk February 3, 2023 4PM
The Umbrella's first ever Ceramics Artist in Residence, Katie Bosley Sabin, is a talented ceramicist and teaching artist who earned her MFA in Ceramics from the University of Nebraska, Lincoln and has previously been a resident at the Archie Bray in Helena, MT, Mudflat Studios in Boston, MA, and Northern Clay Center in Minneapolis, MN. Lee works in many mediums such as ceramics, painting, sculpture, textiles, and many more. Her art practice has served has a mechanism to navigate her place in the world as a first-generation immigrant. These experiences inform Sally on how to create conceptual work through historical, political and cultural contexts. Like her cultural identity, Lee's combined aesthetic between Eastern and Western styles and philosophies are a part of her artistic fingerprint.
To learn more about Katie, visit her Artist & Instructor page here!