Artist-in-Residence
About The Artist-in-Residence Program
The Umbrella's Artist-in-Residence program offers a year long residency in a vibrant multidisciplinary art center with 50 artist studios, an independent ceramics classroom, makerspace, performance and gallery spaces in historic Concord, Massachusetts. Our Artists-in-Residence create new bodies of work for exhibition at the culmination of their residency and engage the greater Concord community in their practice throughout the year. Applicants must be within the first five years of finishing a BFA , MFA or equivalent training program. 
Fall 2023 Artist-in-Residence: Jasmine Chen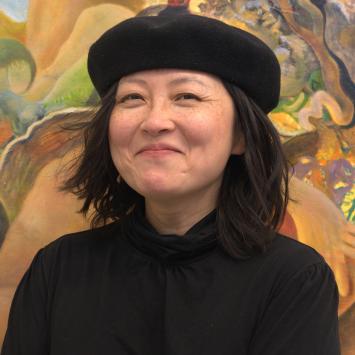 Jasmine Chen is a visual artist originally from Beijing, China, and is currently based in Boston. Her work is in the permanent collection of the Danforth Art Museum and has been exhibited there and at Matter and Light Fine Art, the Jackson Homestead Museum, and elsewhere. It was also featured in a solo exhibit at the New Art Center. She has a B.A. from Harvard and PhD from Brandeis and studied art independently.
In her residency, Chen plans to make a set of six 30" x 40" oil paintings. She also plans to make a video incorporating the environment around the studio as well as personal explorations in search of her identity as a bi-culture diasporic artist. She plans to write with a typewriter, and the paintings and writings will become source material for the video.
To learn more about Jasmine, visit her Artist page here!
Artist Talk: Re-remembering of Things Past
October 19, 2023 at 4pm
Umbrella Artist-in-Residence Jasmine Chen discusses her past work and her project of six paintings inspired by her residency at The Umbrella, in an artist talk in the Black Box Theater