2021/2022 Annual Report: Who We Are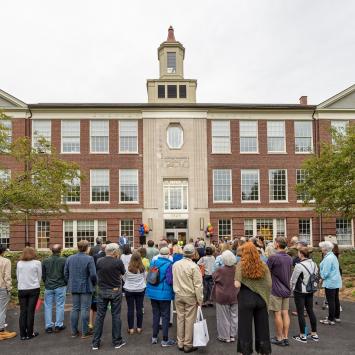 With sincere appreciation, we thank The Umbrella's volunteer leadership, many of whom have guided and supported our arts center for a long time. We are grateful for your gifts, time, talent, and all that you do to champion The Umbrella's mission.
2021/2022 BOARD OF DIRECTORS
Deborah Yamin, Chair
Ellen McHale, Vice Chair
Frank Hill, Treasurer
Cathy Folts, Clerk
Elizabeth Cochary Gross, Capital Campaign Chair
Gail Burr | Casey Carlson | Pierre Chiha | Tete Cobblah | Kevin Foley | Michael Goodwin | Robert Le Roy | Andy Newman | Kate Reid | Debra Rutter | Jennifer C. Schünemann | Nancy Traversy | Tony Williams
2021/2022 ADVISORY COUNCIL
Jeff Adams | Amy Barrett | Walter Birge | Jill Block | Jen Brock | Andrea Brox | Kim Burns | Alicia Cleary | Rick Cleary | Di Clymer | Gayle Colman | Anne Denna | Dave Douglas | Tracie Dunn | Bernadette Feeney | Leah Flanigan | Ellen Gaies | Natalie Gardner | Sue Gladstone | Andrew Goldstein | Lucy Goldstein | Sing Hanson | Ed and Jennifer Hurley-Wales | Mary Johnson | Karen Jourdenais | Claire King | Melissa Koester | Carol Krauss | Betsy Levinson | Susanne Liebich | Jean Lightman | Bar Littlefield | Bart Littlefield | Peter Lovis | Halley McIlwain | Sven Olson | Max Payne | Seema Peterson | Barbara Powell | Laura Reynolds | Mathias Rosenfeld | Chris Saia | Dan Schrager | Melinda Shumway | Sergio Siani | Mally Skok | Priscilla Sturges | Hilary Taylor | Valerie Thayer | Charity Tremblay | Bill Turville | Jay Vogt | Jim Willis | Carol Wilson | Lissa Winstanley | Elise Woodward | Linda Ziemba
2021/2022 UMBRELLA TEAM
The Umbrella staff are leaders and professionals in the fields of visual and performing art forms, educational programming, the environment, and community outreach. The team shares a commitment to enriching lives and building a vibrant and inclusive community through the arts.
Jerry Wedge, Executive Director
Brian Boruta, Director of Performing Arts
Rebecca Campbell, Education Program Manager
Nick Castellano, Development Associate
Katie Cimet, Assistant Director of Development
Kyle Clifford, Arts & Environment Program Coordinator
Megan Connor, Major Gifts Officer
Melissa Greven, Office Administrator
Stewart Ikeda, Director of Marketing & Strategic Communications
Madeline Miller, Director of Arts & Environment
Chris Mekal, Chief Financial Officer
Zachary Mickelson, Ceramics Program Manager
Wendy Page, Finance Director
Cathie Regan, Performing Arts Program Assistant
Jason Springer, Director of Education
Eileen Williston, Deputy Director, Director of Development
2021/2022 STUDIO ARTISTS
The Umbrella is home to more than 50 working artists skilled in a variety of fine and applied arts including ceramics, glass, fiber arts, jewelry making, illustration, mixed-media, painting, photography, printmaking, illustration, sculpture, woodworking, writing and more. Since the organization's founding, artists have been at the heart of making this facility a community asset and wellspring of creative activity. Learn more here.
2021/2022 VOLUNTEERS
Volunteers from early teens to senior citizens contribute their time and skills to sustain The Umbrella community throughout the year. We are grateful for their immense contribution, their dedication, and their passion for the arts. We truly #Couldn'tDoItWithoutYou. Thank you!
2021/2022 TEACHING ARTISTS
The Umbrella's instructors are a combination of professional artists, art educators, and teachers. Their diverse expertise and the joy they take from working with students is what makes The Umbrella's education program so strong. Meet them here.
Photo by Marian Stanton