#DiscoverYourArts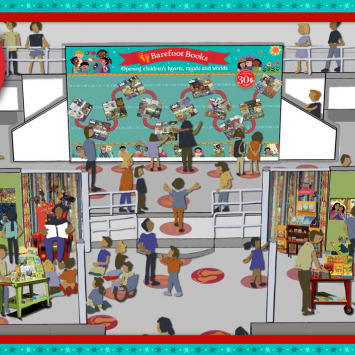 Currently On View
---
Main Gallery, Black Box Gallery and Online
Barefoot Books 30th Anniversary Exhibition
September 9-25, 2022
Interactive gallery exhibit commemorates the 30th anniversary of the global multicultural children's publisher, Barefoot Books, with related free, family friendly activities every weekend and a live theatrical production of The Boy Who Grew Flowers, adapted from the book by Jen Wojtowicz, by Manhattan-based Treehouse Shakers.
Regional Public Art Installations
Art Ramble: In the Balance
September 1-November 13, 2022
The Umbrella's annual, temporary outdoors exhibition in historic Hapghood Wright Town Forest, in collaboration with the Concord Division of Natural Resources, returns with theme emphaszing impacts of climate change.
Go Out Doors - Neighbors 2022
Through November 15, 2022
The Umbrella's expansive and evolving regional public art project returns this year with new displays of creatively painted and sculptural "artdoors" installed in surprising locations around Concord and in Man National Historical Park!
Gallery 3 (Third Floor, 40 Stow Street)
Works-in-Progress by Umbrella Studio Artists