Buy Art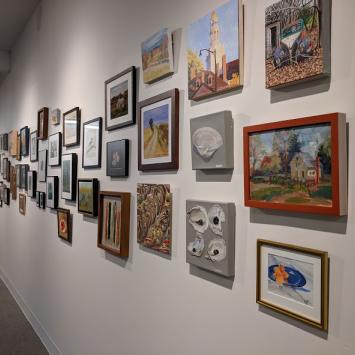 The Umbrella Arts Gallery is excited to launch our online gallery! Now patrons of the arts can purchase beautiful work and merchandise while supporting our mission and work in our community throughout the year. To see our current work for sale, head to our online gallery site! Please note that all purchases must be picked up at our physical location, 40 Stow Street, Concord, MA 01742.
Commission from your purchases funds our ability to offer accessible and engaging public programs including artist talks, demonstrations, skill shares, workshops as part of exhibiting contemporary, expressive and interactive work. Your purchase also directly supports a working artist in our community and the region, embedded with their creativity, craftsmanship, and stories. We hope this platform can help our gallery programs lead with access to the arts and education at the core of our mission, while in turn strengthening the creative economy and our operations.
This new online platform will support our working Studio Artists by connecting them with potential patrons in addition to professional development programming and resources. We look forward to building our roster of artists under our Umbrella!
For gallery sales inquiries, contact Jess Muise via email at jess@theumbrellaarts.org or by phone at 978-371-0820 x200.