Performing Arts
Announcing Our 2020-2021 Theater Season
Made possible by the generosity of Kate and Mark Reid
The Umbrella Stage Company has announced a revised roster of programming for our 2020-2021 season, with impactful Performing Arts @ Home programming TBA while we retool our theaters to follow public health protocols for four exciting in-person productions to return in early 2021.
September 24, 8PM
Featuring Jess Andra, Sean Mitchell Crosley, and Kara Chu Nelson
Free, but RSVP Required
NEW VIRTUAL CABARET SERIES! Join us as we welcome back some of The Umbrella Stage Company's favorite alumni for a virtual mini-concert. Performing from their own homes, these familiar faces will sing a few songs and tell a few stories, and our stage community will catch up with each other via Zoom.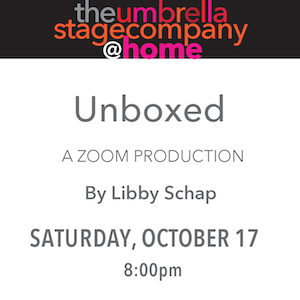 October 17, 8PM
By Libby Schap
Directed by Michelle Aguillon
NEW PLAY PREMIERE! In this engaging new family drama written for virtual performance, Jason aspires to make a presence online with his unboxing videos. He is unsuccessful, until one day a tragic event changes everything for him.
This play is being produced in conjunction with the 2020 Concord Festival of Authors.
January 15 - 31, 2021
By Lauren Gunderson
Directed by Nancy Curran Willis
Four beautiful, badass women lose their heads in this irreverent, girl-powered comedy set during the French Revolution's Reign of Terror. Playwright Olympe de Gouges, assassin Charlotte Corday, former queen (and fan of ribbons) Marie Antoinette, and Haitian rebel Marianne Angelle hang out, murder Marat, and try to beat back the extremist insanity in 1793 Paris. This grand and dream-tweaked comedy is about violence and legacy, art and activism, feminism and terrorism, compatriots and chosen sisters, and how we actually go about changing the world. It's a true story. Or total fiction. Or a play about a play. Or a raucous resurrection…that ends in a song and a scaffold.
February 26 - March 21, 2021
Book by Doug Wright
Music by Scott Frankel
Lyrics by Michael Korie
Directed by Julia Deter
Sponsored by Jennifer and Wilson Schünemann
Hailed as "thoroughly compelling and masterfully entertaining" War Paint is the true-to-life story of Elizabeth Arden and Helena Rubenstein, masters of self-invention and titans of the cosmetics industry who became the country's first major female entrepreneurs in a time when only men were thought to be capable of building international empires. This fascinating, female-forward bio-musical spans their 50 year rivalry, is a master-class for two stars and will feature Boston's own leading ladies, Leigh Barrett and Shana Dirik, in one of the first productions in the country since the musical closed on Broadway in November, 2017.
April 2-25, 2021
By Dominique Morisseau
Directed by Michelle Aguillon
It's 1967 in Detroit. Motown music is getting the party started, and Chelle and her brother Lank are making ends meet by turning their basement into an after-hours joint. But when a mysterious woman finds her way into their lives, the siblings clash over more much more than the family business. As their pent-up feelings erupt, so does their city, and they find themselves caught in the middle of the '67 riots. Morrisseau's powerful portrait of an explosive moment in American history with striking relevance for today's audiences.
May 14 - June 6, 2021
Music & Lyrics by The Go-Go's
Original Book by Jeff Whitty
Adapted by James Magruder
Directed by Brian Boruta
Boston Premiere! Head Over Heels is the bold new musical comedy from the visionaries that rocked Broadway with Hedwig and the Angry Inch, Avenue Q and Spring Awakening. This laughout-loud love story is set to the music of the iconic 1980's all-female rock band The Go-Go's, including the hit songs, "We Got the Beat," "Our Lips Are Sealed," "Vacation," Belinda Carlisle's "Heaven is a Place on Earth" and "Mad About You." A hilarious, exuberant celebration of love, Head Over Heels follows the escapades of a royal family on an outrageous journey to save their beloved kingdom from extinction—only to discover the key to their realm's survival lies within each of their own hearts.
Previous Productions
August 13, 2020
By Kevin Broccoli
Directed by Michelle Aguillon
Made possible by the generosity of Gregory Maguire and Andy Newman
NEW PLAY PREMIERE! Two sisters juggle family dynamics, quarantine, and an impending hurricane as they try to find their missing third sister and elderly father, who appear to be heading straight into a natural disaster. How do you protect those you love when armed only with technology? How do those who are disconnected from the world find their way back to it again? Is it possible to bridge lifelong divides at a time when so much is broken? Inspired by Shakespeare's King Lear, this digital thriller is a glimpse into a family at a breaking point.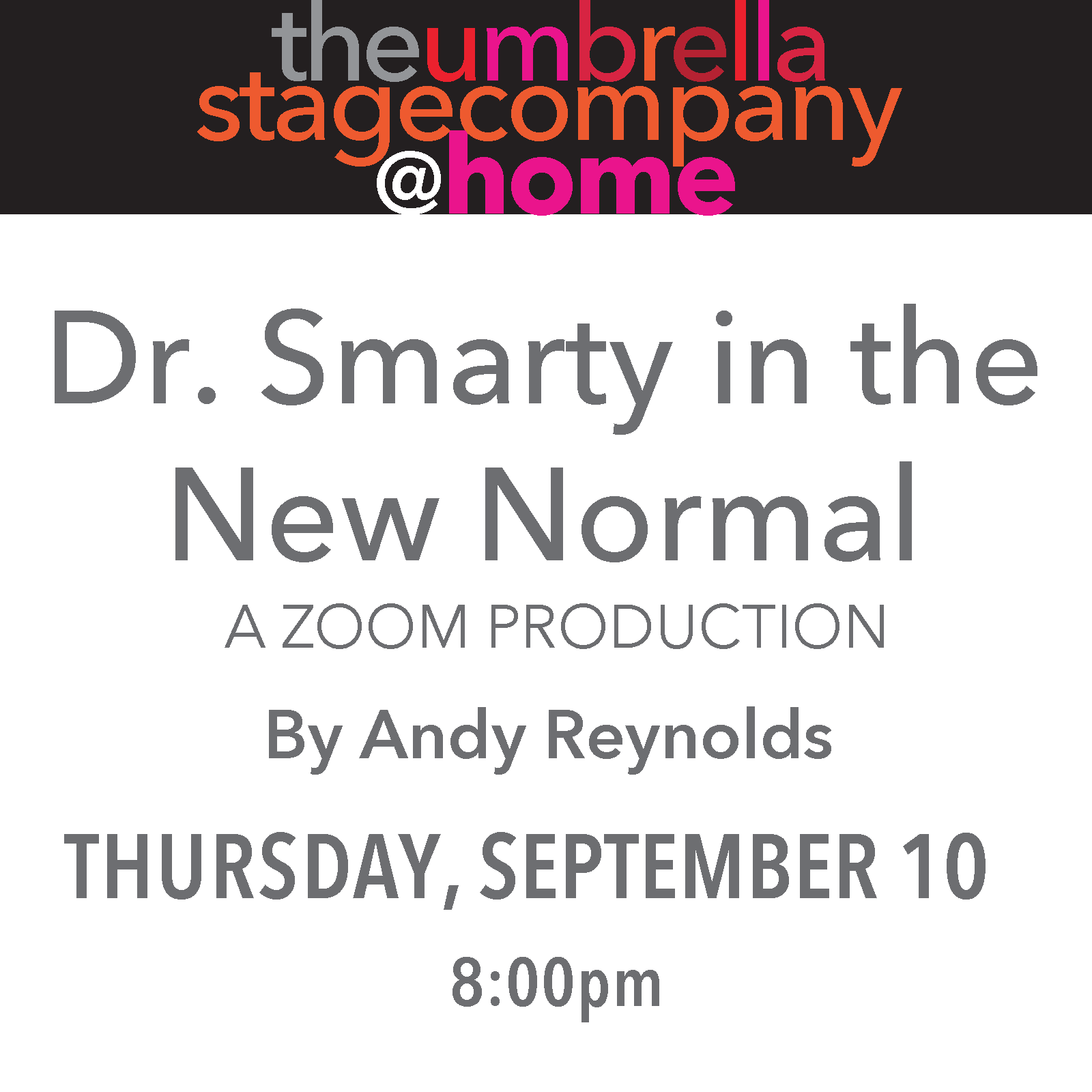 September 10, 2020
By Andy Reynolds
Directed by Nancy Curran Willis
Free, but RSVP Required
NEW PLAY PREMIERE! In the midst of COVID-19, 82-year-old Henry is diagnosed with Type 2 diabetes. Referred by his doctor for nutrition education, Henry reluctantly starts weekly meetings via Zoom with 32-year-old nutritionist Peter. Over a few short weeks, the two seemingly disparate men grow inexplicably close, drawn together as much by circumstance as their similarities. A wry, comic look at a very unfunny time.
More About The Umbrella Performing Arts & Stage Company
The Umbrella Stage Company was launched in February 2019 by the Performing Arts Program, part of the expansive Umbrella Arts Center (formerly Emerson Umbrella), a multifunction 501(c)3 nonprofit arts organization founded in 1983 in Concord, MA. The fast-growing theater company earned 31 DASH Theater Award nominations last season, winning in 11 categories, including Best Lead Actor, Best Ensemble Performance (Play and Musical), Best Musical Direction, Best Director (Musical), and Best Production (Play and Musical). Learn More