LOCATIONS & DIRECTIONS
The Umbrella Arts Center
40 Stow Street, Concord, MA 01742
Telephone: 978-371-0820
[Staff Listing]
HOURS
Gallery hours are from 10AM-9PM, seven days a week. Program staff are available during normal business hours.
PARKING
Free parking is usually readily available in a municipal parking lot adjacent to the building, as well as on most surrounding streets. Note that there are also a few public spaces available in half of the lot directly across Stow Street (not normally shown on Google maps); however, cars parked in the half of this lot marked private will be towed. For additional parking options, see the Town of Concord Parking Information Page. PLEASE BE COURTEOUS: As this is a residential area, please be respectful of neighbors when idling or street parking, and take care not to block driveways.
ACCESSIBILITY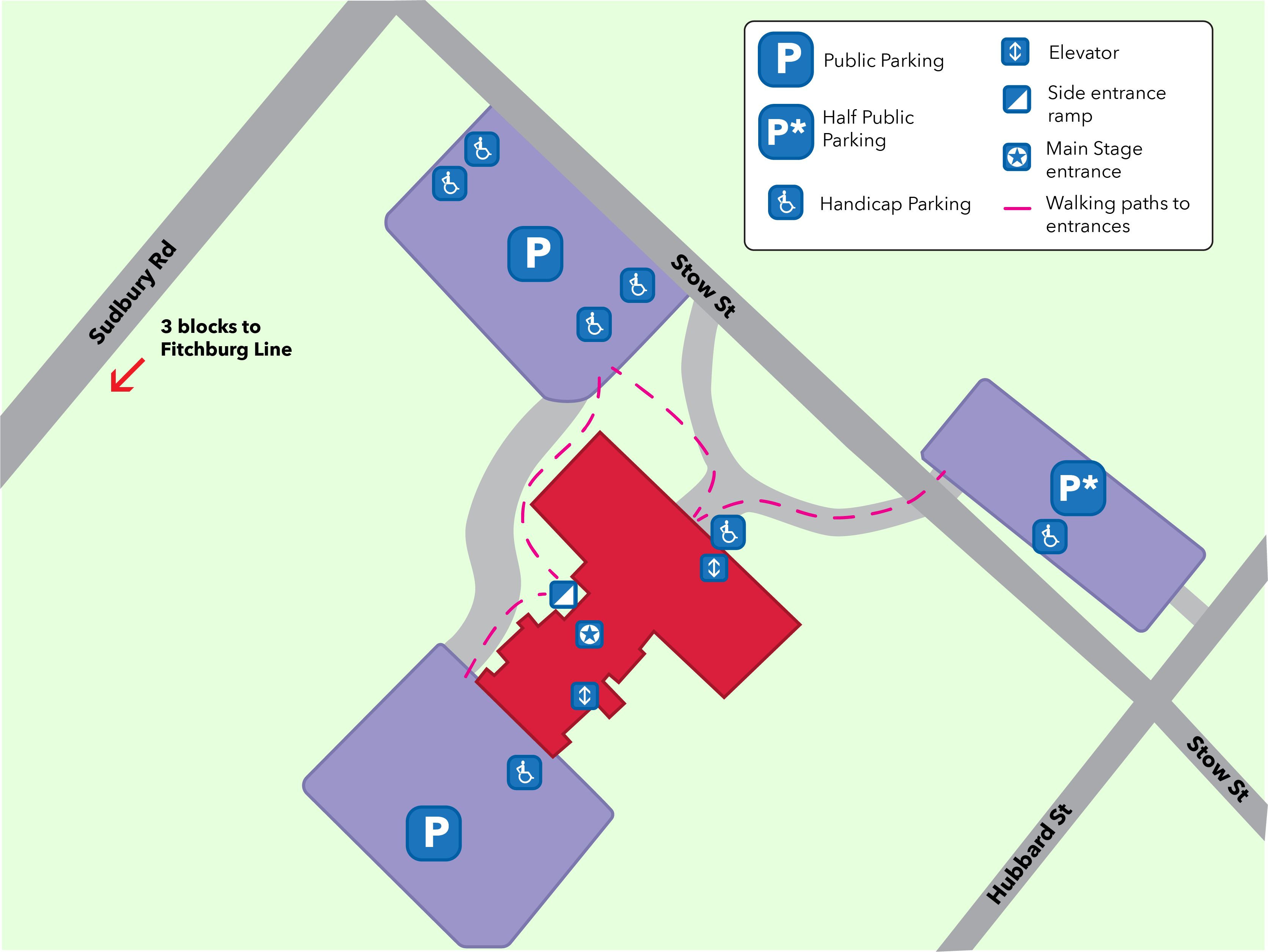 The Umbrella facilities are wheelchair-accessible, with ground-level access in the main entrance and gallery; ramp access to the atrium and offices from the gallery and two side entrances; accessible restrooms on all floors; and elevator access to all floors, galleries, and theater spaces. Reserved parking spaces requiring disability plates or placards are available in the three surrounding parking lots, including three spaces in the adjacent municipal lot; one space in the rear of the building; and one space in the half public lot across Stow Street. The Umbrella Performing Arts program provides wheelchair seating and assistive listening technology for productions upon request. See the map of ADA parking and entrances around The Umbrella here.
TRANSPORTATION
The Umbrella is in Concord Center, easily accessible from the Walden exit of Route 2. The Umbrella is also 2 block walk (about 0.4 mi., 7 minutes) from the Fitchburg Commuter Rail Concord Station stop at 90 Thoreau Street.
Email us using the form below or contact info@theumbrellaarts.org