Megan Connor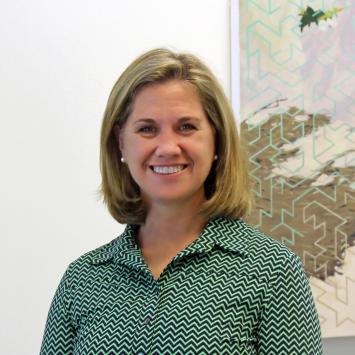 Megan Connor is thrilled to be working on the Development team as the Major Gifts Officer at The Umbrella. Her focus has been to help secure funds for the overall $25 million campaign goal from donors throughout the region. 
She is an avid theatergoer, in part thanks to her mother who was a teacher for over 30 years and was a theater director at the high school that she taught at in western Massachusetts. Megan's first introduction to the arts was when she began taking her daughter to art classes at the age of 3. She and her daughter discovered the arts and art history together. She truly loves taking her family to all of the many wonderful programs that The Umbrella offers on a monthly basis, especially the arts and environment program opportunities. She is also a huge fan of the school vacation weeks and summer arts camps that The Umbrella offers children each year.
Megan has a Bachelor of Arts in Political Science from Regis College in Weston, MA and a Masters in Public Administration from Suffolk University in Boston, MA.  Her career began in the political world as a legislative director for a State Senator in western Massachusetts and she served on the Ways and Means Committee. She left the statehouse after a few year years and went on to the agency world, as a policy member for the Executive Office of Environmental Affairs.  She realized politics and fundraising are quite similar since it's all about connecting each other and building communities, so she got into development at her alma mater, Regis College. There, she served as the Director of the Annual Fund, a consultant for the Annual Fund, and as the Senior Director of Major Gifts, where she closed out a large campaign there. She also worked as an Associate Director of Annual Giving at Phillips Academy in Andover for quite a few years.
Megan lives in Boxborough with her husband and two children. She is an active member of the Acton and Boxborough community. She serves as Chair of the Boxborough Recreation Commission and has developed numerous programming opportunities for the youth and adults in the community, including a running club, a Tae Kwon Do program, a birding club and an arts program. She also manages the winter sports program and the summer playground program each year. Megan is also very active in her children's school as a member of their PTF, is on their auction committee and serves on the School Council at Blanchard Memorial School. 
In her spare time, she loves cycling, skiing, sailing and hiking with her two children.