Katie Cimet
Assistant Director of Development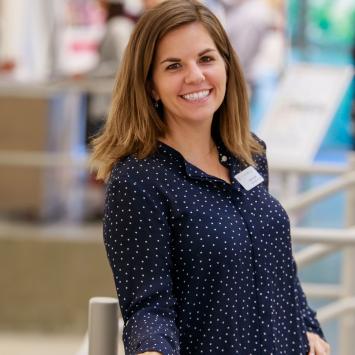 Katie joined us in September 2014 and is delighted to be a part of The Umbrella family. She truly believes The Umbrella embodies the term Arts Center -- playing a lead role in the development of creative individuals and fostering an integration of the arts into the community at large.  
She holds a master's degree in Arts Administration from Boston University and enjoys the field of Development, particularly getting to know the community and connecting individuals' passions to The Umbrella's mission, programs, and events. The Umbrella has something for everyone!
Having grown up in a musical family, Katie's earliest memories involve dancing to her grandpa's harmonica. From an early age she was enrolled in dance and various art and music lessons and participated in orchestra, band, choir and theater. During high school Katie studied classical voice and performed in several theatrical productions. Some favorite roles include: Dorothy (The Wizard of Oz), Mme. Thénardier (Les Misérables), and Aida (Aida).
From performing in Italy and in Carnegie Hall to learning about the drum and dance of West Africa in Ghana – Katie, an avid traveler, loves to experience and explore the arts wherever she goes. 
Katie's love for the arts began with childhood activities and blossomed into a genuine passion and career, guiding and teaching her in all facets of life. As a Wisconsin native, Katie also grew up fishing, skiing, camping, and playing sports. You can bet she'll be cheering for the green and gold this season – Go! Pack! Go! 
Katie and her husband, Charlie, live in Acton with their two children.