Susan G. Ticknor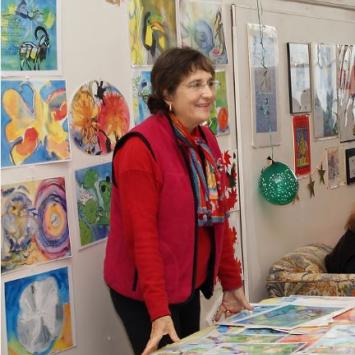 Susan G. Ticknor, who studied at the School of the Museum of Fine Arts and L'Academic Internationale D'Ete de Nice, lives in Concord, MA, where she spends time in the woods and water meadows watching the natural world.  She brings her subjects a playful sensibility as well as a flare for dynamic design.  
Her images are childlike in a spohsiticated and accomplished way; their immediacy draws viewers to take a closer look for which they are rewarded.  A lover of secrets and surprises, Susan often embeds favorite lines of prose in her paintings: the words of Helen Keller or Proust or Picasso run along the edge of a leaf or float, nearly invisible, on a wash of effervescet blue.
Susan has been painting much of her life and has traveled internationally from a young age.  She started her education in art and art appreciation at the age of eleven in Paris, France while living there for a year with her family.  This began a long career as a painter and educator of the arts.  she is well known for her classes in the area: private teaching continues in her studio at The Umbrella.  She was on the faculty of Middlesex Sommunity College for many years, teaching painting, watercolor, design, and drawing.  Susan also taught in the Concord Adult Education Program.