Ilse Plume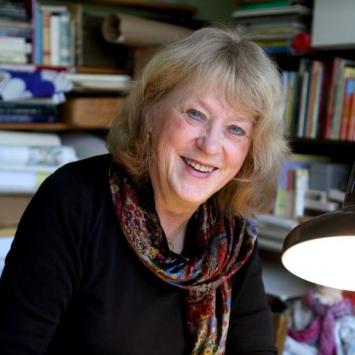 Ilse Plume (graphic design/illustration) is a widely published children's book author and illustrator who has illustrated stories from Italy, Latvia, Russia and Sweden. She earned a BFA and an MFA from Drake University ('68 and '71) and studied printmaking at the Santa Reparata Studio in Florence, Italy. 
She is a recipient of the 1985 Ezra Jack Keats Award and her book The Bremen-Town Musicians (Doubleday, 1980) received the prestigious Caldecott Honor Award. Her other books include The Farmer in the Dell (Godine, 2004), The Twelve Days of Christmas (Godine, 2003), Salt, written by Jane Langton (Hyperion, 1992), and The Year Comes Rounds, written by Sid Farrar (Albert Whitman, 2012). Her most recent book, in the spring of 2017, was Henry and the Huckleberries: A Visit with Mr. Thoreau at Walden Pond, by Sally Sanford (Prospecta Press, 2017)
Her work has been shown in rexhibitions at the Lincoln Public Library, Lincoln, MA; the DeCordova Museum and Sculpture Park, Lincoln, MA and the Federal Reserve Bank of Boston. She has taught at the Minneapolis College of Art and Design, Radcliffe Seminars, the DeCordova Museum School, the Split Rock Arts Program at the University of Minnesota, Mass College of Art, and The Rhode Island School of Design. She currently teaches at SMFA/Tufts in Boston.