Deb Loverd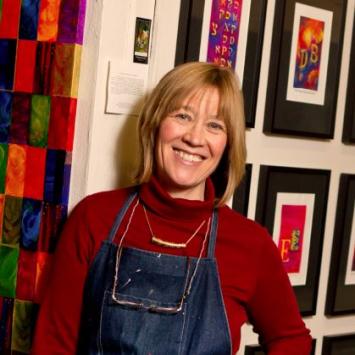 Resident Artist Deborah (Deb) Loverd has been at The Umbrella since 1996. Equipped with a Bachelor of Fine Arts degree from Syracuse University and further art study at Columbia University and the DeCordova Museum School, she finds the collective wealth of experience, shared freely by the artists who have studio space at the Umbrella, a constant inspiration.
The artist's medium of choice is gouache, an opaque watercolor noted for its vibrant hues, although she also paints in acrylics.  Both mediums are well-suited for the whimsy and humor that are the hallmarks of her main body of work; as well as for scenes of yesteryear, and other paintings more staid than her usual style.
One of the major themes in Deb's artwork is the humorous depiction of what she calls the "Portentous Moments" found in familiar fairy tales, nursery rhymes, and fables.  Highly detailed paintings portray a favorite character making a fateful decision, while the captions offer thought-provoking points of view, as when "Cinderella's Fairy Godmother Plans a Dazzling Intervention."
In a similar light-hearted vein, the series, "Letterspeak," is an inventive collection based on the shape of letters of the alphabet, personifying them.  For example, Capital "D" says to Capital "B", "Lose the belt and you'll feel better."
As she works on the paintings in her two series, Deb has had prints made of each—and is delighted that select pieces of her work have been exhibited in such venues as the Concord, Fowler, Carlisle (Gleason) and Bedford Libraries; Concord Art Association; Trinity and TriCon Churches in Concord, and several local galleries.