Jill Goldman-Callahan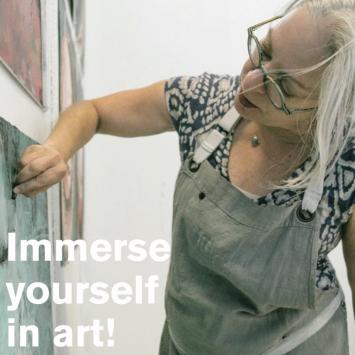 Contemporary art for people who live the mystery

Making art and making meaning with art has been essential to me since childhood. I have a BA in Fine Art and Anthropology from Bennington College and a Masters in Art Therapy from Lesley University. I grew up near Philadelphia, raised my family in Acton, worked as an Art Therapist and then as an Art teacher, recently retired from 21 years of teaching visual art in the Wellesley Public Schools. I am grateful to have had Pat Adams,Tim Harney, Tim Hawksworth, Elaine Spatz-Rabinowitz and Joan Hanley as art mentors. My studio at the Umbrella in Concord is a haven where I travel the interior worlds.

I paint in the genre of lyrical abstraction. I work without preconception by building layers of atmospheric surface, by engagement with alluring color and spontaneous invention of unexpected compositions with poetic narrative significance. I enjoy experimenting, assigning myself rules, then surprising myself with unpremeditated moves of submerged layers, atmospheric texture, drawing and shifted forms and formats. My colors are reminiscent of Morandi, my shapes conjure Diebenkorn and my love for imagistic ambiguity evokes Emily Dickinson.

When I paint a wild part of myself rides a galloping animal.  Every painting is a search. Themes of shelters, bodies, landscapes, and in between spaces emerge as I seek a symbolic representation that authentically depicts my interior territory. When I have made this terrain visible, revealing reflecting, and retaining my emotional reality in a beautiful way, I have met my goal. Not knowing how it will happen is a joy ride, a wrestling match, an act of trust, courage and finally, the becoming of a painting. 
Each painting is a journey, an emotional recognition, a spiritual surrender, and a story told. I invite the viewer to experience a mysterious engagement with being, placed on paper.
Please
email Jill
to arrange a private studio visit or to inquire about a painting.