Jill Goldman-Callahan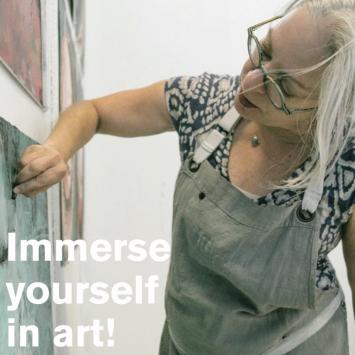 About the Artist:
Jill is a painter interested in mystery and process. Her aim is not just to depict, but to bestow. She aspires to the voice of an echo, the memory of stone, the touch of wind, the secrets of water. Thomas Moore, the best selling author of Care Of The Soul, describes her work as, "Not a painting of, but a peek into."
Jill makes many of her own pigments. Walnut ink is birthed when boiled overnight, hammered desert stones relinquish residue, their pink powder permeating liquid poured across a surface. Crushed coffee beans, marinated for days, exude textured browns and ash gathered from her home fire generate graceful grays.
Jill's coalescing paint layers interact in sensuous ways, invoking the unexpected. Paint poured, spread like icing, or dripped across a tilted plane walks the intersection of the intentional and the accidental building complex surfaces. Her paintings infuse an anodyne presence, like a salient whisper to our selves.
Making art and making meaning with art is essential to Jill. She has a BA in Fine Art and Anthropology from Bennington College and a Masters in Art Therapy from Lesley University. She has lived in Concord for thirty years and has worked as an art therapist, art teacher, art mentor and painter. You can find her experimenting, inventing and discovering in Umbrella Studio 303.
View her work on her website: https://www.jillgoldman-callahanstudio.com/
Email her to arrange a studio visit or ask a question at windbuddha@verizon.net.