Nancy Arkuss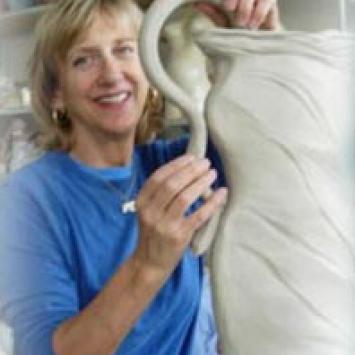 In my senior year of college, I took a ceramics class to fill a gap in my schedule. Little did I know that I would become hooked and eventually pursue it seriously. After a graduate degree and a short career as a clinical social worker, clay became my passion. I liked the feel of it, the flexibility and malleability of the material and the ease of manipulation in my hands. After many years of "throwing," I started experimenting with a combination of handbuilding and wheelthrowing. Eventually, I gave up the wheel altogether. I enjoyed slowing down the pace.
Over the past several years I have returned to the vessel tradition and use the wheel again, as a tool. My work is started on a wheel, but that is only the first step. After several shapes are thrown, they are removed from the wheel, assembled, altered, manipulated and carved. The work is not meant to function, but rather to celebrate the spirit of the vessel as a sculptural entity. Most of my pieces reference, suggest and evoke the female figure. I am interested in "dressing" her and find great pleasure in making the clothes move and flow. The additions of flowers add to the sensual feeling I try to evoke. Each lady has her own personality, often with an attitude. When grouped together, they look and feel like they are going to a party, ready to dance the night away!
They all feel as if they have something to say. Humor is important to me, in my life, in my relationships and in my work. It is critical to me that my work be both personally expressive and engaging to the viewer. It thrills me when visitors to my studio break out in a spontaneous smile.
As a natural progression of my work with sculptural vessels, I also create life-size torsos, figurative and abstract. It is a continuation of my interest in the female form taken to a different place and presented in a different way. Here again I seek to achieve a reaction on many levels.
For the past 13 years, I have balanced my creative side with my desire to share my love of clay with others. I teach at a small, independent middle school for boys. My students have become wonderful spokespeople for the arts and it delights me when one more person becomes fascinated or maybe even addicted to clay.