Nancy Arkuss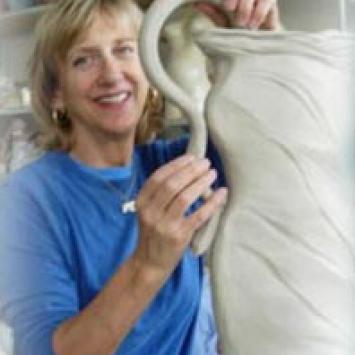 I have spent many years working with clay. My concentration is now almost entirely focused on the body: female, male, young, old, abstract, realistic, life size and small. I have never lost my love of clay, whether I am creating life size figures or small sculptures. It is my passion and I am constantly evolving!​
A recent major series was my "lady vessels." I took the tradition of the vessel and focused on it as a sculptural entity. Most of the vessels referenced, suggested and evoked the female figure. I was very interested in"dressing" her and found great pleasure in making the clothes move and flow. Each "lady" has her personality. Humor is important to me, in my life, in my relationships and in my work. It always thrilled me when visitors to my studio broke out in a spontaneous smile.
The progression from the sculptural female vessels to the figure was a natural evolution. From torsos to life size people. My works  can be placed outside as well as inside. The public engages with them at every level. They derive energy from them. This is true for adults as well as children. Each person brings his or her own story and life experience to the sculpture. Children animate the sculpture. Sometimes I see children hugging them or adults "talking" to them. I sculpt both from life or my imagination.
My newest series is titled "THE CONVERSATION." The work is based on my experience with the figure, but as an abstraction, stripping away the realism. I endeavor to capture the warmth and tender feelings as well as joy and whimsy. As with my life-size figures, these pieces capture a visual communication, asking the viewer to participate and to appreciate the personal relationships and emotions that each entity exhibits. Each figure prefers to be interacting with another, although, as in life, it does not always happen.
For many years I balanced my creative side with my desire to share my love of clay with others. I taught at a small, independent middle school for boys. My students became wonderful spokespeople for the arts and it delighted me when one more person became fascinated or even addicted to clay. There have been several students who have become professional ceramic artists. What a thrill to witness!