Carole Parrish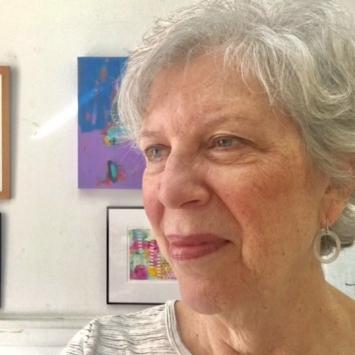 Carole Parrish is an award-winning artist best known for her skillful use of color and simplicity of design. People describe her work as peaceful, serene, and filled with light. Carole has been a resident artist at The Umbrella for over twelve years. Carole has been juried into many local shows. She recently won the Jurors' Choice Award at the Concord Art Association Members Juried 1 show. Her work is in many private collections across the country and is shown locally and on Cape Cod where she spends a lot of time painting.
Before coming to The Umbrella, Carole had a successful career as a graphic designer. She worked as an art director, graphic designer and graphic design instructor in New York City and Cincinnati. She received her MS in Communication Design at Pratt Institute in Brooklyn, NY and her M.Ed. at Boston University.
Wanting to move from commercial art to fine art, Carole took classes in pastel and oil painting from Kay Hurley in Cincinnati. Returning home to the Boston area in 2003, her love of the New England landscape, and the Cape in particular, found expression in her paintings. Her earlier training as a graphic designer informs the composition and color in her work.
Carole's current work is abstract; she's working in acrylic and mixed media.  Her earliest paintings are abstract and she is again enjoying the freedom as well as the challenges of a more intuitive approach to her work.
For over 25 years, Carole has worked for the JE&ZB Butler Foundation, which supports programs for at-risk youth, as well as children with disabilities. She created a task force for professionals working in the field of disabilities, and is working on inclusion in Boston after school programs. She is involved in foster care, working with Boston's most innovative leaders, strengthening programs that work to care for the needs of children in foster care as well as advocate for them.
She and her husband live in Sudbury. They have two children and a grandchild who all live locally.