Linda Grom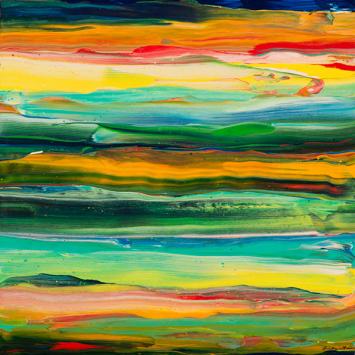 Artist Statement
The creative process was discovered late in my life. Now I feel a need to paint every day, as one needs to breathe every day. After many years as a music educator I began to compose music. Several works were published, including choral works set to the poems of Ralph Waldo Emerson. The creative awakening of composing led me to a desire to paint. I attended classes and studied privately at the Cotuit Center for the Arts, the Provincetown Museum School and the DeCordova Museum School and developed an intense passion for painting. It is the missing piece in my life for which I was searching.
My paintings are a transfer of my emotions, an interconnectedness with the energies that exist within all aspects of life and forces of nature. Painting and composing music are extensions of my deep emotions, which create a tremendous thrust of energy from within.
I enjoy painting outside where I can paint with my entire body in an unrestricted space, where the wind, sunlight and sounds of nature influence where the paint settles on the surface, and where sounds and rhythms in my head and heart coincide with the colors, textures and movement of the paint. The painting evolves through all these energies naturally, without premeditation.