Adults: Coil Building and More
BEG/INT/ADV     
Course Description:     
A coils class where all skill levels are welcome. Combined with hand building techniques, coil building allows a ceramic artist to hand-form whatever they desire including bowls, platters, vases, and more. This class will encourage you to enhance your technical skill and support your creative process. Come learn this ancient technique with Sarah on Tuesdays. This class is suitable for all students.
Please note: If this registration is sold out please email zachary@theumbrellaarts.org to be placed on a waitlist.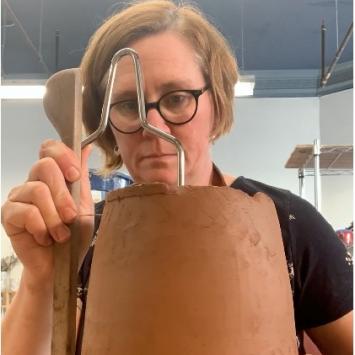 Instructor: Sarah Chapman
Sarah Chapman has been a studio potter based out of Mudflat Pottery School in Somerville, MA for the last decade. She lives in West Concord Massachusetts with her husband, teenage children, and rescue dog, Kofi. Sarah has lived and worked in the greater Boston area for over 20 years.Sarah began her art-making early in childhood. Having moved to Cape Cod at the age of 4, Sarah spent all of her summers first attending classes and later working...
Learn More »
Day/time:
Tuesdays, January 10 - March 28, 7:00pm - 9:30pm