2021/2022 Annual Report: Visual Arts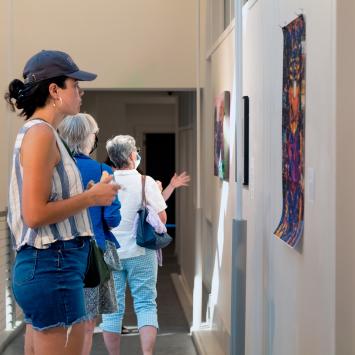 STUDIO ARTISTS
The Umbrella is home to more than 50 Studio Artists. 2021/2022 was marked by an excited return to studios and exhibits. Season highlights included:
Works-in-Progress, Summer of 2021, an exhibit featuring new work that reflected the artists' journeys over the years of pandemic
Our newest studio artists were featured in a New Directions gallery exhibit
A return to an in-person Winter Market with ~2500 visitors
A springtime Open Studios, April 2022, that welcomed close to 400 visitors
2021/2022 Artcubator Artist, Nicholas Johnson, and 2021/2022 Artist in Residence, Sally Lee, both led artist talks for the community in which they shared their process, aesthetic, and thoughts on their experience at The Umbrella.
THE 2021/2022 GALLERY SEASON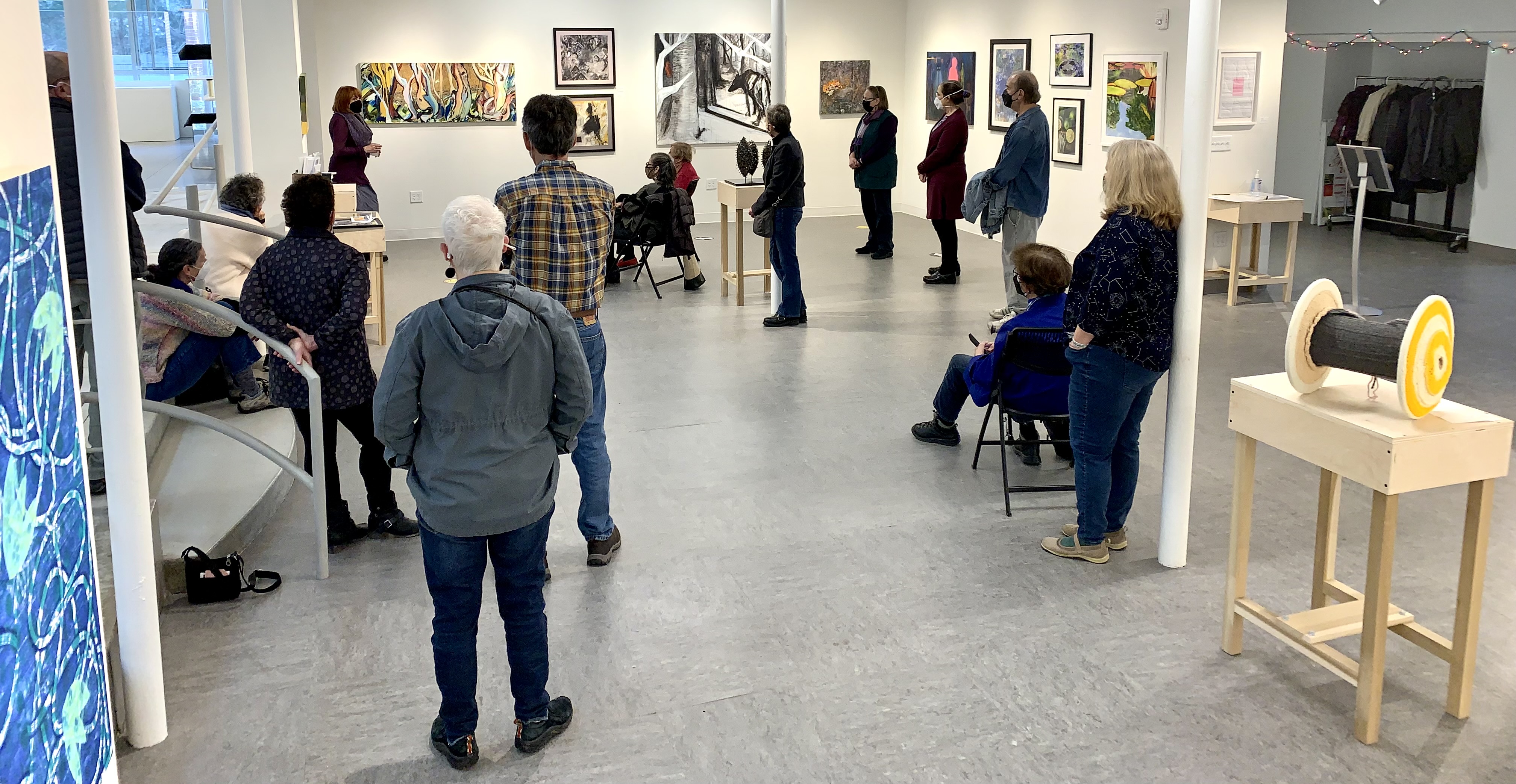 The season opened with a multimedia show curated by the previous Artist-in-Residence, Michael McMahon, followed by a solo show featuring Michael's paintings on the subject of self/home/domestic space and landscape. 
The Gallery hosted work by visiting artists from ArtSpace Maynard for a special month-long exhibition.

In a bold new exhibition, noted artist and curator Cedric Vise1 Douglas found inspiration in a provocative work of theater, George C. Wolfe's satirical play, The Colored Museum, presented by The Umbrella Stage Company. Offering a diverse array of media, styles and audience engagement experiences, The Colored Museum: Past/Present/Future featured work by 9 emerging and established Black artists from throughout the eastern U.S. including Thomas "Kwest" Burns, Barrington Edwards, Ifé Franklin, Nettrice Gaskins, Shea Justice, Chaz Maviyane-Davies, Keith Morris Washington and Douglas himself. Also included was work by the late outsider artist, Justin Printice Douglass, created through The Umbrella's education outreach program while incarcerated in Concord, and originally unable to be publicly exhibited due to COVID. The exhibition also featured an audience interaction component that allowed visitors to leave messages and reimagine museums and cultural institutions themselves, and was prominently featured as the front cover feature story of Art New England Magazine.
Stephanie Marlin-Curiel joined The Umbrella team as Visual Arts Manager in January 2022. Meet Stephanie!
PUBLIC ART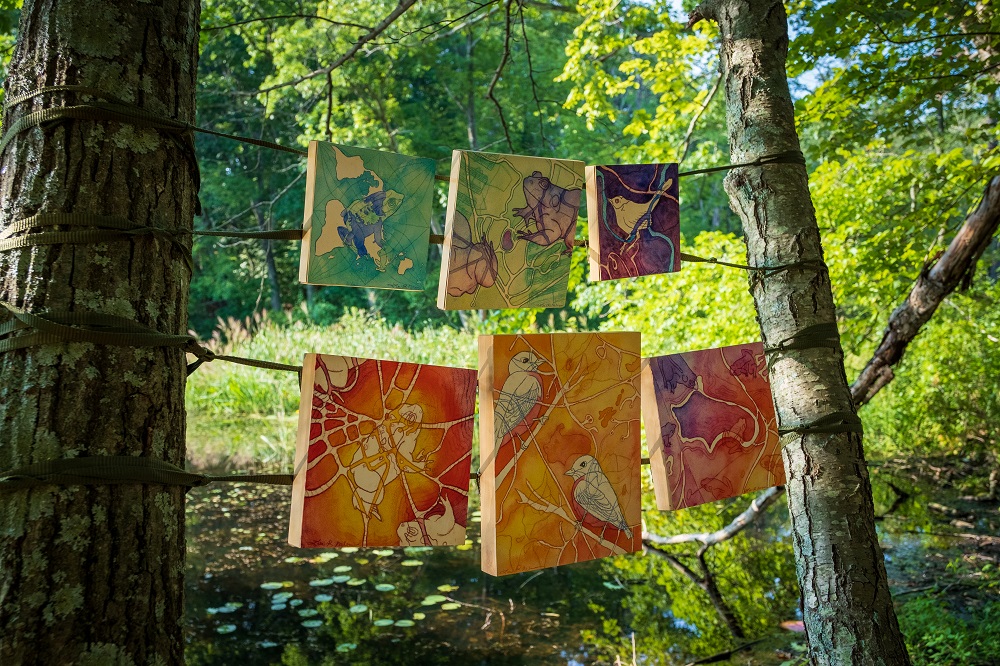 A Concord tradition, the annual Art Ramble temporary outdoor exhibition in historic Hapgood Wright Town Forest returned with the theme "Something in the Air", curated for The Umbrella by artists Laurie Bogdan and Kimberley Harding. Featuring artwork by 16 notable regional artists, the exhibit was a collaboration of The Umbrella Arts & Environment and Visual Arts programs with Concord's Division of Natural Resources, supported in part by the Foundation for Metrowest, and featured in the WBUR Artery and WCVB Channel 5's Chronicle.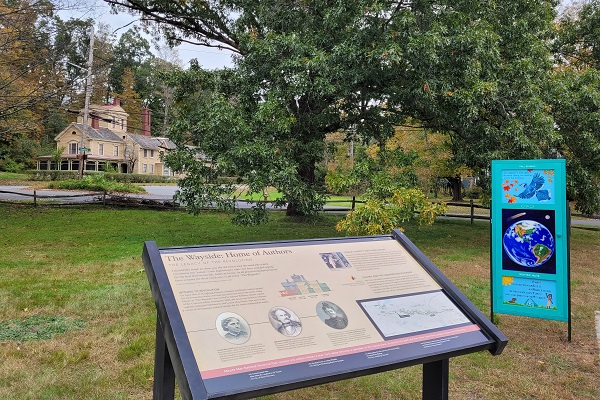 Go Out Doors - Neighbors grew into an expansive and evolving regional public art campaign promoting healthy outdoors activity, environmental appreciation, and inter-town regional tourism throughout Greater Boston and Metrowest. Initially conceived by The Umbrella Arts & Environment for a limited installation in West Concord at the start of the pandemic, the exhibition featuring gorgeously decorated, "upcycled" doors crafted by regional artists went viral -- first through collaborations among Concord Center, and the towns of Arlington and Lexington, eventually spreading to at least 10 towns featuring more than 50 artworks. A special Go Out Doors exhibition, curated by Monkeyhouse, was commissioned as part of The Umbrella's Artist-in-Residence partnership with Minuteman National Historical Park.
Photos by Ron Mann, Pierre Des Lions Arnaud, Stewart Ikeda, and ArtSpace Maynard