Upcoming Exhibitions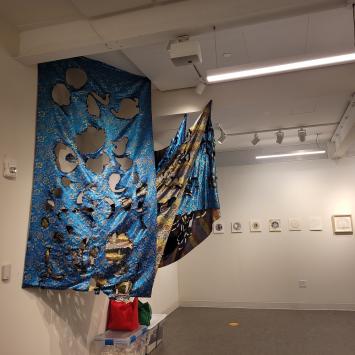 Coming Soon to The Umbrella Galleries 
---
Barefoot Books 30th Anniversary Exhibition
September 12-25, 2022
An interactive gallery exhibit commemorating the 30th anniversary of the global multicultural children's publisher, Barefoot Books, also including a live theatrical production of The Boy Who Grew Flowers, adapted from the book by Jen Wojtowicz, by Manhattan-based Treehouse Shakers.
"Are We Home Yet?"
October 6-November 12, 2022
Culminating solo exhibition of work from this year's Umbrella Artist-in-Residence, Sally Lee. 
Lost and Found
November 17 - December 30, 2022
Juried by Jessica Straus, this show examines our relationships with familiar, unfamiliar and defamiliarized objects. Sometimes we find things we never knew we lost. They have been hidden away in our attics or our drawers. Other things we discover in the dailiness of our lives. We find meaning and even healing in found objects and pieces from the past. Meanings are created somewhere between claiming and severing relationships with objects, between reviving and recasting their history.
Want to stay in the know?
Join The Umbrella mailing list and indicate "Visual Arts," "Calls for Art," or "Studio Rentals" to receive announcements relevant to your interests.