The Umbrella Artcubator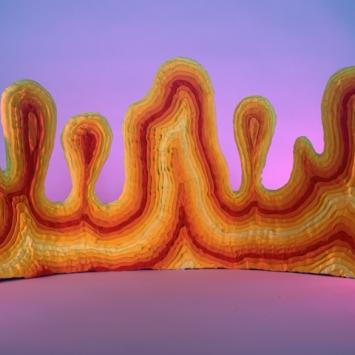 The Umbrella Artcubator awards studio space to visual artists for short term projects throughout the year. The Artcubator expands possibilities for audience engagement with visual arts by catalyzing new and experimental work. Local and visiting artists are invited to take advantage of this platform for experimentation and exploration in a supportive environment.
Established and emerging artists alike benefit from the input of a creative community of more than 50 artists in the iteration and innovation of their ideas. Visiting artists can belong, experiment and establish leveraging Umbrella studio space, shared workshops and exhibition space. 
Open to proposals from artists with a focus on supporting the creation of new work and new education and art engagement programs for our community.
Looking for a ceramics opportunity? Check out our new Ceramics Artist Residency program here!
Welcome to Our New Artcubator Artists!
Current Artcubator Artist: Hillary Kane
For Hillary Kane, life is a lot about place. Over the years, "home" has shifted across countries and continents and delivered a richness in languages and cultures, inspiration and challenges that permeate her making practice. Originally having studied painting and printmaking (in Maine and France), it was her work with local farmers in a remote village in west Cameroon that triggered her gut-pull to the medium of clay. A stint at Penland School of Crafts, NC solidified this interest and subsequent experiences from New England to New Mexico initiated and strengthened her passion for wood-firing in particular. The tidal pull of the world led her to ultimately to settle in Bali, Indonesia where she continues to focus her creativity in both clay and paint, enjoying the dynamic of two very different mediums and their possible confluence. 
Gallery below shows some samples of work created by past Artcubator artists