Volunteer Opportunities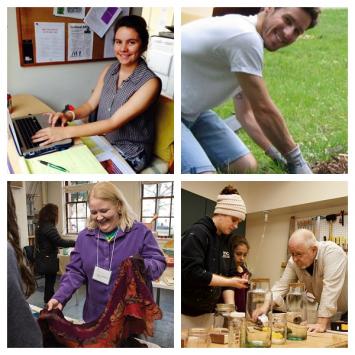 Over 300 volunteers of all ages bring their skills to The Umbrella. Some volunteer for a one-time event while some stay for a longer time. Their impact is essential to achieving our mission.
Volunteers tell us their time at The Umbrella is rewarding; they feel appreciated, enjoy the atmosphere, and expand their horizons.
Interested in joining The Umbrella's creative, exciting, supportive community? Check out the following VOLUNTEER OPPORTUNITIES and see which one works best for you:
USHERING
Usher for The Umbrella Stage Company and see the shows for free
EDUCATION
Assist in Kids' Art Classes, Camps, Art Birthday Parties, and Vacation Week Programs (Feb & April)
VISUAL ARTS EVENTS
Assist with art gallery setup and events such as Open House, Winter Market, Open Studios, and artist talks and exhibitions
ARTS AND ENVIRONMENT EVENTS
Assist with Earth Day, Solstice, public art installation, and other Arts & Environment programming
PHOTOGRAPHERS
WRITERS AND SOCIAL MEDIA
POSTING FLYERS
OTHER EVENTS AND ACTIVITIES
Contact Kathy Warren, Volunteer Coordinator at kathy@theumbrellaarts.org with any questions.