Volunteer Opportunities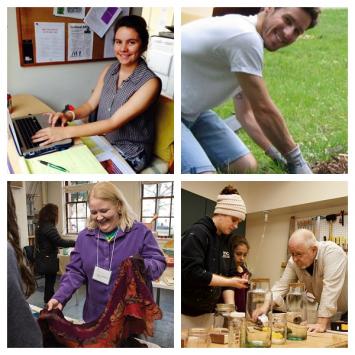 Each year, hundreds of volunteers of all ages lend their time and skills to The Umbrella. Their impact is essential to achieving our mission.
Interested in joining The Umbrella's creative, exciting, and supportive community? Please contact volunteers@theumbrellaarts.org to indicate your volunteer interests or with any questions, and thank you!
CURRENT OPPORTUNITIES:
Summer Camp 2022 Opportunities: Our Classroom Volunteers are high school aged young adults ages 15-17 who volunteer as a part of our Umbrella Summer Camp program. In this role volunteers develop a sense of responsibility through observation, participation, planning and implementation. Classroom Volunteers have the opportunity to be a great help to the Lead Teachers, Assistant Teachers and the Campers. Interested? Click here for more information and to apply. Questions? Contact Rebecca Campbell at rebecca@theumbrellaarts.org.
RECURRING OPPORTUNITIES INCLUDE:
Education
Assist with youth art classes, Summer Camp, and Vacation Week Programs
Arts and Environment
Assist with set up, check in, clean up, info, and activities at events like Earth Day and Solstice celebrations
Performing Arts
Be an usher for The Umbrella Stage Company (and see the show for free!)
Marketing
Publicity, social media, writing, and design
Be a member of of our street team and help with local distribution and collection of flyers, banners, and yard signs
Photographers/videographers
Visual Arts
Assist with events such as Winter Market (December) and Open Studios (spring)