Stephanie Marlin-Curiel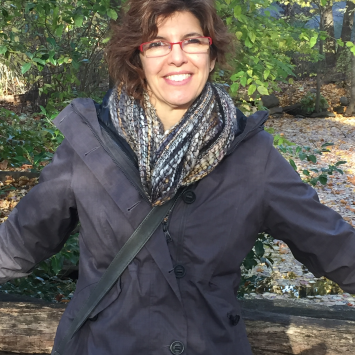 Stephanie arrived at The Umbrella in January 2022 after a long journey through performance, academia, community-building, non-profit work, parenthood, program development, cultural planning and arts sector-building.
Stephanie started out as a classical singer. Within a couple of years of graduating Oberlin Conservatory and College, her interests turned toward socially engaged art. She attended a study-abroad program in Indonesia to explore how the formal confines of enduring traditional art forms could still include contemporary social commentary. Next stop was returning to her home town of New York City for a deeper exploration into the social impact of art and performance through the doctoral degree program in the interdisciplinary field of Performance Studies at New York University's Tisch School of the Arts. Stephanie has published several articles from her dissertation work on art, music, theater and museum display created in response to the South African Truth and Reconciliation Commission.
Arriving in Arlington, MA with her family in 2002, Stephanie gradually turned her focus to the local community. While raising her children, Stephanie worked as a regional family engagement coordinator for the JCC Greater Boston, co-founded and help develop Arlington's public art program, and took on leadership roles in the Cultural Council and subsequently the Arlington Commission for Arts and Culture. In these roles, Stephanie fostered community-building and collaboration with the goal of increasing visibility, accessibility and participation in the arts as part of daily life in Arlington. During the pandemic, Stephanie pursued a Certificate in Creative Placemaking to learn about  using the arts for equitable community planning and development, while also discovering curation as the perfect way to combine her experience in community engagement, art interpretation, social change, and experiential programming. To this end, Stephanie took online courses through the Node Center for Curatorial studies in Berlin and is excited to bring all her experience and interests to The Umbrella!