Adults: Wheel Fundamentals (Wednesday evenings)
BEG/INT     
This course is designed for those who would like to gain a basic understanding of the fundamentals of wheel throwing as well as for those with some experience who want to build new skills and strengthen their throwing technique. This class will cover many technical and aesthetic concerns of working with clay. Demonstrations and projects will be made accessible for new students and scalable for those with more experience. Beginners will be introduced to clay by learning the fundamentals of working on a potter's wheel as well as hand building techniques. For students with experience in the basics of wheel throwing, more specific projects and challenges will be offered as will the option to develop their own projects. This class is suitable for beginner-intermediate students.
Please note: If this registration is sold out please email zachary@theumbrellaarts.org to be placed on a waitlist.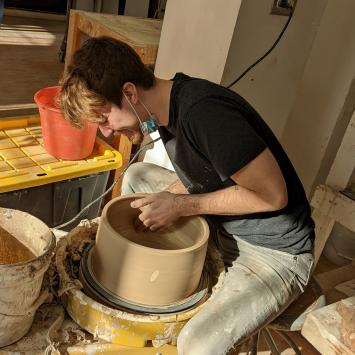 Instructor: Sean Lutz
Sean Lutz is a Medford-based Interdisciplinary Ceramicist, Professor and Instructor, and Ceramics Studio Staff here at The Umbrella Arts Center. Since graduating from Lesley Art + Design in 2019 he has taught at several art centers in the Greater Boston Area including the New Art Center and the Fuller Craft Museum. He has recently earned his Post Baccalaureate Certificate in Ceramics from the University of Massachusetts Dartmouth and has...
Learn More »
Day/time:
Wednesdays, January 11 - March 22, 6:30pm - 9:30pm