Winter Market 2017: Call for Vendors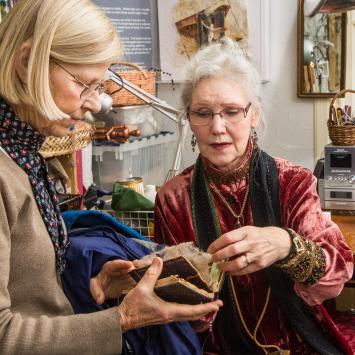 The Umbrella's Winter Market is an annual three-day juried show and sale of work in Concord, MA.  This sale has been in existence for nearly three decades and has a dedicated following. 
This year, Winter Market will take place on Friday, December 1 from 1-6 pm, Saturday, December 2 from 10am-5pm, and Sunday, December 3 from 1-5 pm.  In addition to the juried vendors and resident artists, The Umbrella will be filled with food and music.
The show fee for the three days is $180.  We send out a 9,000 piece mailing, an e-blast to our 5,000 person email list, air ads on WBUR, and announcements for the sale will be sent to newspapers in the area. If accepted, we will supply you with cards for your mailing list and a copy of the e-blast for your e-mail list.
If you are interested in applying, please download and fill out the application below and send it Miranda Aisling Hynes at miranda@theumbrellaarts.org along with at least 4 JPEGs of work you wish to show at Winter Market.  Please submit images of current work you wish to sell at the sale.
A quick note for returning artists: because of the upcoming renovation at The Umbrella we will have less room for guest artists. We are expecting to exhibit around 10 throughout the building.
Applications are due by 5:00 pm on Friday, June 16.  We will notify you of the jury's decision by June 23.  If you are accepted as a vendor, the $180 show fee will be due by June 30.

Winter Market 2017 Call for Vendors.docx
For further information, contact:
Miranda Aisling Hynes
Studio Arts Coordinator
miranda@theumbrellaarts.org
978-371-0820