Sarah Shiner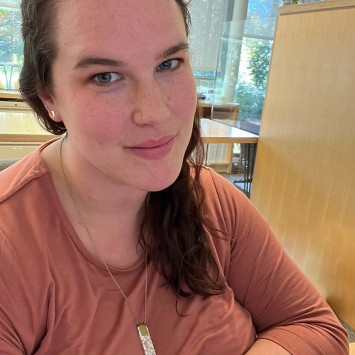 Sarah Shiner joined The Umbrella Arts Center team in July 2022 as a Marketing Associate.
Originally from the shoreline in Connecticut, Sarah moved to Boston about five years ago, finding it to be the perfect mix of arts, culture, historical nerdiness and close to the ocean. 
She has always let her curiosity and imagination drive her artistic and career decisions and it has led to many cool projects and connections with some incredible people. She studied at the University of Connecticut and graduated with a degree in sociology and theater production. Since graduating, she worked in arts administration with Shakespeare & Company, The Connecticut Repertory Theatre, Boston Ballet and Longy School of Music. A singer and actress at her core, she has also been onstage in productions with The Rainbow Arts Center and ENC Theater, as well as backstage in stage management with Company One. 
For the past few years, Sarah has put a focus on evolving her marketing knowledge and design style. Prior to coming to The Umbrella, she had been working in the art department for Trader Joe's designing and creating signage, displays and seasonal campaigns for the store. Along with her marketing responsibilities at Umbrella, Sarah also does commissioned art pieces, murals and installations. 
When she's not in a theater or studio, you can usually find her covered in various amounts of paint, outside in any patch of sunlight available or making friends with animals great and small.

Sarah is so excited to dive in with The Umbrella team and the community - let's create together!