Go Out Doors: Neighbors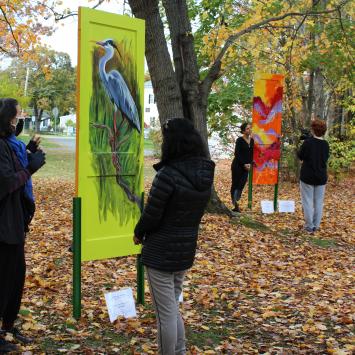 Go Out Doors - Neighbors is a regional public art campaign that promotes healthy outdoors activity, environmental appreciation, and inter-town regional tourism in Concord, Lexington and Arlington and along bike and walking paths along Battle Road and Metrowest.
A NEW extension of the Go Out Doors exhibition, Go Out Doors - Neighbors expands the original concept to connect neighboring towns -- three towns, three bike paths, and three cultural districts to date.

Inspired by the En Plein Air exhibition on NYC's High Line, Go Out Doors-Neighbors extends The Umbrella Arts Center's exhibition of artful recycled doors decorated by regional artists created for the Bruce Freeman Rail Trail in West Concord's Cultural District in the summer of 2020. Celebrating the opemning of a new section of the Trail, the exhibition encouraged reconnection to nature for communities emerging from COVID-19 isolation, at-home schooling, and telecommuting. Gorgeously decorated, recycled doors crafted by regional artists become surprising waypoints of delight while traveling bike paths and walking trails. Some emphasize local wildlife and environmental themes; others are fun and whimsical, stressing exercise and companionship.

The call for Go Out Doors asks: "How can we, as artists, draw more people outside to explore nature? What might we discover if, on foot or wheel, we find ourselves on a path through the woods – hidden from the roads we travel daily? What happens if we leave our electronics behind and find that steps from the front door a sensory world awaits?  What happens if we walk and bike daily to and from school and work? Or just for fun? What might we feel? What might change?"
For Go Out Doors-Neighbors 2021, The Umbrella has issued a new call for proposals for a multi-town collaborative expansion of this project to celebrate our re-emergence from the isolation and chill of this extraordinary time, and our reconnection with nature and each other.
This project is made possible by support from The Umbrella Arts Center,  Arlington Cultural District, Arlington Commission for Arts & Culture, the Arlington Tourism and Economic Development Committee, the Lexington Council for the Arts, Concord Market/Trail's End, Friends of the Bruce Freeman Rail Trail, the Foundation for MetroWest, and the Massachusetts Cultural Council.