Go Out Doors - Neighbors
Mission: "Go Out Doors" inspires discovery and exploration of outdoors spaces and trails, and the intersection/action of place, community, spirit, and nature.
"Go Out Doors" is an expansive and evolving regional public art campaign that promotes healthy outdoors activity, environmental appreciation, and inter-town regional tourism throughout Greater Boston and Metrowest.
NEW FOR SUMMER 2022
Background
Inspired by the En Plein Air exhibition on NYC's High Line, Go Out Doors - Neighbors builds upon and extends The Umbrella Arts Center's summer 2020 installation of artfully upcycled doors originally commissioned for the Bruce Freeman Rail Trail in West Concord's Cultural District. The exhibition intended to encourage a reconnection to nature for communities then emerging from COVID-19 isolation, at-home schooling, and telecommuting. Gorgeously decorated, recycled doors crafted by regional artists became surprising waypoints of delight while traveling bike paths and walking trails. Some emphasize local wildlife and environmental themes; others are fun and whimsical, stressing exercise and companionship.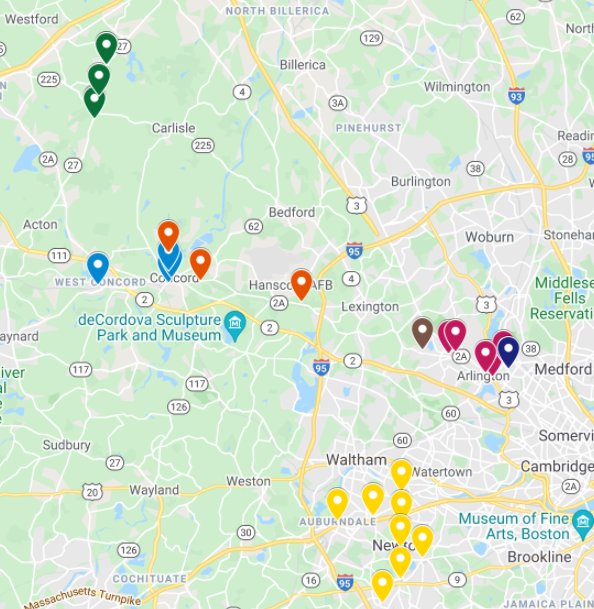 Additional "Go Out Doors" projects were then commissioned and previewed last fall in neighboring Concord Center, and the towns of Arlington and Lexington, symbolically connecting three towns, three bikeways, three cultural districts, and three visitor centers.
In 2021 and 2022, Go Out Doors - Neighbors projects continued to spread, with new art doors installed or planned in Northborough, Carlisle, Westford, Concord, Arlington, Lexington, Medford, Groton, Minute Man National Historical Park, and eight villages in Newton including Auburndale; Newton Centre; Newton Highlands, Newton Upper Falls, Newtonville, Nonantum, Waban and West Newton. For a non-exhaustive, interactive Google map of past, current and upcoming artdoor installations, click the map shown here.
Background, wayfinding, photos, information about the artists, calls for new proposals, and other news will be updated throughout the season at TheUmbrellaArts.org/Doors.
Previous Installations