Go Out Doors 2022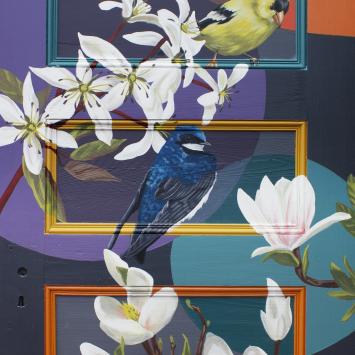 On View Through October 31, 2022
Artists Reception and Walking Tour Saturday, October 29, 10:30AM-Noon at The Umbrella
Originally inspired by the En Plein Air door installation on NYC's High Line, Go Out Doors – Neighbors expands on a summer 2020 installation celebrating the opening of The West Concord section of the Bruce Freeman Rail Trail, then expanded over the next two years to towns and partners throughout the Greater Boston and Metrowest areas. 
In 2022, The Umbrella is thrilled to continue Go Out Doors - Neighbors with some fun new twists here at The Umbrella and throughout Concord this summer, when we're inviting local residents and businesses to create and display their own "artdoors" along with us, and our partners at West Concord's Bradford Mill and Minute Man National Historical Park! (Learn more about this project and how you can get involved this year here!)
Join Us for the Go Out Doors Walking Tour and Celebration!
Celebrate the Autumn and Go Out Doors in beautiful, historic Concord Center Saturday, October 29, 10:30AM-Noon!  Meet at The Umbrella Arts Center, 40 Stow Street, and join a walking tour of the painted doors in the Go Out Doors public art exhibition in Downtown Concord. Hear from several of the artists who will enhance the work with their own insights. Return to The Umbrella to celebrate with fall-themed refreshments. Painted Doors will be for sale after the close of the exhibition for $200 apiece. To inquire about purchasing a door, contact Stephanie@TheUmbrellaArts.org.
View the Map of Doors in Concord
What's On View
BARD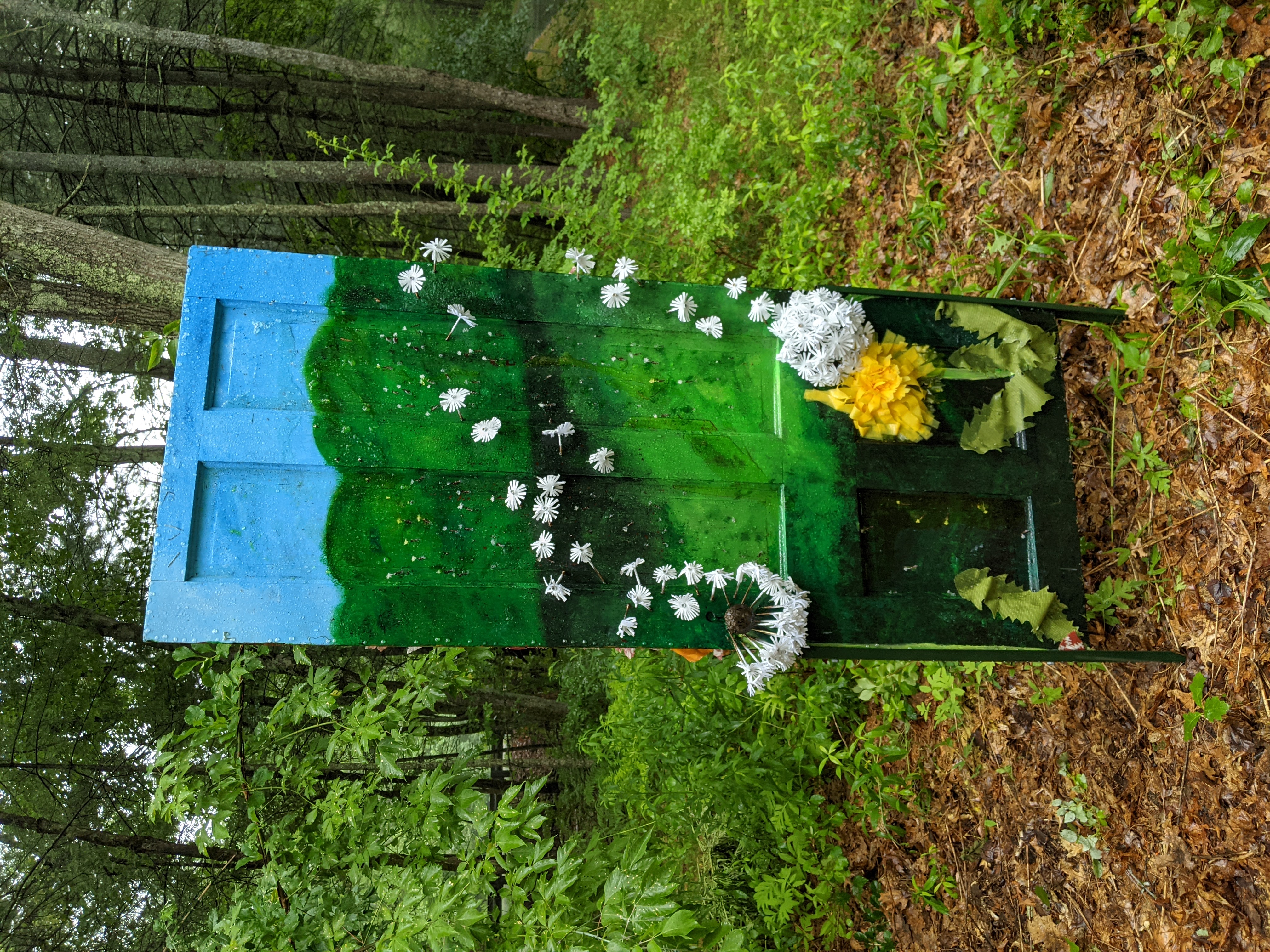 Originally from Nevada, BARD (Barbara Ayala Rugg Diehl) currently works and lives in Massachusetts. She brings her diverse backgrounds into her art subject matter and processes, having received her BA in Theater and English from Brandeis University and her MA in Sustainable International Development from the Heller School for Social Policy and Management. Her attraction to mixed media stems from both her work as an environmental educator and a personal creative curiosity. By using found items and reusing her own objects and clothes, she both reduces waste and explores the tangibility of art. In many of her pieces she utilizes 3-D elements to redefine who can interact with visual art, adding Braille and durable interactive elements to allow blind and low-vision audience members to enjoy her work. Her art has been featured in solo and group exhibits in eight states across the country, as well as internationally in Australia. https://barbaraayalarugg.wixsite.com/artbybard
Second Wind
When doors are opened, a barrier is taken down and the air mixes, creating a new space linked with the old. The coming seasons will be a second wind for the community, where our new and old realities will mix, and we can strive to keep the positive aspects of both while we face the new shape of our lives, and breathe anew. "Second Wind" revels in possibilities and childhood memories celebrating nature, imagination, joy, and exploration- and daring us to daydream about the future.
Echoes of Footsteps and Flora
Gardens are living links to the past, documenting our relationship to the land and our changing view of beauty with each era. Exploring the Buttrick Gardens' main elements, a rich history is revealed. Beginning with the indigenous care of the area, and continuing with the Buttrick family to the historical society, the essence of the land has been changed with each new steward. Not only can we get in touch with those who came before by walking their paths, but we can viscerally relate to the past by connecting with living things. As an artist, environmentalist, and daughter of a historian, gardens to me are the ideal combination to peer into our relationship with nature and society as a whole. Drawn to the Buttrick Gardens as an oasis throughout the pandemic, I hope to share the historical mosaic of the space and bring those who walked there into focus. By forging a tangible connection between us and the past, we can visualize what we want the future to look like and what we need to preserve to make that future take shape.
Cassandre Charles was born in Boston, MA at  Boston City Hospital, in 1971. Her parents migrated from Haiti so her father's band, Volo Volo, could pursue international opportunities. Both her paternal grandfathers were multi-media artists. One an eccentric free spirit she never met. The other sweet doting grandpa ,who was a too stern disciplinary dad. He gave her Herhey's kisses on the sly and called her Ti Pingi (Little Twig).
As an Interdisciplinary/Embodiment artist with fiery Haitian artistic blood and revolutionist's fire, she's developed a style of story-telling filled with beautiful rage and cryptic symbols, bended text and cultural, ritualistic, embodiment  Her obsession with anatomy seeps through all her mediums in a range of displays that drive the intention of supporting social justice and human rights advocacy endeavors. There are streaks of pop-culture and music references confirming her ownership to the label, "mature African-Haitian-American artist".  Her self portraits reflect her social cultural upbringing and educational career at Hampton University, a historically black college in the 90s.
Her choreography shows her physicality and natural understanding of the human body. Her thirst for information and training shows appropriate representation of movements of dances of the world and her true love movement, classical ballet
This summer Cassandre starts as a member of somatic expert Joshua Elbaum's Somatic Artistry Cohort and the ArtsAssembly Creative Cohort. She will continue as Artist Collaborator with Monkeyhouse and the Boston Dance Alliance Dance & Disabilities Cohort on developing accessible resources for people with visible and invisible disabilities. Her fall residency  "works in process" show will take place at Rocco Ricci Studio in Allston MA, where she is Studio Resident Artist.  
Cassandre holds a BA in Speech, Interpersonal & Organizational Communication from Hampton University.  She will begin the low residency MFA program at Mass College of Art in the summer of 2022.
Playtime for Prince/Black Boy Joy - Honoring Prince Estabrook
It was difficult to imagine a child of slavery playing. How could they find joy in one of the most traumatic times for the descendants of Africa? Children are resilient in imagination and play. To depict the black experience in joy needs to be a constant in my work. I am free to create my own image of a hero whom we have no pictorial reference for. I choose to show him as a young boy who chose to fight along with his owner as a young man. I choose to focus on this black boy's joy.  Joy used to psychologically prepare him for a life of servitude and war.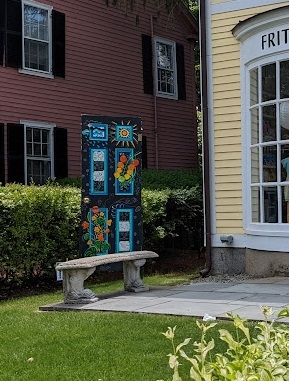 Abby has always been happiest making art and being outdoors in the sun. She was lucky enough to grow up on a farm, and as a toddler would tag along to markets and write seedling tags in the greenhouse.  Eventually she started actually working on the farm, as well as making signs for the produce, which is what she is currently doing. Abby is back in Massachusetts after years studying in New Orleans and teaching preschool in Rio de Janeiro. She still loves making art in many forms, and is especially drawn to creating functional objects. @abioca.art
Remember the Future
Working on a farm, I am bombarded with inspiration for art, and as I create art I am conditioned to appreciate the beauty and necessity of the plants even more.  These processes feed each other, and me of course.  A door is a glaring metaphor for stepping into the future, and the concept of the future is becoming increasingly uncertain, hazy, and frankly scary.  In their work dissecting the past and its implications for today and tomorrow, journalist Masha Gessen encourages us to "remember the future."  This door encourages viewers to grasp on to the playful and joyful sides of chaotic uncertainty as they envision the possibilities of what the world could look like.  By letting go of expectations and institutional tradition and embracing radical imagination and wisdom, the uncertainty of the future becomes less scary, and more intriguing.
Nayda Cuevas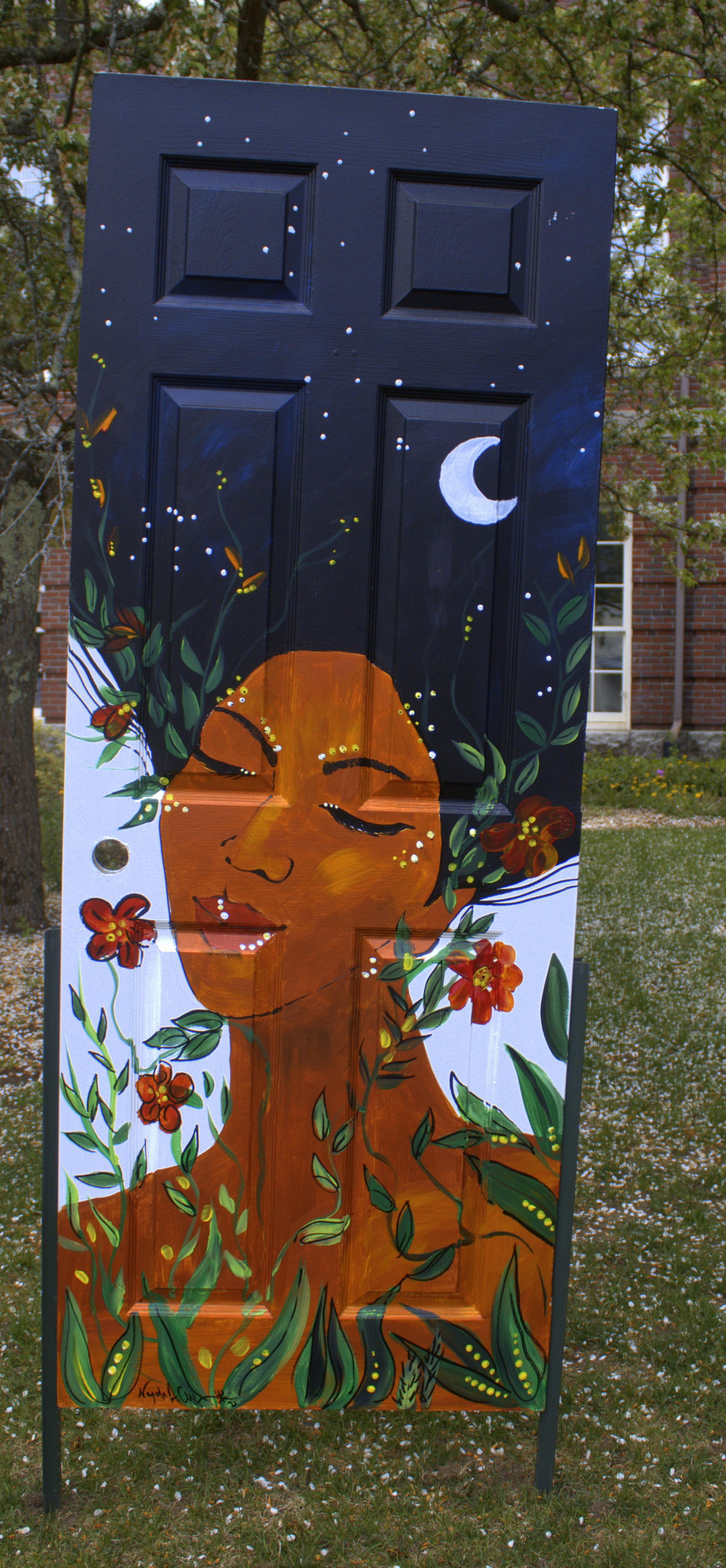 Nayda A. Cuevas is an internationally exhibited, interdisciplinary artist who explores her LatinX identity and current cultural trends working in a variety of mediums, from intricate ceramics to oil painting to large-scale public banner art. Her recent public art installations include "Madre Gaia," currently on view at 40 Stow Street as part of The Umbrella's regional Go Out Doors exhibition, and "Wish for Change," a Black Lives Matter-inspired outdoors project that traveled to Milford, Worcester, Stoneham, Belmont and finally Concord as part of 2021's Artfest Artwalk. Born in Puerto Rico, she holds an MFA from Lesley University, and has been Artist-in-Residence at The Nobles and Greenough School, MASS MoCA/Assets for Artists and Room 83 Spring in Watertown. Also a dedicated teaching artist at The Umbrella, she is designing a series of workshops and exhibition for regional teen artists responding to racial justice themes. Naydacuevasart.com
Madre Gaia
"Madre Gaia" came to be as a design to contemplate on Mother Earth. As we all quarantined during COVID we all craved the outdoors. We saw how around the world, nature reclaimed its landscape. My female figure is inspired by the Taino Indian native to the island of Puerto Rico, the original design was created while I reconnected to nature in my birth place in the winter months.  Madre Gaia aims to remind the viewer that nature and human fragility is not separate.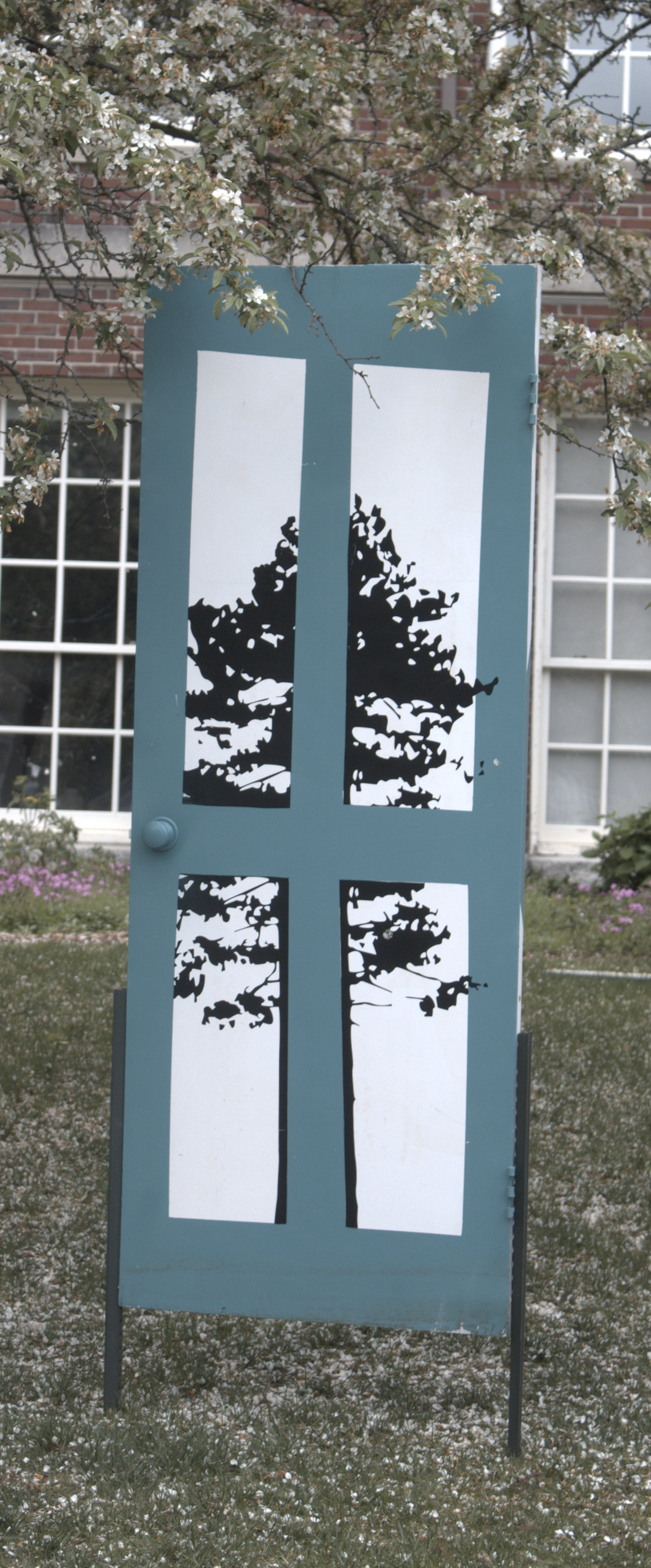 Liz Helfer Studios is located in Waltham, MA, where Liz creates sculptures by commission and for exhibition. Liz has focused on metal for over a decade because of its historical complexity and perceived value. However, in recent years she has been moving away from singular material choices and has moved into a mixed media practice that addresses our impending environmental peril.
Liz is currently the Coordinator at Hatch Makerspace by the Watertown Free Public Library, where she introduces making to the greater Boston community through 3D printing, laser cutting, robotics, and more traditional processes. She also creates public structures and interactive projects for the town of Watertown, MA. You can find her permanent public sculptures at the Pedvale Open-Air Art Museum in Latvia, in Palmyra, NY, Colebrook, NH, and Newton, MA. http://www.elizabethhelfer.com 
Over, On, and Under
The Bruce Freeman Rail Trail passes through each of the three major waterways in the area: the Assabet, Sudbury, and Concord Rivers. Going along the path roughly follows the SuAsCo watershed as it flows towards the Merrimack River. Each of these rivers has great environmental and recreational value that reflects the values of the rail trail. "Over, On, and Under" celebrates a favorite river pastime that reveals what's going on over, on, and under the water: canoeing.
Alicia Herman & Umbrella Summer Campers
This piece was conceptually created and designed by the Summer Arts Under The Umbrella Camp campers and artistic direction of the piece lead by Alicia Herman. Alicia Herman earned a certificate in museum education from Tufts University in 2011. Earlier, she received a MSW from Hunter College, CUNY. She presently works as the Community Programs Coordinator at South Shore Art Center and is part of the Umbrella Community Arts Center faculty. In the past she enjoyed working in a variety of educational and museum settings including the Boston Museum of Science, Danforth Arts, Historic New England, and the Institute of Contemporary Arts. Alicia's personal goal is to create opportunities for youth and families to have a creative outlet and use the arts as a means to build community and help others learn about the world around them. 

Jonathan & Ming
This piece, based on the concepts of time and age, illustrates the creatures of the earth that can transcend time by living for centuries – specifically Ocean Quahogs & Giant Tortoises. The Giant Tortoise is a depiction of the 190-year-old Seychelles Giant Tortoise named Jonathan that resides on the South Atlantic Island of St. Helena. The Ocean Quahog is a depiction of Ming, the oldest ocean quahog clam ever discovered aged to 507 years old, when it was dredged off of the coast of Iceland in 2006. The piece also examines both the positive and negative impacts of human beings effecting the lifespans of Earth's creatures. For Jonathan, the giant tortoise, who has been under the care, support and protection of human beings since 1882, this has allowed him to live safely while other Seychelles Tortoises were going extinct due to over consumption. Ming, the ocean quahog, on the other hand died in the process of scientific research conducted by Bangor University researchers. Scientists froze Ming during the research process, which as a result killed the quahog. The concepts of time, longevity and human impact are all fascinating to consider. We encourage you to consider how the world climate changed throughout the lifespans of these creatures and how much has changed just during your own.
Yetti Frenkel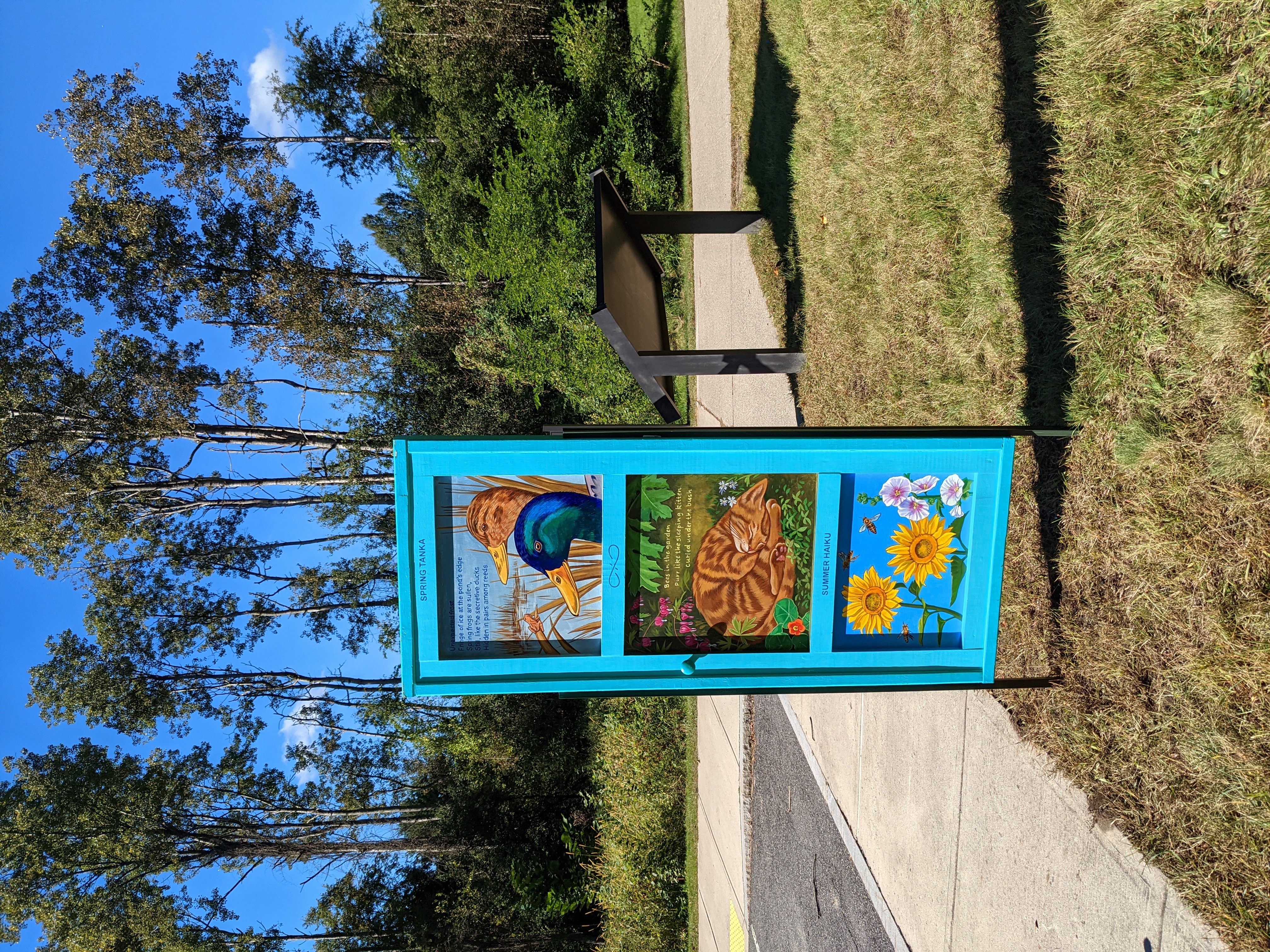 I love storytelling, and my artistic work often contains a narrative quality and implied story. For thirty-five years my inspiration was my home town of Lynn, Massachusetts, where I documented scenes of everyday life in the tradition of the Ash Can School. Other series include scenes of commuters on the subway, grooms at Suffolk Downs, and performers I knew when I worked for the Big Apple Circus. These images are created in a variety of media, including watercolor, oil, and pastel.
My public artwork includes murals for the children's departments of nine public libraries, and murals and mosaics for communities and organizations. My sculptural work has been displayed in numerous locations in New England. These include bronzes and sculptural mosaics. https://yetti.com/
Go Outdoors!
Like many people, I cherish the picture books I loved as a child. The combination of words and pictures on paper had a special quality that cannot be replaced by the computer screen or tablet. When I saw the call for artists to design a door for the Minute Man National Historical Park, I immediately thought of combining words and images to make a poetry door, a portal that would have a quality of whimsy and magic.The door is my tribute to my parents and all the wonderful hours they spent reading to me, and the joy those memories still bring.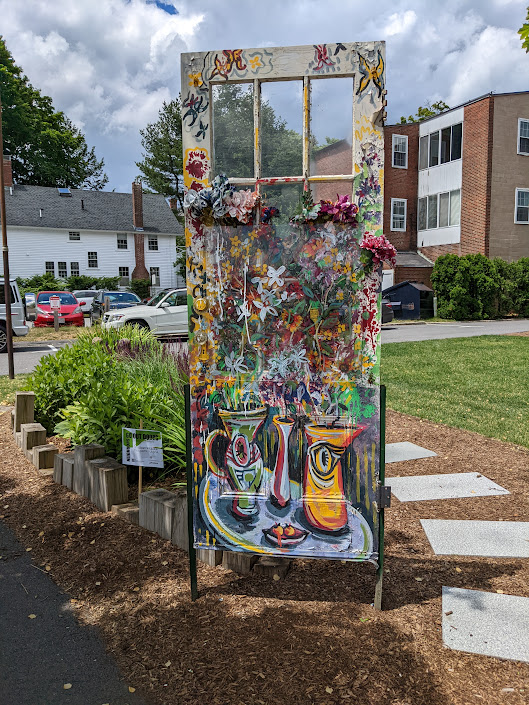 Margarita's career as an artist began with Artists for Humanity – Boston, where she worked as a painter and collaborated on public art projects. In 2012 she studied abroad in Hong Kong through Tufts, where she focused on studying traditional Chinese ink painting. In 2013 she received the Dehn Traveling fellowship through SMFA for a trip to Armenia and Georgia, which resulted in a body of work inspired by the stone structures she photographed while there. In 2014 Margarita graduated from the Tufts and SMFA Combined degree program with degrees in Art and Neurobiology. In 2018-2019 Margarita fulfilled a lifelong dream when she solo backpacked Central Asia, Russia, parts of the Middle East and China, traveling on a tight budget, by land. She met people that would inspire much of her recent work and created commissioned murals in Tashkent - Uzbekistan, Isfahan – Iran, Moscow – Russia, and Kaili – China. These days Margarita works from her studio in Western Ave Studios in Lowell, MA, teaches, and participates in outdoor fairs and local events. http://www.margaritakrylova.com/
Seeds of Thought
The focus of my work is the inevitable link between humans and the natural world. In my portraiture, nature is both the backdrop for the subject's experience, as well as an expression of their internal state. Nature becomes a vehicle for soul searching – my subjects return to what makes life possible and connect with an entity that is infinitely more powerful and eternal than any individual and all of society. It is humbling, and perhaps calming, to realize that even at best of times, there is only so much in our control.
Blossom Pareidolia
Dedicated to the experience of seeing faces in flowers, plants and the still lives that include them. Facial recognition is quite an important aspect of our lives and is thought to happen in a brain region called the Fusiform Face Area (FFA). I've self-diagnosed my own FFA as being hyperactive many years ago- although I think most people can relate to spotting faces in unlikely places. What other associations and imaginings lie behind the doors of our conscious minds?
Monkeyhouse, an award-winning nonprofit that connects communities through choreography, encourages people of all ages to move with meaning. Founded in 2000, we began with a promise to build a laboratory where choreographers could create, experiment and present new work. We have mentored, nurtured and supported local, national, and international choreographers ranging from students first experimenting to established favorites. Through NEFA's Center Stage program, we partnered with Arts at the Armory, Endicott College, Impulse Dance Center, the Pingree School and the Center for Arabic Culture to present Fleur D'Orange (Morocco) in 2014. Thanks to the Miner Nagy Family Gift Fund, we launched the Covid Collaborations in April 2020 to support over 60 artists and arts organizations within the New England dance ecosystem.  Monkeyhouse projects have toured to New York, San Francisco, Minneapolis, Philadelphia, Winnipeg, Chicago and around New England. We've hosted hundreds of conversations about different creative processes and formed long term relationships with presenters, audience members and other choreographers. Monkeyhouse's Covid Collaborations have supported over 135 artists through the pandemic since early 2020.
Choreodor
Choreodor is a choreographic exercise of studying at how people move through a space. The verbs listed on this door were documented through visits to intersections in Concord. How does the space impact how you move? How does your movement impact the space? Which of these verbs applies to you? Which do you want to give a try? How do you view the space and the way it is used differently when you think about not just the other people but all of our more than human friends who share this space with us?
Caroline Provost has been part of The Umbrella Arts & Environment and Concord community for many years. A former Arts & Environment Coordinator at The Umbrella, she connects closely with the mission to unite community and nature together through art.
Sunflowers
The sunflower figures were inspired by a sketch from high school. The original idea never found an opportunity to shine until the Go Out Doors project. The sunflowers figures toss their seeds into the wind and kneel to bury the seeds in the ground.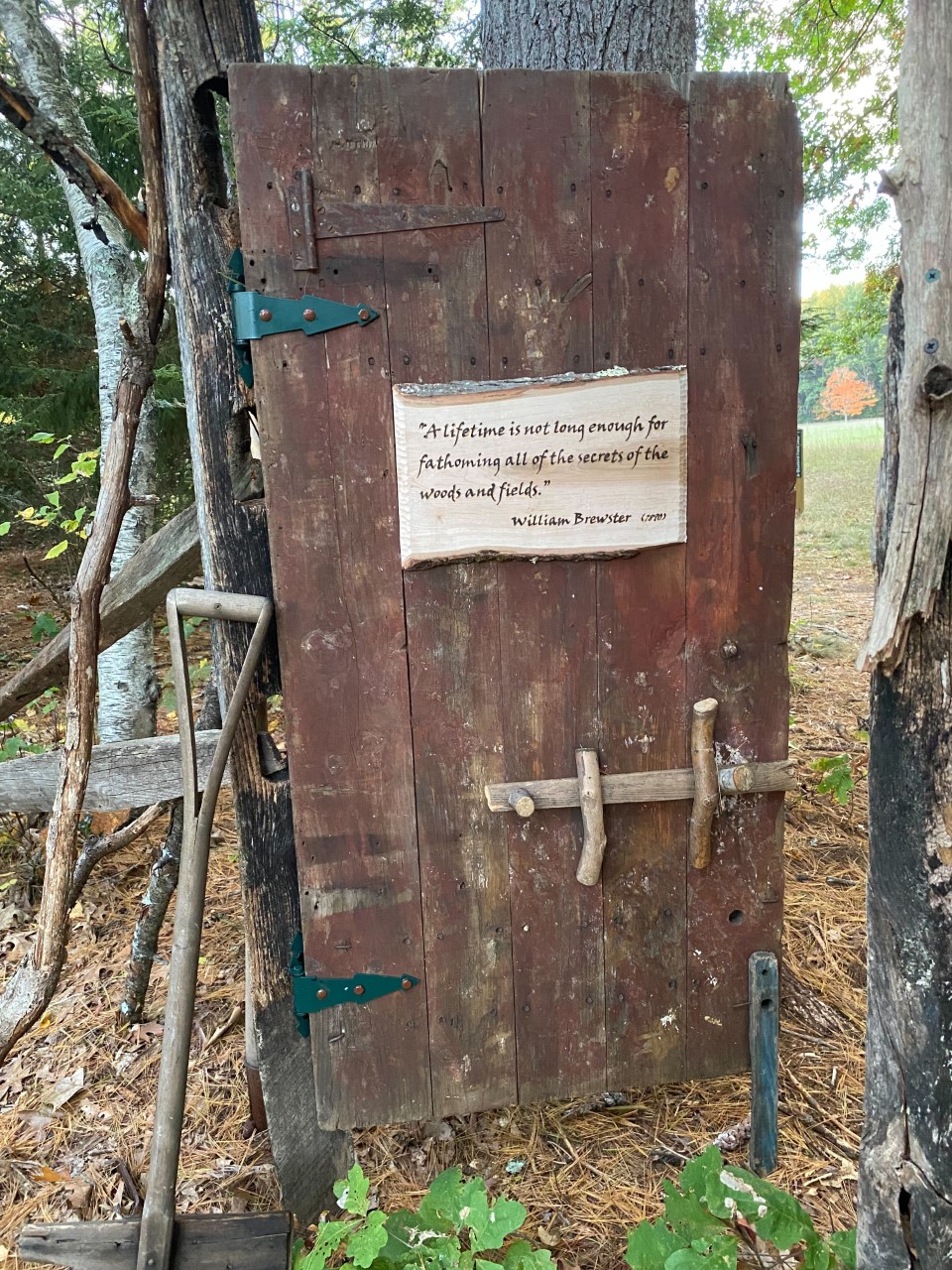 William Turville's work is often inspired by his immediate experience in a specific environment and his desire to create a change or develop a message regarding this experience. He is motivated by controversial or timely subjects, often related to environmental causes or social justice. He will use nearly any material or medium or combination of mediums to achieve this, working in two- and three-dimensions and at various scales. He enjoys working collaboratively on larger community projects which are aligned with his views on environmental and social justice issues. As a sculptor, Bill has worked with many arts and environmental organizations, including a varied, productive, and creative twenty-plus year connection to The Umbrella Arts Center and its Arts and Environment program. He has enjoyed working with Mass Audubon Drumlin Farm on many projects involving art installations and sculptures using local natural materials for about thirteen years. He is a 1972 Pratt B.Arch. graduate, with graduate work at Mass. College of Art, course work at The DeCordova Museum, and several residencies at the Vermont Studio Center. His full-time/full-service architecture and sculpture studio is located in Waltham, MA.
"Welcome to Brewster's Woods"
Mass Audubon is in the process of opening up a very large and scenic parcel of woodlands, wetlands, and fields along the Concord River for public use. This old farmland estate is part of a large parcel formerly owned by William Brewster, a prominent local ornithologist, conservationist, and curator, who served as the first president of the Massachusetts Audubon Society while he lived in Concord from 1891 to 1919. Mass Audubon asked William Turville to fashion a "welcoming" door/entry or marker at the intersection, marked by two large pine trees, of two popular paths through this preserved area. This "door" is part of the Concord "Go Out Doors" project, sponsored in part by The Umbrella Arts Center collaborating with Mass Audubon. This particular "Doors" installation is to be permanent, to remain there as long as possible until nature reclaims the wooden elements that compose it.
For this project, Mr. Turville has continued in his efforts, in building this installation, to use local materials and artifacts for the project. Centered on the installation of an ancient, weathered gate, as the "door", he has created a portal from fence parts from the farm, antique implements, and branches and brush cleared from the woods by Mass Audubon staff. A quote from William Brewster, chosen by Mass Audubon, is wood-burned onto a slab of locally-sourced maple. The gate is ajar, to signal Mass Audubon's welcoming of the public to this historic preserved woodland. Everyone involved hopes that this installation will also help those who are enjoying this land to appreciate the land and its history, and the effort that Mass Audubon has made to preserve William Brewster's woods for all to enjoy.
Sophy Tuttle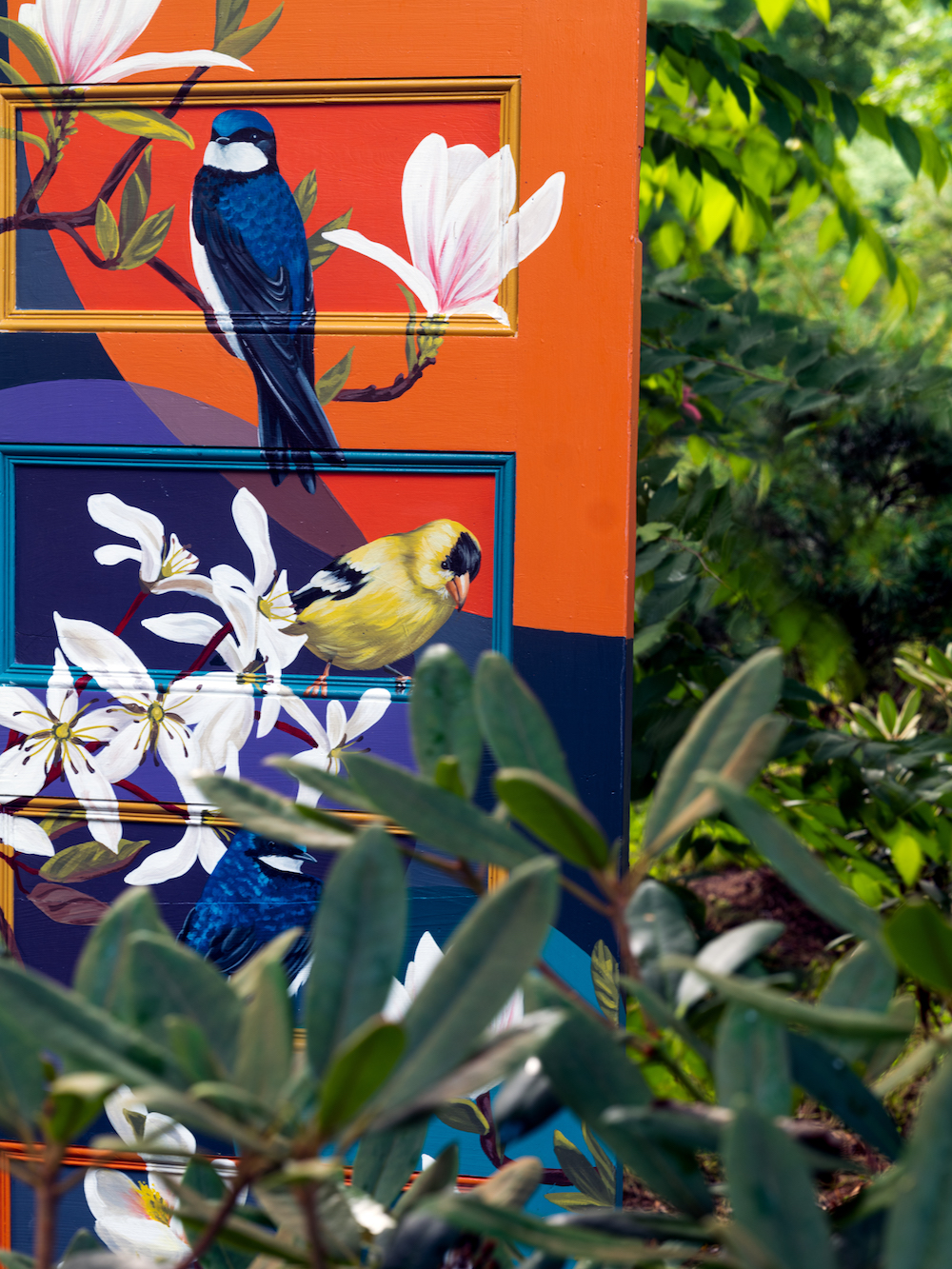 Sophy Tuttle is a mural artist based in Lowell, MA. She has completed work all around Boston over the last 10 years and continues to paint murals regionally, nationally, and internationally. Her work is inspired by the natural world and the conflicts and collaborations we find ourselves entangled in with plants and animals both on a local and on a global scale. sophytuttle.com
Spring
This door was painted at the beginning of the pandemic last year. It was inspired by my daily walks outside watching the world wake up from its winter slumber. I felt a swell of hope watching the birds continue their busy lives as we humans began to enter into our long period of contraction and isolation. Now I see it as a celebration of having made it through to the other side to be able to rejoin the plants and animals in the cycles of life.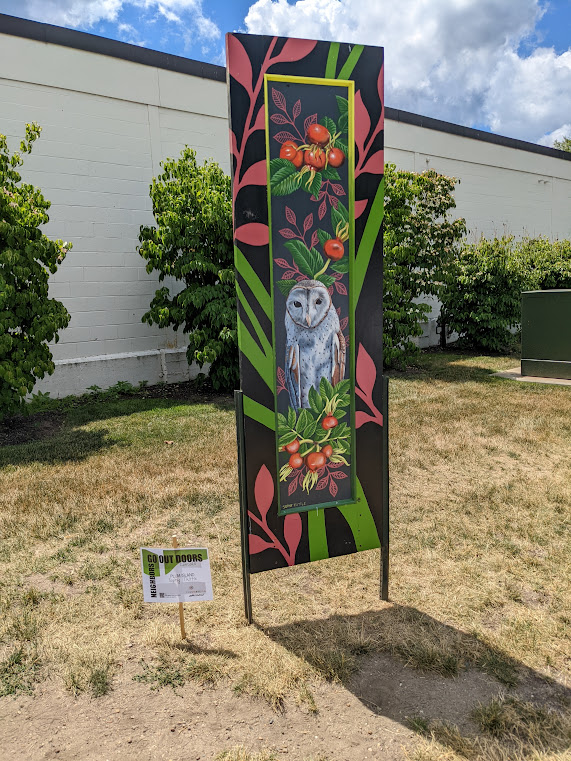 Plum Island
This door was painted during the first few months of lockdown, which I spent on Plum Island. During that time I took daily walks and runs and got to know the wildlife on the island. I became really fond of the rose hips and I could hear all kinds of birds chirping and calling throughout the days and nights.