Go Out Doors - Bradford Mill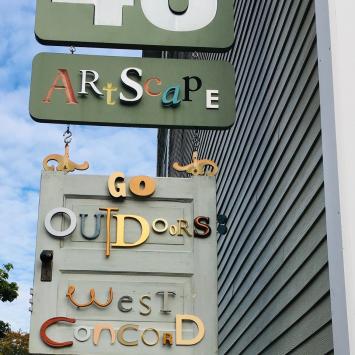 On View Fall 2021
Opening Reception: Wednesday, October 20th at 12:30 PM
33 Bradford Mill
Mission: "Go Out Doors" inspires discovery and exploration of outdoors spaces and trails, and the intersection of place, history, community, spirit, and nature.

What happens if you open the door at the end of challenging times and step outside to reflect and engage with nature, each other, and the past? What might we discover if, on foot or wheel, alone or with friends, we find ourselves on a path through woods, gardens or parks – off the roads we travel daily? What if we leave our electronics behind, reconnect with natural settings and inspiring stories, and rediscover the joys of travel, cultural communities and collaborative spaces? What might we feel? What might change?
The Umbrella Arts Center is thrilled to collaborate on a new Go Out Doors project with the creative community around ArtScape, Wheelhouse, and Bradford Mill. Set back in the heart of neighboring West Concord Cultural District, this fantastic property houses a vibrant co-working center, studios for several artists, and offices for such creative businesses as Pitch Black Editions, Crosby Design, Barefoot Books and many more. It is also home to the newly opened Concord Sign Museum.
The Mill community is installing a dozen new artworks to expand the "Go Out Doors – Neighbors" regional exhibition of artfully upcycled, painted and sculptural art doors now being displayed in towns all throughout Greater Boston and Metrowest. View them at The Mill at 33 Bradford St, Concord .
Featured Artists
Gary Barbati | And She Sang
Barefoot Books | Step Inside a Story
Sahag Bukruian, Wayside Gallery, Potager | Happily Ever After
Shawn & Clara Cao, ArtScape Art in Studio with Brigitte | La Porte
Meg Gaudet, A New Leaf | A Walk in the Woods
Patti Hartigan, author of forthcoming biography August Wilson: The Blood's Memory & Billy Crosby | August
Stephen Kivimaki | Kivimaki Atelier
Donna Gordon & Diane Harvey | Birds of a Feather
Susan Muller & Janet Anderson; West Concord Green Thumbs | Garden Smiles
Ben Schaffner & BENET (aka Ann Sussman) | Sea of Creativity
Laura Tilus-Korhonen & BENET | Could you please have a look
Thanks to Minuteman Media Network for its new program highlighting this season's Go Out Doors - Neighbors installation at Bradford Mill in West Concord, in collaboration with Artscape. The new segment shares the background of the multiyear Go Out Doors project and interviews several of the participating artists at Bradford Mill. MMN had also covered the original Go Out Doors exhibition commissioned for the Bruce Freeman Rail Trail in July 2020.
ABOUT GO OUT DOORS - NEIGHBORS
Originally inspired by the spring 2020 En Plein Air door installation on NYC's High Line, Go Out Doors – Neighbors expands on The Umbrella's summer 2020 installation celebrating the opening of The West Concord section of the Bruce Freeman Rail Trail. Additional "Go Out Doors" projects were later commissioned and previewed last fall in neighboring Concord Center, and the towns of Arlington and Lexington, and have now blossomed in several more towns celebrating outdoors art and healthful outdoors activities as the region re-emerges from Covid isolation. Grateful acknowledgment to the Foundation for Metrowest for its support of Go Out Doors - Neighbors. LEARN MORE