Go Out Doors 2020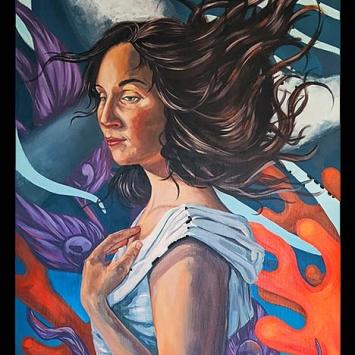 NEW! Call for Proposals for an expanded region-wide exhibition, Go Out Doors - Neighbors 2021  
Go Out Doors
A Bruce Freeman Rail Trail Public Art Project
July 1 - November 30, 2020
"I only went out for a walk and finally concluded to stay out till sundown, 
for going out, I found, was really going in." ― John Muir 
What happens if you open the door and step outside? What happens if the opportunity to engage presents itself? What might we discover if, on foot or wheel, we find ourselves on a path through the woods – hidden from the roads we travel daily? What happens if we leave our electronics behind and find that steps from the front door a sensory world awaits? What happens if we walk and bike daily to and from school and work? Or just for fun? What might we feel? What might change? 
We invite you to visit our Go Out Doors exhibition of doors painted by nine artists and installed on the West Concord section of the Bruce Freeman Rail Trail between Route 2 and Powder Mill Road. Inspired by the En Plein Air door installation on NYC's High Line, we hope you discover inspiration, whimsy, irony, reflection, connection, curiosity, spirituality, and/or joy. 
Here is a map of the Concord section of the Bruce Freeman Rail Trail. 
Artists:
Kayo Burman
Karla Collins
Howie Green
Caroline Provost
Rebecca Tuck
Sophy Tuttle

Many thanks to our partners:
Friends of the Bruce Freeman Rail Trail 
Foundation for Metrowest
Town of Concord
Many thanks to our door donors: 
Debbie Carpenito
Karen Economopoulos
Nika Engberg
Trish Ng
Anne Standish
Tom and Ann Trudeau/Acorn Deck House
Debra Whitestone 
UPDATES
A NEW extension of the Go Out Doors exhibition, Go Out Doors - Neighbors expands the original concept to connect neighboring towns -- three towns, three bike paths, and three cultural districts to date.