Go Out Doors @ Minute Man National Historical Park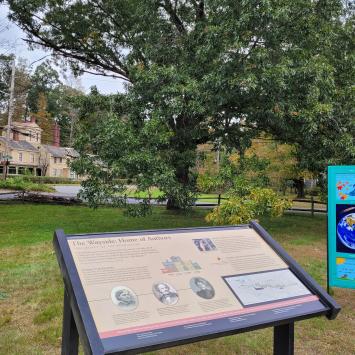 On View Through November 15, 2022
Curated by MONKEYHOUSE
Mission: "Go Out Doors" inspires discovery and exploration of outdoors spaces and trails, and the intersection of place, history, community, spirit, and nature.

What happens if you open the door at the end of challenging times and step outside to reflect and engage with nature, each other, and the past? What might we discover if, on foot or wheel, alone or with friends, we find ourselves on a path through woods, gardens or parks – off the roads we travel daily? What if we leave our electronics behind, reconnect with natural settings and inspiring stories, and rediscover the joys of travel, nature, and places like our National Parks? What might we feel? What might change?
Minute Man National Historical Park and The Umbrella Arts Center have collaborated once again to share public art celebrating and displayed in our National Park. Curated by Monkeyhouse, the exhibition brings unique, Park-inspired artistic perspectives to expand The Umbrella's "Go Out Doors – Neighbors" regional exhibition of artfully upcycled, painted doors installed in towns throughout Battle Road, Metrowest and beyond.
Designs are inspired by, respond to, and creatively interpret themes from major sites in the Park:
Yetti Frenkel was inspired by The Wayside, which generations of literary families made a famous home of written word and thought, from the Revolutionary War to the Underground Railroad to its gifting to the Park in the 60s
By Minute Man Visitor Center, Cassandre Charles found meaning in the story of Parker's Revenge, which poses the question: where and for what do you stand and fight?
At Buttrick Garden, artist BARD found beauty in our relationship with the outdoors and reconnect with nature
Featured Artists
BARD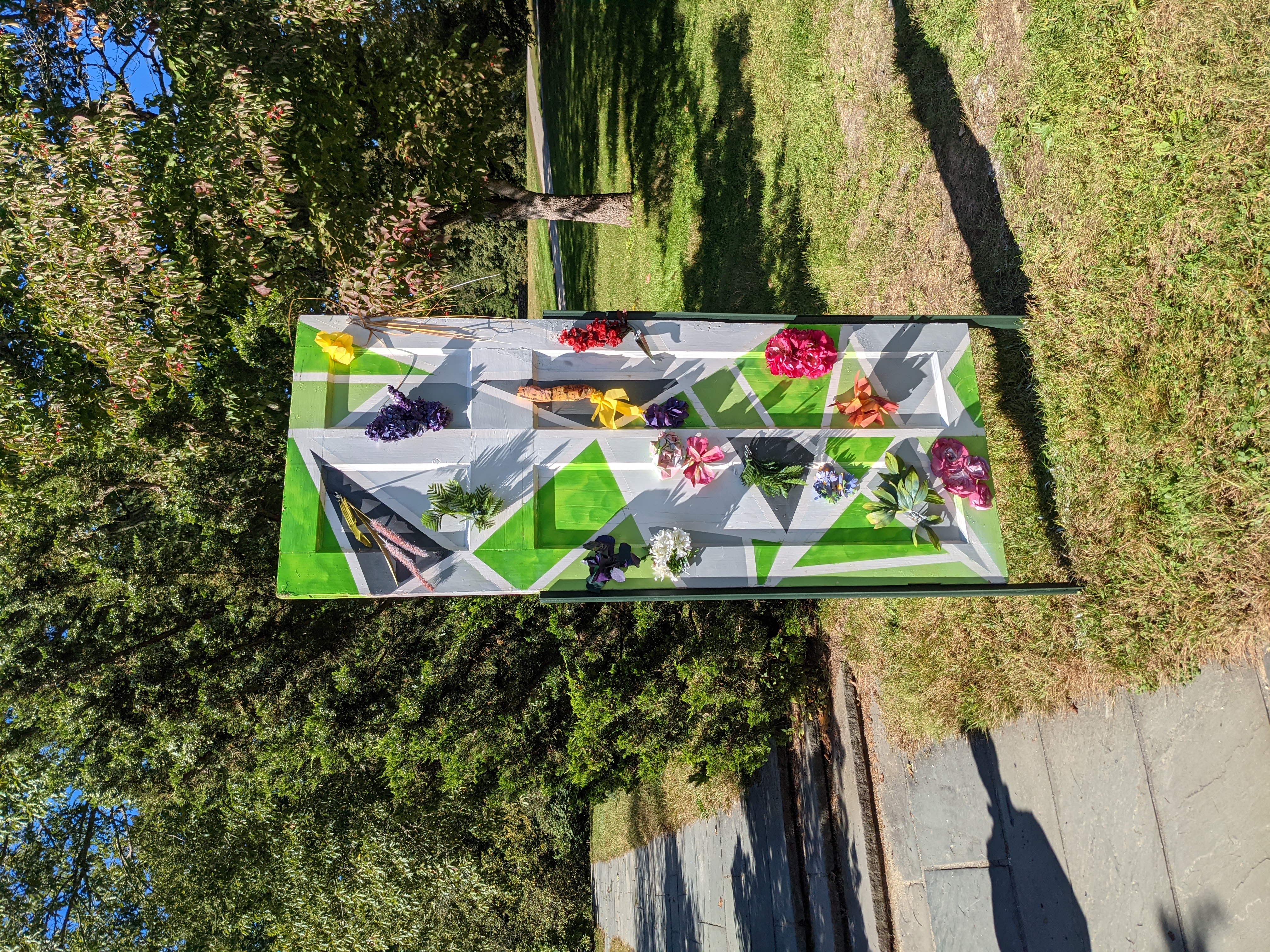 Originally from Nevada, BARD currently works and lives in Massachusetts. She brings her diverse backgrounds into her art subject matter and processes, having received her BA in Theater and English from Brandeis University and her MA in Sustainable International Development from the Heller School for Social Policy and Management. Her attraction to mixed media stems from both her work as an environmental educator and a personal creative curiosity. By using found items and reusing her own objects and clothes, she both reduces waste and explores the tangibility of art. In many of her pieces she utilizes 3-D elements to redefine who can interact with visual art, adding Braille and durable interactive elements to allow blind and low-vision audience members to enjoy her work. Her art has been featured in solo and group exhibits in eight states across the country, as well as internationally in Australia.

Echoes of Footsteps and Flora
Gardens are living links to the past, documenting our relationship to the land and our changing view of beauty with each era. Exploring the Buttrick Gardens' main elements, a rich history is revealed. Beginning with the indigenous care of the area, and continuing with the Buttrick family to the historical society, the essence of the land has been changed with each new steward. Not only can we get in touch with those who came before by walking their paths, but we can viscerally relate to the past by connecting with living things. As an artist, environmentalist, and daughter of a historian, gardens to me are the ideal combination to peer into our relationship with nature and society as a whole. Drawn to the Buttrick Gardens as an oasis throughout the pandemic, I hope to share the historical mosaic of the space and bring those who walked there into focus. By forging a tangible connection between us and the past, we can visualize what we want the future to look like and what we need to preserve to make that future take shape. [map]
Cassandre Charles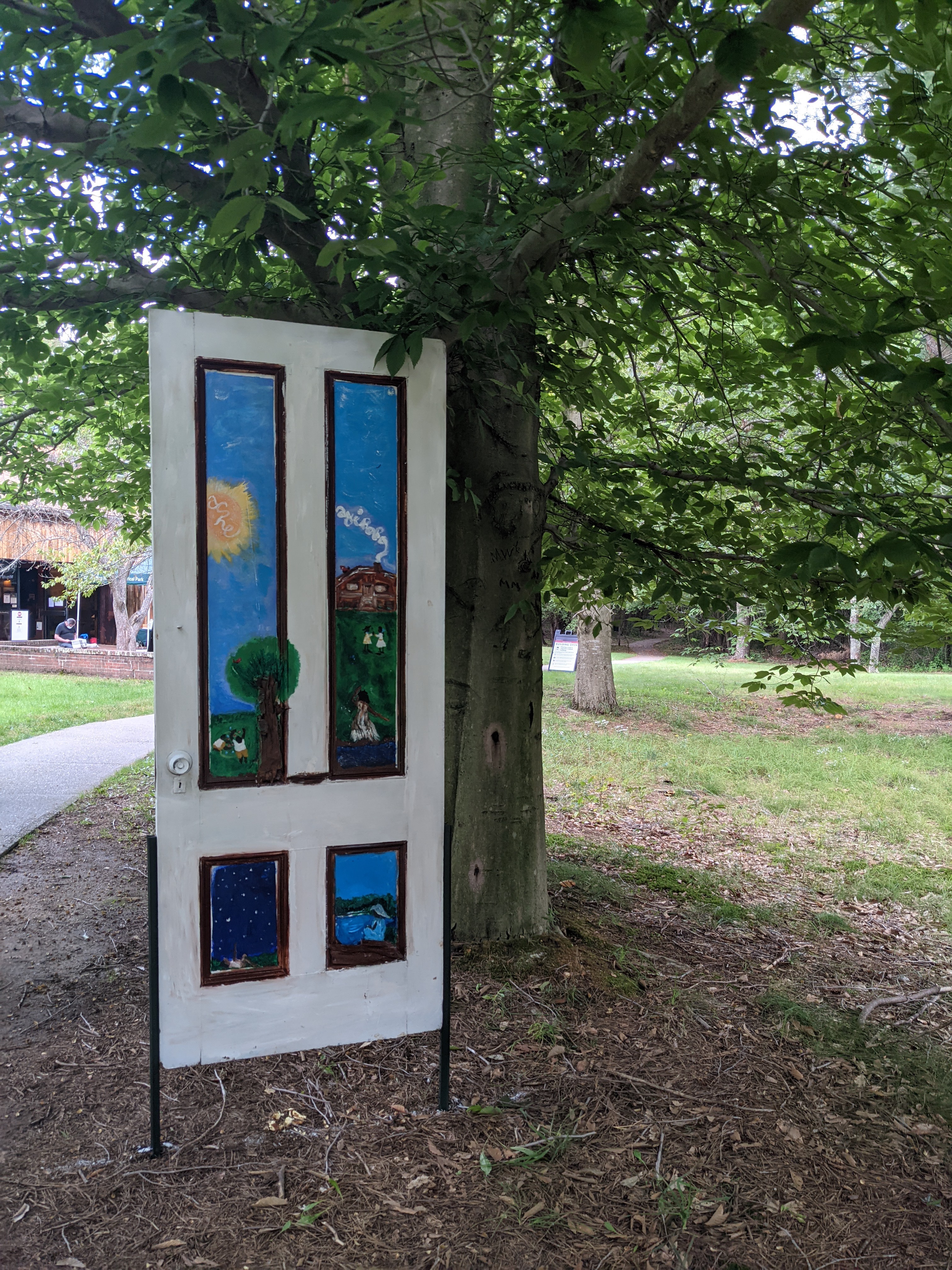 Cassandre Charles was born in Boston, MA at  Boston City Hospital, in 1971. Her parents migrated from Haiti so her father's band, Volo Volo, could pursue international opportunities. Both her paternal grandfathers were multi-media artists. One an eccentric free spirit she never met. The other sweet doting grandpa ,who was a too stern disciplinary dad. He gave her Hershey's kisses on the sly and called her Ti Pingi (Little Twig).
As an Interdisciplinary/Embodiment artist with fiery Haitian artistic blood and revolutionist's fire, she's developed a style of storytelling filled with beautiful rage and cryptic symbols, bended text and cultural, ritualistic, embodiment.  Her obsession with anatomy seeps through all her mediums in a range of displays that drive the intention of supporting social justice and human rights advocacy endeavors. There are streaks of pop-culture and music references confirming her ownership to the label, "mature African-Haitian-American artist".  Her self portraits reflect her social cultural upbringing and educational career at Hampton University, a historically black college in the 90s. Her choreography shows her physicality and natural understanding of the human body. Her thirst for information and training shows appropriate representation of movements of dances of the world and her true love movement, classical ballet.
This summer Cassandre starts as a member of somatic expert Joshua Elbaum's Somatic Artistry Cohort and the ArtsAssembly Creative Cohort. She will continue as Artist Collaborator with Monkeyhouse and the Boston Dance Alliance Dance & Disabilities Cohort on developing accessible resources for people with visible and invisible disabilities. Her fall residency "works in process" show will take place at Rocco Ricci Studio in Allston MA, where she is Studio Resident Artist. Cassandre holds a BA in Speech, Interpersonal & Organizational Communication from Hampton University.  She will begin the low residency MFA program at Mass College of Art in the summer of 2022.
Playtime For Prince/Black Boy Joy; Honoring Prince Estabrook
It was difficult to imagine a child of slavery playing. How could they find joy in one of the most traumatic times for the descendants of Africa? Children are resilient in imagination and play. To depict the black experience in joy needs to be a constant in my work. I am free to create my own image of a hero whom we have no pictorial reference for. I choose to show him as a young boy who chose to fight along with his owner as a young man. I choose to focus on this black boy's joy.  Joy used to psychologically prepare him for a life of servitude and war. On the back of door: a history and silhouette of black soldier Prince Esterbrook. On front: Vignettes with restored matieras, acrylic paint, exterior paint [map]
Yetti Frenkel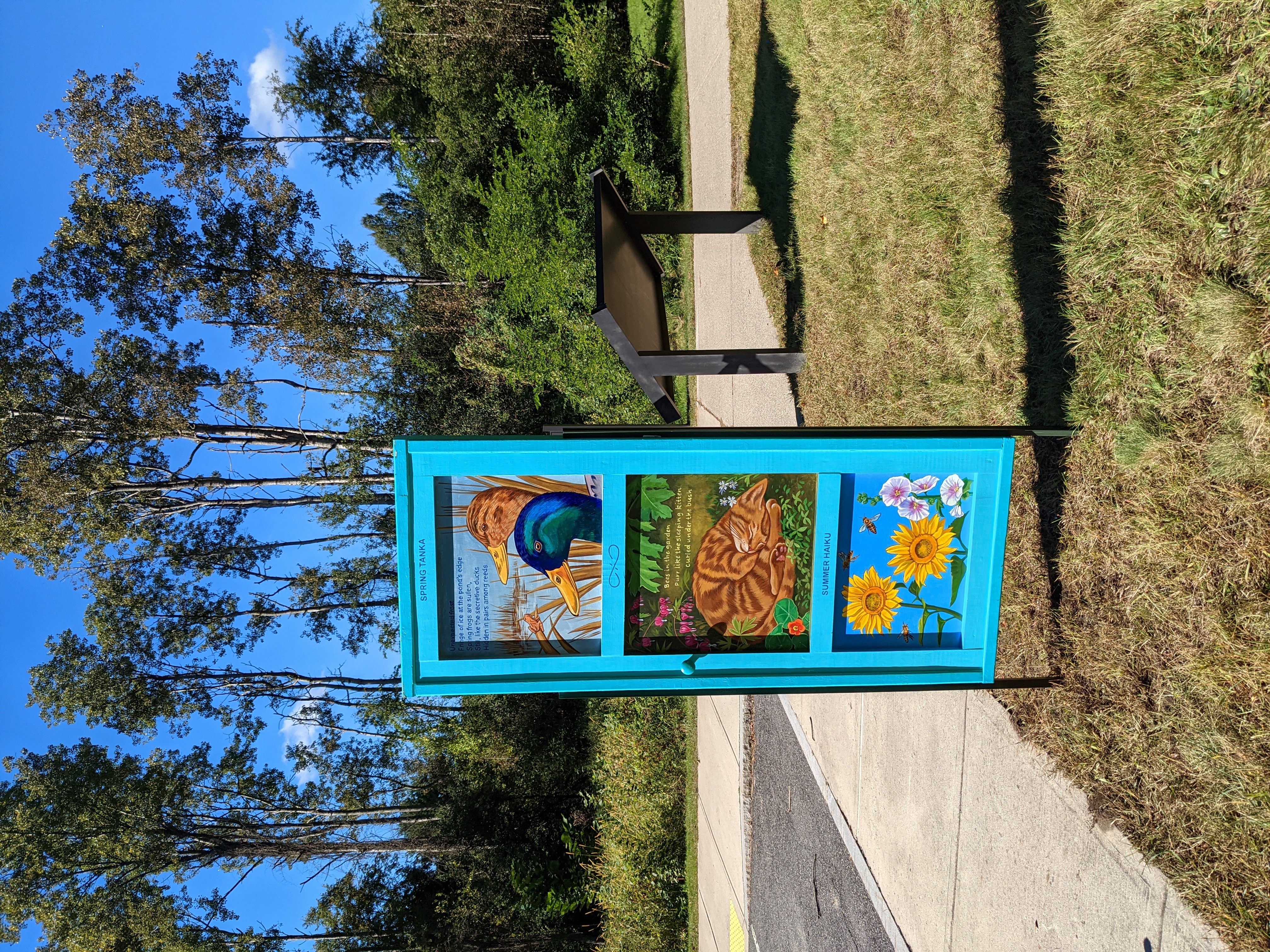 I love storytelling, and my artistic work often contains a narrative quality and implied story. For thirty-five years my inspiration was my home town of Lynn, Massachusetts, where I documented scenes of everyday life in the tradition of the Ash Can School. Other series include scenes of commuters on the subway, grooms at Suffolk Downs, and performers I knew when I worked for the Big Apple Circus. These images are created in a variety of media, including watercolor, oil, and pastel.
My public artwork includes murals for the children's departments of nine public libraries, and murals and mosaics for communities and organizations. My sculptural work has been displayed in numerous locations in New England. These include bronzes and sculptural mosaics.
Go Outdoors!
Like many people, I cherish the picture books I loved as a child. The combination of words and pictures on paper had a special quality that cannot be replaced by the computer screen or tablet. When I saw the call for artists to design a door for the Minute Man National Historical Park, I immediately thought of combining words and images to make a poetry door, a portal that would have a quality of whimsy and magic.The door is my tribute to my parents and all the wonderful hours they spent reading to me, and the joy those memories still bring. [map]
ABOUT GO OUT DOORS - NEIGHBORS
Originally inspired by the spring 2020 En Plein Air door installation on NYC's High Line, Go Out Doors – Neighbors expands on The Umbrella's summer 2020 installation celebrating the opening of The West Concord section of the Bruce Freeman Rail Trail. Additional "Go Out Doors" projects were later commissioned and previewed last fall in neighboring Concord Center, and the towns of Arlington and Lexington, and have now blossomed in several more towns celebrating outdoors art and healthful outdoors activities as the region re-emerges from Covid isolation. Grateful acknowledgment to the Foundation for Metrowest for its support of Go Out Doors - Neighbors. LEARN MORE