Become a "Go Out Doors Neighbors" Partner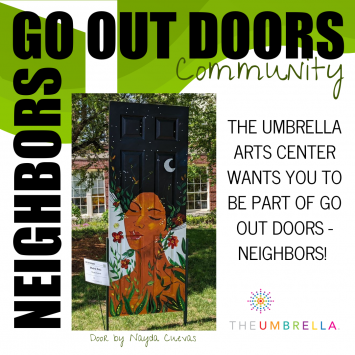 The Umbrella Arts Center invites arts centers, cultural councils, and artist collectives in surrounding commuities to participate in "Go Out Doors - Neighbors", a regional public art campaign featuring artfully painted, "upcycled" doors displayed in open public settings. This year's suggested theme asks how we, as artists, can draw more people outside to engage with the world outside their front door, and what we can do to take care of our neighbors, neighborhoods and natural spaces. You can also choose a theme more specific to your setting. We are creating a map of all participating towns and their doors and we want you to be be on it!
Inspired by the En Plein Air exhibition on NYC's High Line, the "Go Out Doors" installation was initially conceived by The Umbrella Arts & Environment program for the Bruce Freeman Rail Trail in West Concord Cultural District, to encourage reconnection to nature for communities emerging from COVID-19 isolation, at-home schooling, and telecommuting. Gorgeously decorated, recycled doors crafted by regional artists became surprising waypoints of delight while traveling bike paths and walking trails. Now in its third year, previous themes emphasized local wildlife and environmental themes, expressed fun and whimsy, or promoted exercise and companionship.
By participating, your exhibition would be listed on our website and wayfinding map, as well as promoted in our press releases telling the story of this growing regional project. You would also be given a detailed manual on how to execute the project, a call for art, sample press release and a signage template. You could decide to install the doors yourself or hire our dedicated contractor for this project to assist you with installation.
To help cover our design and administrative costs, a suggested donation of $75 or any amount you can manage is appreciated. Checks can be made out to The Umbrella Arts Center and sent to attn: Stephanie Marlin-Curiel, The Umbrella Arts Center, 40 Stow Street, Concord, MA 01742.
For more information about partnering, contact Stephanie@TheUmbrellaArts.org
For more background about the Go Out Doors project, go here