Go Out Doors Neighbors - Metrowest
Originally inspired by the En Plein Air door installation on NYC's High Line, Go Out Doors – Neighbors expands on a summer 2020 installation celebrating the opening of The West Concord section of the Bruce Freeman Rail Trail. Additional "Go Out Doors" projects were later commissioned and previewed last fall in neighboring Concord Center, and the towns of Arlington and Lexington, in an extended, collaborative multitown celebration of outdoors art and healthful outdoors activities as the region re-emerged from Covid isolation. 
In 2021, Go Out Doors - Metrowest expands the celebration further, with additional doors on display on the Bruce Freeman Rail Trail in Carlisle and Westford. Watch for many more Go Out Doors - Neighbors calls for art and installations in other towns, cities and parks throughout Greater Boston and Metrowest the summer and fall!
Featured Artists
BARD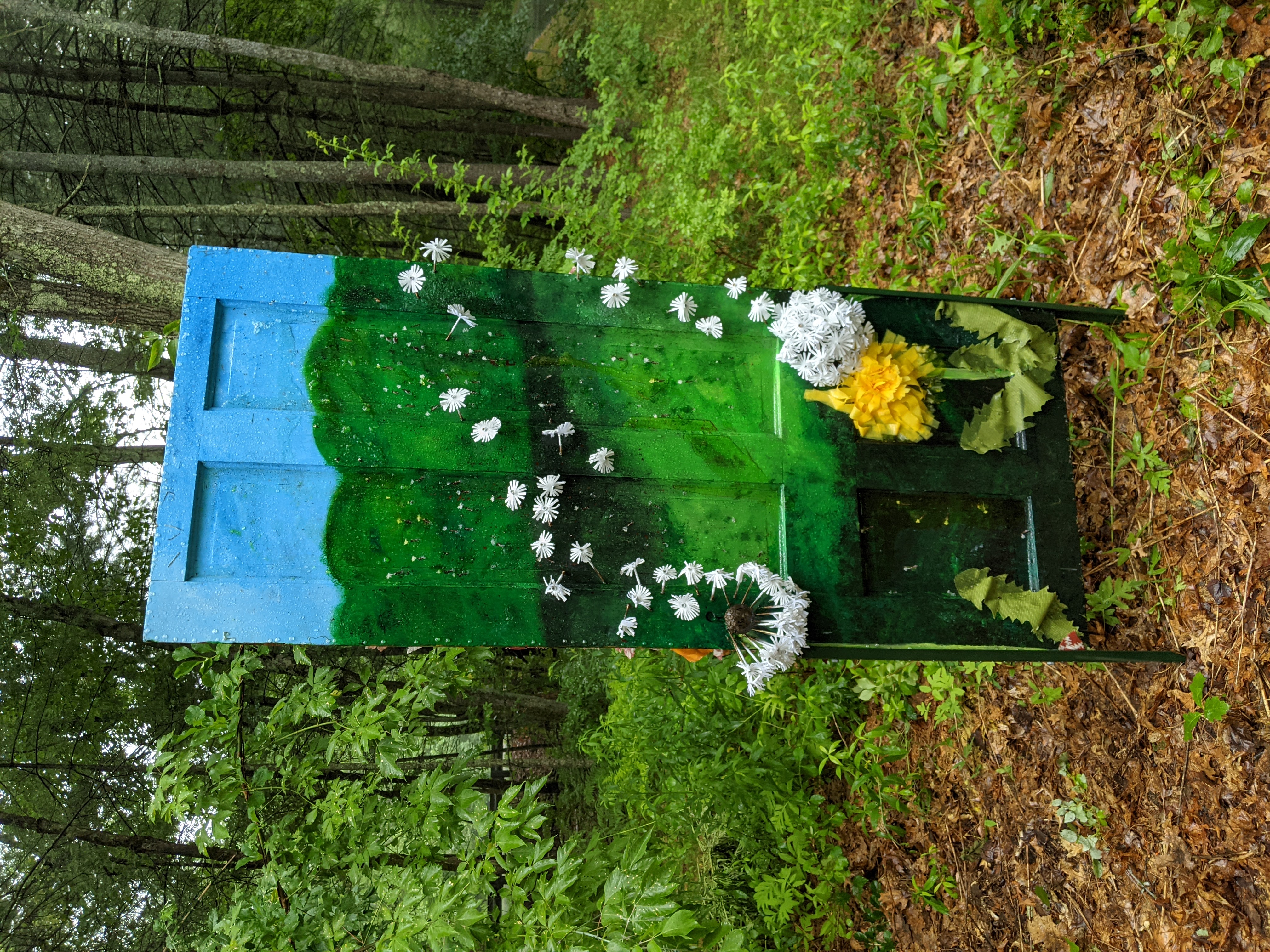 Originally from Nevada, BARD currently works and lives in Massachusetts. She brings her diverse backgrounds into her art subject matter and processes, having received her BA in Theater and English from Brandeis University and her MA in Sustainable International Development from the Heller School for Social Policy and Management. Her attraction to mixed media stems from both her work as an environmental educator and a personal creative curiosity. By using found items and reusing her own objects and clothes, she both reduces waste and explores the tangibility of art. In many of her pieces she utilizes 3-D elements to redefine who can interact with visual art, adding Braille and durable interactive elements to allow blind and low-vision audience members to enjoy her work. Her art has been featured in solo and group exhibits in eight states across the country, as well as internationally in Australia.
Second Wind
When doors are opened, a barrier is taken down and the air mixes, creating a new space linked with the old. The coming seasons will be a second wind for the community, where our new and old realities will mix, and we can strive to keep the positive aspects of both while we face the new shape of our lives, and breathe anew. "Second Wind" revels in possibilities and childhood memories celebrating nature, imagination, joy, and exploration- and daring us to daydream about the future.
[map]
Karla Collins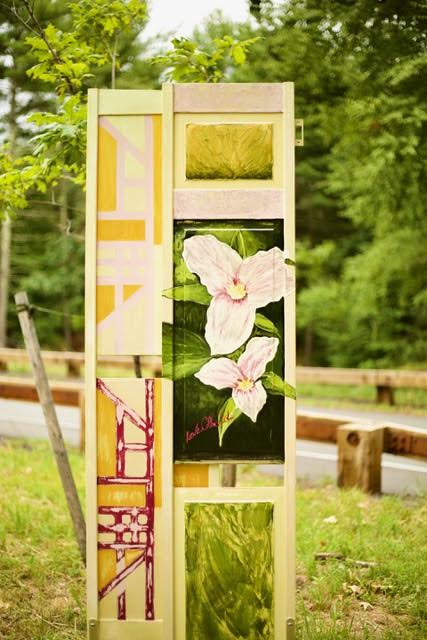 Karla grew up in Westford, graduated Bachelor of Arts from N.U. with a focus on design. She painted her first mural there at the Huntington Avenue YMCA . At the Carving Center and Sculpture Studio in VT she used only traditional tools. Her coursework included theatre design, graphic design, animation and typography. Her background in teaching ranges from preschool to substitute teacher with emphasis on special education. She was a volunteer at SNAP in 2018-19 where she shared her patience and compassion with neurodiverse young adults. She apprenticed with Margot Kimball at the Village Art Room where she led Minuteman Arc classes twice a week. Karla assisted design and display of their community art shows. Last year she received a small grant from the Concord Local Cultural Council to support teaching special artists at The Village Art Room.  As a new member to the group ACCT Artists Create Change Together she collaborated making mural banners for non-profits and community action groups. She is the Musketaquid nature party leader at the Umbrella Arts and Environment Program.  I am informed by my intrigue with the language of nature and the many unique ways that make up the process.
From the Botany Journals
My work is a reflection of my lifelong interest in design. I am always discovering new means of expression. Most of my work is creating mono prints and collagraphs using soy based inks and the contemporary field of paper pulp and eco-based method. One of my passions has been teaching special artists at The Village Art Room. I help people appreciate the arts and environment as I did Leading Musketaquid Art parties at The Umbrella Center. I started this out-door project by reading excerpts from Henry Thoreau and Emily Dickinsons' botany journals. I wanted to reflect on how valuable those journals are today. We all witness and observe nature best with multiple senses. Many have awakened to our planets call for healing. When designing this installation, I was mindful of the habitat my installation would be part of. Made with love during the middle of the pandemic.
[map]
Jen Fuchel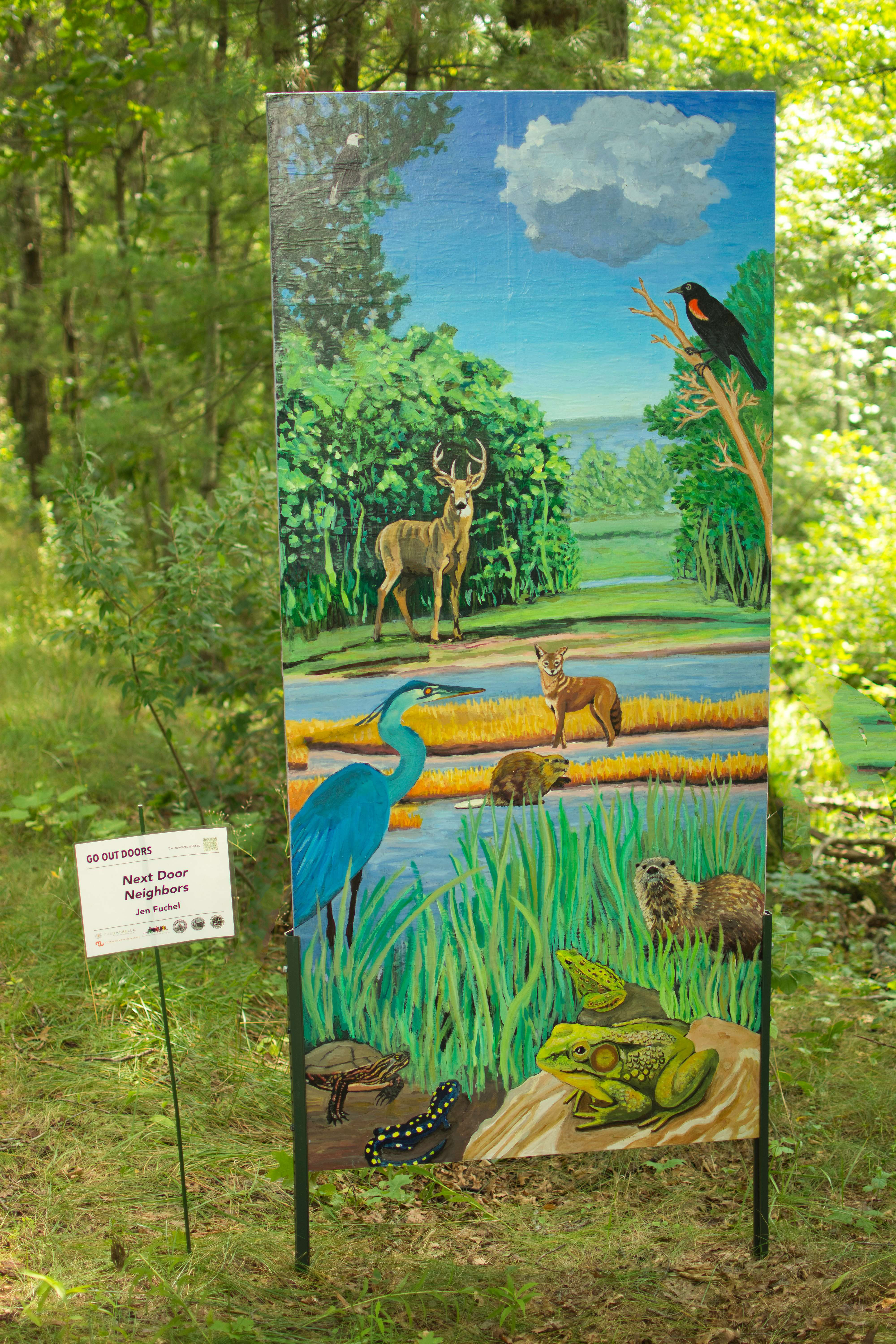 Jennifer just retired from her 30 years of teaching graphic design. She is now exploring fine arts including painting, sculpture, animation, and digital/augmented reality.
Next Door Neighbors
As gyms closed during the pandemic, people started walking and exploring the outdoors. I was inspired by the new awareness people acquired as they went for neighborhood strolls, took photos, and then posted their observations of deer, otter, beaver, coyote, eagles, turtles, ducks and other wildlife, who in turn were observing them. Enjoy this painting of our non-human neighbors.
[map]
Caroline Provost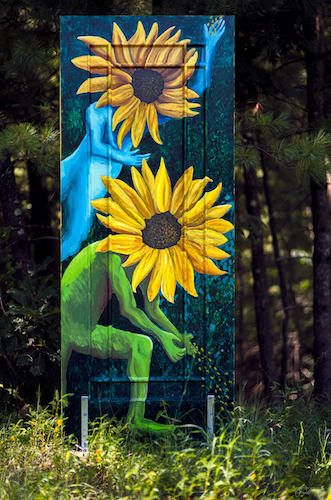 Caroline Provost was the former Coordinator of the Arts & Environment Program, otherwise known as Musketaquid. Her work in the Arts & Environment Program encompassed many areas of The Umbrella. She managed marketing and communication for Ninjas Festivals, weaving workshops, and other fun classes. She planned community events, such as Musketaquid Earth Day and the Solstice Celebrations. Caroline also ran Musketaquid classes in Concord and Lowell, and Arts & Environment's weekly nature journaling class. She joined The Umbrella in October, 2019. Caroline graduated from Georgetown University, where she studied philosophy and English.
Sunflowers
The sunflower figures were inspired by a sketch from high school. The original idea never found an opportunity to shine until the Go Out Doors project. The sunflowers figures toss their seeds into the wind and kneel to bury the seeds in the ground.
[map]
Rebecca Tuck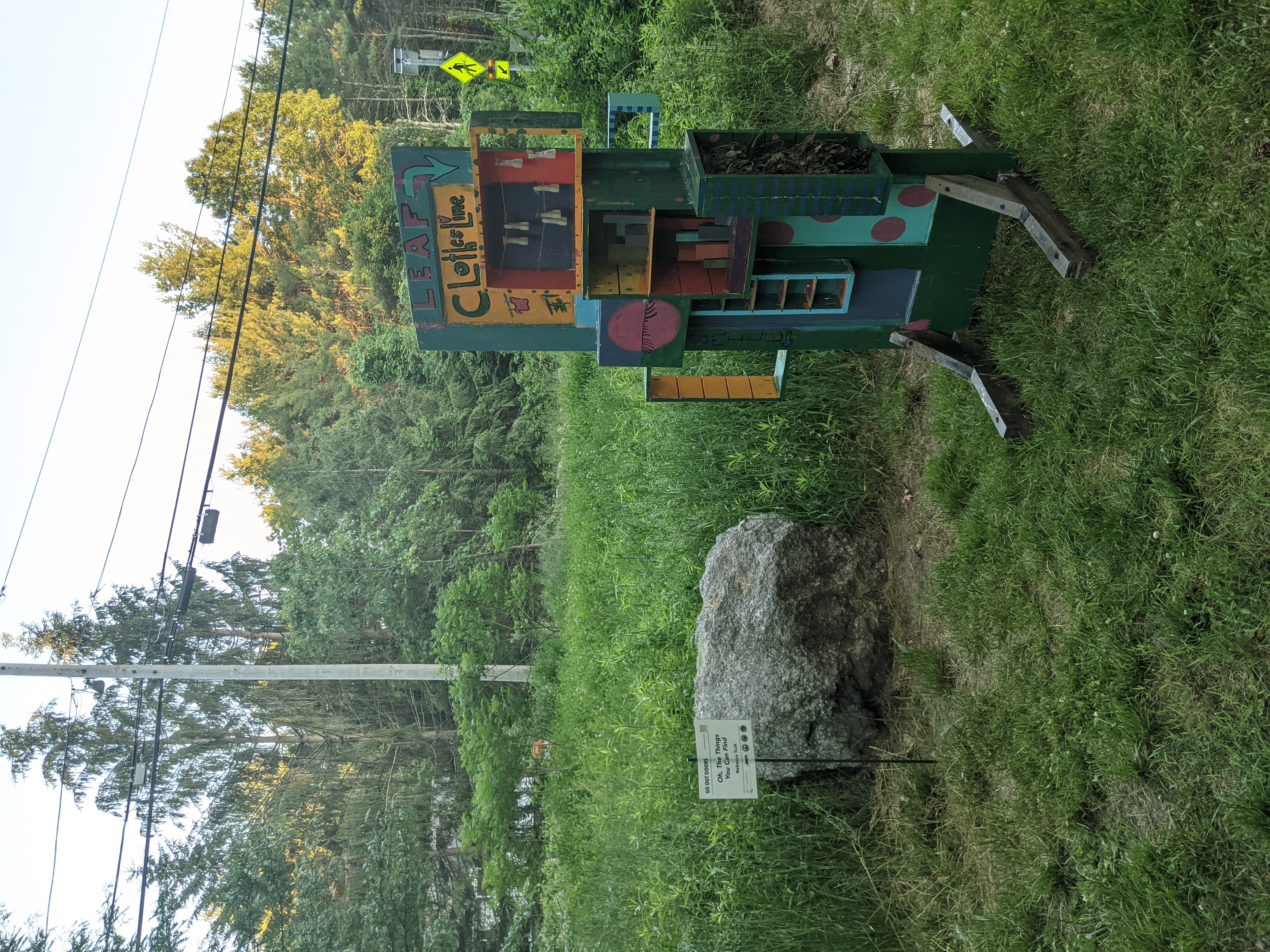 Rebecca McGee Tuck is a fiber artist, a sculptor and a collector of lost objects. Her work is a visual narrative of what she accumulates from a throw away society and as a result she gives new life to what others discard. Tuck has shown her work in multiple juried shows throughout New England including many outdoor sculpture exhibitions. She has been invited to become a 2021 Associate member of the Boston Sculptors Gallery. She recently won the Present Tense Award from ArtsWorcester which recognizes an artist whose work exemplifies new practices, artistic risk-taking, and excellence in execution along with the exhibition of her solo show "Along the Wrackline" in the winter of 2021. Tuck works among her menagerie of debris from her studio at the Mill Contemporary Art Studios in Framingham.
rebeccamcgeetuck.com
Oh The Things You Can Find
For my door project I created the feeling of a mini day at summer camp. I chose colors that remind me of the picnic table that would become full of paint spills after two months of crafting on top of it. "Oh The Things You Can Find" is interactive. Please add flowers and grasses to the nature weaving. Hang new leaves from the clothes line. Vote on your favorite foods and leave a note in the nature journal. I hope you leave this sculpture with a feeling of joy for the outdoors :)
[map]
Sophy Tuttle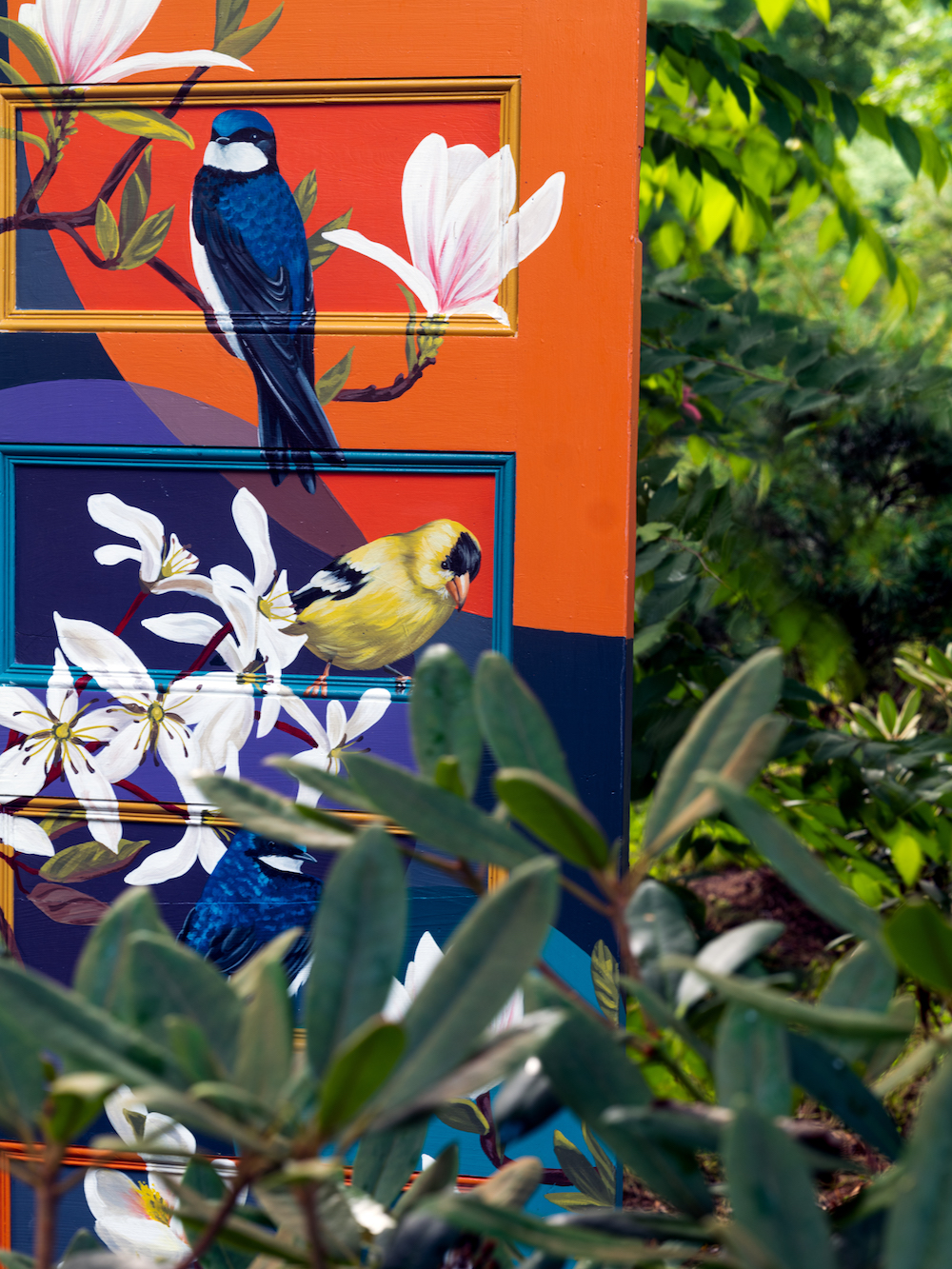 Sophy Tuttle is a mural artist based in Lowell, MA. She has completed work all around Boston over the last 10 years and continues to paint murals regionally, nationally, and internationally. Her work is inspired by the natural world and the conflicts and collaborations we find ourselves entangled in with plants and animals both on a local and on a global scale.
sophytuttle.com
Spring
This door was painted at the beginning of the pandemic last year. It was inspired by my daily walks outside watching the world wake up from its winter slumber. I felt a swell of hope watching the birds continue their busy lives as we humans began to enter into our long period of contraction and isolation. Now I see it as a celebration of having made it through to the other side to be able to rejoin the plants and animals in the cycles of life.
[map]
Plum Island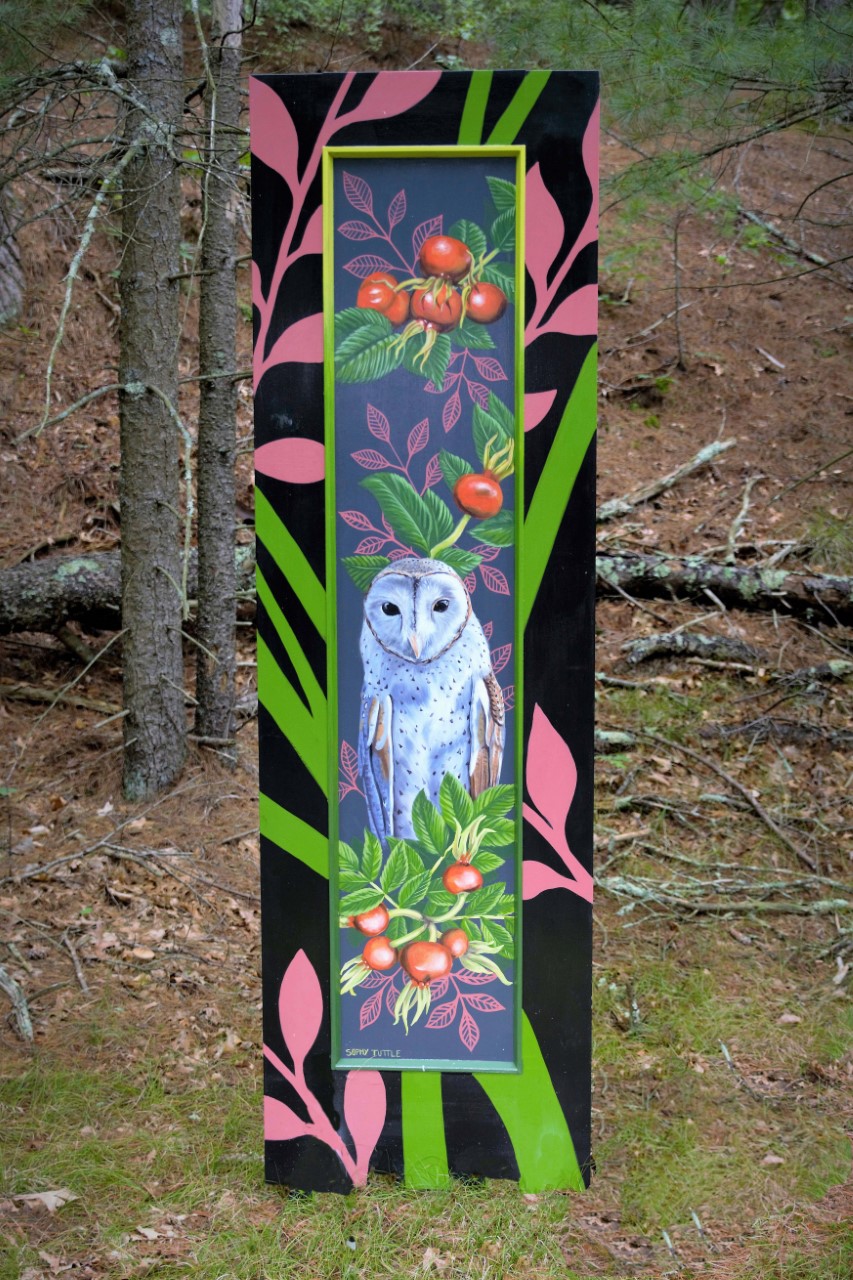 This door was painted during the first few months of lockdown, which I spent on Plum Island. During that time I took daily walks and runs and got to know the wildlife on the island. I became really fond of the rose hips and I could hear all kinds of birds chirping and calling throughout the days and nights.
[map]
Photo credits: Ron Mann, Mark Mackenzie, Nicole Harris