Summer Arts @Home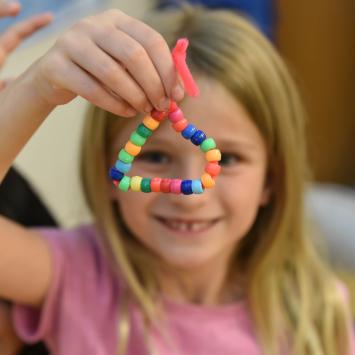 Summer Arts @ Home 2020 
Here at Summer Arts @ Home we believe summer should be filled with ways to think differently! It should be messy! And it should definitey be FUN!  It's a good thing that arts education has it all.  We have brought together the best talents of many of our amazing teachers to share their skills, their knowledge and even some of their secrets!
Knowing that this summer will be different for many families, we designed this summer program with parents and flexible schedules in mind.  Buy a week, work through the projects and supporting content on your own pace. During the heat of the summer days we have projects for inside. Want to get outside and challenge your kids, try the Adventure Program!  Missing the ceramics studio? Our kilns will be fired up this summer, so just pick up clay and glaze, and drop off finished work at the end of the week! 
All students are invited to contribute work they've created to the Discover Your Arts Showcase, a virtual arts exhibition at the end of the summer!
Affordable, flexible, and creative, there is so much to do and learn, so make Summer Arts @ Home part of your summer of fun!

DATES and THEMES:
Week 1: July 6-10 - Theme: Make, Build, Create - Art Explorers
Week 2: July 13-17 - Theme: Weird, Wild, and Wacky Ways to Make Art!
Week 3: July 20-24 - Theme: Art IS All Around!
Week 4: July 27-31 - Theme: Nature Is An Artist's Inspiration!
Week 5: August 3-7 - Theme: WATER WEEK!
Week 6: August 10-14 - Theme: Artist + Engineer = Cool Ideas!
Week 7: August 17-21 - Theme: Fantasy Week - Tales and Stories Inspired
Week 8: August 24-28 - Theme: Mixed BAG - All the Best from Weeks 1-7!
Recommended Materials Kits and Materials kit information is available below.
AGES:
Each week includes art activities designed for 5-9yrs (K-3rd grade) and 10-14yrs (4th-8th grade).
OPTIONS and AVG. HOURS:
"Treasure Box": 10 self-guided lesson hours* (5hrs per age group), includes activities, some context, instructions, and materials lists - $75 per household
Ceramics Special: 2 self-guided lesson hours* (1hr. per age group), includes clay, glaze, firing services - $60 per student
Art Adventure Program: 4 self-guided lesson hours* (2hr per age group), includes, community projects, outdoor challenges, treasure hunts, adventure prompts - $40 per household
Cartooning Afternooning: 1 lesson hour*, for ages 7-12yrs, includes the ability to join that week's live ZOOM video cartooning workshop, scheduled for Tuesdays of each week at 4:00-5:00pm. - $25 per student
* Lesson Hours: The estimated average amount of time required to complete activities, whether self-guided or interactive.
See an example of our curriculum with this sample activity from the Week 1-Treasure Box: Notan Collages Sample Activity!
All of the activities for The Umbrella's Summer Arts @Home were developed with a core set of materials in mind. Many of these materials may be available at home, however some may need to be purchased in advance.
To help, we have created shopping carts through Blick Art Materials and Amazon which are pre-loaded with well-priced, art making tools and materials that are featured in our Summer Arts @Home activities. Simply add to the shopping cart any of the materials you don't have at home for easy, safe, home-delivery.  Be sure to consider purchasing increased quantities if you have multiple members in your household!  Reorder when necessary.
Please keep in mind the relative size of the programs when ordering or wait to review your art activities before deciding on your purchases.  
"Treasure Box" = 10 art activities - will need the most supplies and some specialized items.
Adventure Program = 4 activities - will need less supplies and some specialized items.
Cartooning Afternooning = 1 lesson - will generally only require drawing utensils and paper.
The Basic Arts Kit contains good school-quality art supplies that will cover the basics of most activities. The Premium Arts Kit contains similar items that are typically of higher quality and sometimes quantity as well as some specialized items for the discerning artists. Finally, the Amazon generated list contains those items that are more easily available through Amazon. Please consider making The Umbrella Arts Center your charity on smile.amazon.com.
Your purchases are up to you, depending on the needs of your students and which lessons they choose to complete, the Basic and Premium Kits may last the whole summer!
Week Specific Materials
Week 1
​Week 2
Week 3
Week 4
Week 5
Week 6
Week 7
Week 8
CERAMICS PROGRAM MATERIALS
The Umbrella's Ceramics Department has assembled ceramics materials kits for each registered student. Each bucket is equipped with clay, glaze, a sponge, tools, and brushes!
Kits are available for pick up during the Curbside pick-up hours at The Umbrella from 10am - 4pm on the Tuesdays and Thursdays each week of the summer.
REGISTRATION: 
Meet our Summer Arts @ Home Instructors!