Online Ceramics Policies and Materials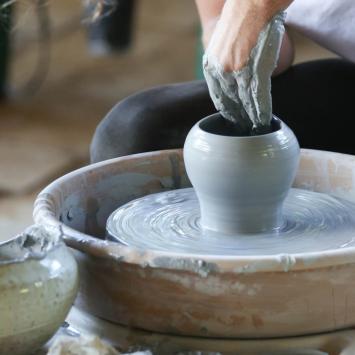 Online Ceramic Course Policies
Rest Assured as soon as we are able to safely re-open, these policies will change and allow for more studio access and material availability.
Materials and Firing
If you purchased Clay from the Umbrella before the shelter in place ordinance…
Your firing and glaze use has been already been paid for. Once we are able to open the studio for "drop off and pick up" you will be notified, and set hours will given to safely enter and exit the studio. You are welcome to purchase glazes online and have pieces glaze fired, or you can wait until our studio is able to open its doors to allow members to come in and use the studio glazes. Re-opening the glaze area will again, be a slow, gradual process. It will start will scheduled time slots to come use the space, and will eventually return to our normal operations and systems
If you purchased Clay from Elsewhere...
Your clay must be rated for our firing temperature, cone 6. We Highly recommend using the clay bodies recommended by the studio on the Umbrella Clay List located below. Please email mike@theumbrellaarts.org if you have any questions
Works can be transported to the Umbrella studio to be fired once the studio can safely re-open for firing services. Clay purchased from outside venders will have and additional $1 per pound fee to cover the cost of one bisque and one glaze firing (re-firing glaze has an additional 50 cent per pound fee). You may purchase commercial glazes or wait until the studio is back open for scheduled glaze time access. If you plan on having your works fired at the Umbrella when we are ready, please drop off cash or a check when you drop off your wares. In order to keep the systems simple and fluid, we ask that you pay for 25lbs of clay at a time (one bag).
Timing
At the moment, the Umbrella's physical studio is closed, but we will be re-opening for drop off and pick up as soon as possible. Once we are capable of accepting works, we will have set days and times, along with defined social distancing guidelines to allow students to drop off works. Due to the added time of cleaning and scheduling, we are anticipating a 3 week firing turn around. You will be asked to sign up for time slots through a shared google document to scheduled your pick up and drop off. Time slots must be strictly followed!
Clay and Tools Supplies
We will return to selling clay and tools as soon as possible, however, until we are permitted to re-open, please reference our recommended supplier list. When we can, we will be taking clay orders and creating pick-up times for all clay purchases.
Until then, please reference our supply list here:
Umbrella Ceramics Materials List
Clay
Sheffield Pottery
White Stoneware with Grog 20231 G
White Stoneware no Grog 20231
Porcelain 92700
Sculpture Clay S-14
https://www.sheffield-pottery.com/High-Fire-Stoneware-and-Porcelain-Potters-Clay-Delivered-s/715.htm
Speckled Clay T-360 M
https://www.sheffield-pottery.com/T-360M-Stoneware-Clay-50Lb-Box-cone-5-Delivered-p/mct360mfs.htm
Portland Pottery- Seems to be closed at the moment, but their are rumors that their Maine location has shipped clay..
"Black Clay" Standard 266
"Brooklyn Red"  Standard 266
https://www.portlandpottery.com/standard-mid-fire-clay/
Tool Kits
For additional tools and equipment, The Umbrella recommends:
Sheffield Pottery
https://www.sheffield-pottery.com/category-s/23.htm
Clay King