Online Ceramics Policies and Materials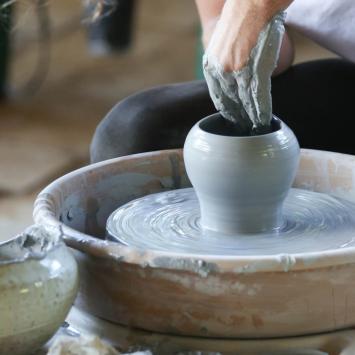 Online Ceramic Course Policies
Ceramics Monthly Studio Program (Beginning September 1)
Our monthly program fee of $15 per month will give you access to our curb-side firing program, as well as provide an indoor storage shelf to those wishing to keep items inside of the main studio*. Only students enrolled in our monthly program will be permitted to use our curbside service program, as well as sign up for any additional drop in work sessions. 
*(Please note you will only get access to your cubby on days where you sign up for a drop in work session). If you are enrolled in virtual ceramics courses, your monthly fee will be waived for all months your course is in session.
Please register for the Ceramics Monthly Studio Program here:
Materials and Firing
Clay is available to be purchased from the Umbrella through our website, and picked up through our curbside service program available Tuesdays and Thursdays. The cost is $35 per 25lbs and includes all firings. Studio glazes will not be available until we can safely re-open the building for public use. Members are welcome to purchase cone 6 commercial glazes and have their work glaze fired if they don't want to wait. Please Read all of the Details outlined in our Curbside Service Plan before Coming to the Studio. 
If you purchased clay from elsewhere and would like it to be fired at the Umbrella...
Your clay must be rated for our firing temperature, Cone 6 or hotter. We Highly recommend using the studio clay bodies if you intend on using studio glazes in the future. Please email mike@theumbrellaarts.org if you have any questions.
Works can be transported to the Umbrella studio to be fired during our curbside drop off hours (Tue & Thur 10am-4pm)
Clay purchased from outside vendors will have an additional $1 per pound fee to cover the cost of one bisque and one glaze firing (re-firing glaze has an additional 50 cent per pound cost). You may purchase commercial glazes or wait until the studio is back open for scheduled glaze time access. If you plan on having your works fired at the Umbrella please drop off cash or a check when you drop off your wares. There is a container labeled "Clay Payments" beside the studio door.  In order to keep the systems simple and fluid, we ask that you pay for 25lbs of clay at a time (one bag).
Timing
Clay- clay will generally be available for pick-up the next pick up date following your purchase. Please wait for a pick up confirmation before coming down. 
Firing-Due to the added time of cleaning and scheduling, we are anticipating a 3 week firing turn around. Although works will be stored for 1 month after they have come out of the kiln, we are encouraging everybody to pick up their wares as soon as possible and try to reduce the amount of bisque ware we need to store. 
Outside Clay, Glaze and Tools Supplies
Clay may be purchased online through our website for local sales only. If you are working from afar, you may find the below suppliers helpful for clay.  If you are looking for commercial glazes or tools, we have recommendations for those as well!
Umbrella Recommended Supply List
Massachusetts:
Sheffield Pottery
https://www.sheffield-pottery.com
Portland Pottery
https://www.portlandpottery.com
Online and Out of State Options
Clay King
Free Freight Pottery Supply
http://freefreightpotterysupply.com
Amazon Smile* If you have an amazon smile account, you can list the Umbrella as one of your charitable organizations:)