Ceramics Studio Services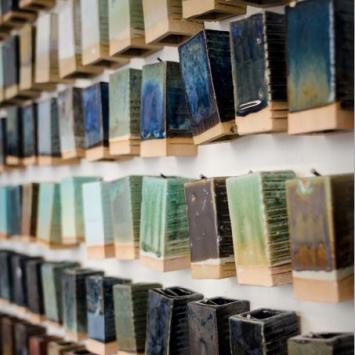 Studio Hours; Clay Sales; Cubby Rental
The studio is open for enrolled participants during the following hours. Participants will be sent a weekly schedule detailing availability to both of our studio spaces. Students are encouraged to reserve space on that sign in sheet in order to avoid overcrowding.
Masks are currently required indoors for everyone.
Studio Hours
Main Studio: Room #104
Monday-Sunday 9:00 A.M.-10:00 P.M.
Independent Studio: Room #108
Monday-Sunday 9:00 A.M.-10:00 P.M.
Note: Hours are subject to change at any time, access is limited during class time. The new sign-up sheet is made available on Fridays by 4pm for the following week.
Ceramics Studio Technician, Zachary Mickelson, will be in the studio during business hours and is available to help when possible. Questions? Contact zachary@theumbrellaarts.org
Purchasing Clay
Clay must be purchased online. All clay costs $35 (except Porcelain which is $50) per 25lbs and includes firing services. The purchasing webpage will reflect clay that is available. The website will be updated as shipments arrive. Please use the clay signout sheet located on the clay storage locker doors when collecting purchased clay.
The clays currently available are:
B mix 5 - Laguna WC 401
Porcelain - Laguna 15
Sculpture Clay - Sheffield S-14
Speckled Clay - Laguna 60
Brooklyn Red - Standard 308
Black Clay - Standard 266
Firing Services
Firing services are available through enrollment in The Ceramics Studio Drop-in Program, as well as for registered students. We currently are not offering any firing services for individuals not enrolled in our programming.

Bisque and glaze-ware will be available for pickup on labeled carts. Carts will be provided and labeled for dropping off work. Please bring your own boxes and packaging; no packaging should be left behind.

Green ware will be fired and generally available in 2 weeks. Please keep track of this firing schedule in regards to individual drop-off dates. The studio has limited storage space, and as such, it is required that all participants retrieve their personal items within a timely manner. It is extremely helpful for you to be picking up your fired work as it becomes available!

All broken pieces will be fired and placed on the pick-up racks. We will not be leaving any notes or explanations if things occur, but please know we will do our best to take the utmost care of your wares. We apologize in advance if items break. Thank you for your patience and understanding.
Glaze Service
In person glaze services are available through enrollment in The Ceramics Studio Drop-in Program as well as for registered students.

Commercial glazes purchased from elsewhere may be fired at The Umbrella with advanced approval from the Ceramics Studio Technician. Please contact Zac Mickelson in advance with what glazes you are using.
Cubby Rentals
Enrolled students and participants will receive a cubby for the duration of their enrollment. In order to keep a cubby space while not enrolling in studio services, participants must pay a rental fee of $30/month. Any belongings left in a cubby that is not being reserved through enrollment or rental are subject to removal 2 weeks after classes/rental period ending.
Purchase Here: November; December
Cleaning & Additional Safety Measures
Hand sanitizer will be available. Safety measures subject to change following Massachusetts and CDC guidelines.
Studio Rules
Masks must be worn at all times.
No guests are allowed.
Wash hands with soap and water frequently.
Online sign up is required to reserve studio time, no other times admitted.
Notify the Education Director if exposed to COVID-19 for contact tracing.
Questions: Please email zachary@theumbrellaarts.org for any further questions about the process!