Ceramics Studio Services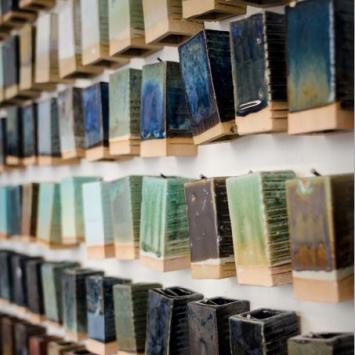 The Ceramics Studio Pick-up/Drop-off Services
Fee: All studio fees are waived until May 1st, 2021!
The Ceramics Studio Pick-up/Drop-off Service provides access to firing services, clay purchasing, and a storage shelf in the studio. Access to student cubbys and studio service will ONLY be on days where an individual has reserved a 30-minute time slot on the studio Reservation list.  Students who currently have a shelf will keep it without charge and new students will be assigned free storage until May 1, 2021.  
For students enrolled in any full session Ceramics Class or are registered for the monthly Ceramics Studio Drop-in, the monthly studio fee is waived for all months in the session.
General Procedure:
The studio will be open for pick-up/drop-off services: 
TUESDAYS - 10:00 A.M. to 5:00 P.M.
WEDNESDAYS - 10:00 A.M. to 5:00 P.M.
FRIDAYS - 10:00 A.M. to1:00 P.M. 
NOTE: Hours are subject to change at any time. The new sign-up sheet is made available on Fridays by 4pm for the following week. Schedule changes will be posted on the Reservation List. 
Appointments must be scheduled in order to avoid unnecessary contact and keep track of who has entered the building.
Please respect social distancing guidelines while inside the building.  Masks are required.  Please do not enter if another member is already present.  There is no access to the rest of The Umbrella at this time.
All pick-up and drop-off services are currently located inside the Ceramics Department and are to be accessed through the main entrance, location may change when weather allows. Please remain in your car until your scheduled time.  Follow the signs from both the main and rear parking lots to the studio entrance. All guests must sign in at the front counter in the entryway for contact tracing purposes. 
Ceramics Studio Technician, Zachary Mickelson, will be in the studio during scheduled hours and is available to help, when possible, but please respect social distancing norms.
Questions? Contact Zachary@theumbrellaarts.org 
---
Purchasing Clay and Reserving A Time for Pick-up:
Clay must be purchased online and a specific day and time must be reserved to pick up your purchased clay. The cost is $35 per 25lbs and includes firing services. 
The purchasing website will reflect clay that is available and will updated as shipments arrive.
The Clays we will have available are:
White Stoneware- Sheffield 20231
Porcelain- Sheffield 92700
Sculpture Clay- Sheffield S-14
Speckled Clay- SheffieldT-360 M
Brooklyn Red-  Standard 308
Black Clay- Standard 266
---
Firing Service
Bisque and glaze-ware will be available for pickup on labeled carts.  Carts will be provided and labeled for dropping off work. Please bring your own boxes and packaging, no packaging should be left behind.
Green ware will be fired and generally available in 2-weeks.  Please keep track of this firing schedule in regards to individual drop-off dates.  The studio has limited storage space, and as such, it is required that all participants retrieve their personal items within a timely manner.  It is extremely helpful for you to be picking up your fired work as it becomes available! 
All broken pieces will be fired and placed on the pick-up racks. We will not be leaving any notes or explanations if things occur, but please know we will do our best to take the utmost care of your wares. We apologize in advance if items break. Thank you for your patience and understanding. 
---
Glaze Service
In-person glaze services are available through enrollment in The Ceramics Studio Drop-in Program.
Commercial glazes purchased from elsewhere may be fired at The Umbrella with advanced approval from the Ceramics Studio Technician. Please contact Zac Mickelson in advance with what glazes you are using.  Glazed work is to be delivered to the cone 6 drop-off carts.
---
Cleaning & Additional Safety Measures
Racks will be disinfected daily. Try to limit touching other's pieces and consider wearing gloves. Hand sanitizer will be available.
Studio Rules
Masks must be worn at all times.
Keep a social distance of 6' at all times.
No guests are allowed.
Use the hand sanitation station when entering the studio.
Wash hands with soap and water frequently.
Online registration is required to reserve studio time, no other times admitted.
Notify the Education Director if exposed to COVID-19 for contact tracing.
Use sanitizing spray or wipes after cleaning up to disinfect any tools or furniture.
Questions: Please email zachary@theumbrellaarts.org for any further questions about the process!