About The Ceramics Studio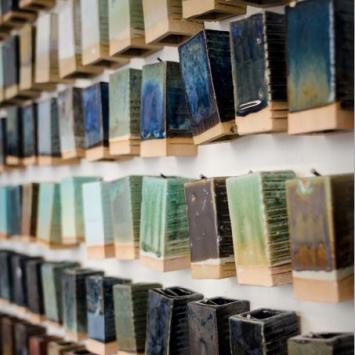 Studio Hours; Clay Sales; Firing and Glaze Policies
About Us
The Umbrella Arts Ceramic Studio is a community studio offering educational, artistic, and material support and opportunities for our community of ceramic artists, from novice to professional.  Our commitments to our community include consistent and skilled instruction from our team of teachers, access to a variety of firing options, and innovation through our material andglaze offerings.  We also support the development of the skills and experience of our community through generous access to studio equipment outside of regular class hours.  We accommodate the production of work by our community in order to achieve an equitable experience by all members, and within the limits of our studio's capacity.
Access
The studio is open for enrolled participants during the following hours. Participants will be sent a weekly schedule detailing availability to both of our studio spaces. Students are encouraged to reserve space on that sign in sheet in order to avoid overcrowding.
Fall 2023 Studio Schedule
Main Studio: Room #104
Monday - Sunday: 8:00am - 10:00pm
Independent Studio: Room #108
Monday - Sunday: 8:00am - 10:00pm
Glazing Studio: Room #108
Monday - Sunday: 8:00am - 10:00pm

PLEASE NOTE: Main Studio, Independent Studio, and Glazing Studio are unavailable during scheduled class times. Studio availability will be communicated on a weekly basis via email to registered members. Questions? Contact zachary@theumbrellaarts.org.
Firing Services
Firing services are available for registered students and participants in the Independent Studio Program. We currently are not offering any firing services for individuals not enrolled in our programming. We are unable to accommodate production work/pottery. The volume of work allowed per semester is determined by our studio capacity, and excessive production is determined by the studio manager.
Each participant is allotted one piece over 13" in height, length, or diameter, fired without charge. For firing additional large work, there are fees and restrictions:  Pieces above 13" in height, length, or diameter require a $20 firing fee.  Pieces above 16" in height, length, or diameter require a $40 firing fee.  This fee is to be paid prior to bisque firing.  The fee must be submitted in an envelope with the name of the participant, and a description of the piece.  Participants are also limited to two pieces over 13" in height, length or diameter per semester fired in our oxidation kilns.  There is no restriction on the number of pieces over 13" in height, length or diameter that can be fired in our reduction kiln.

Bisque and glaze-ware will be available for pickup on labeled carts. Carts will be provided and labeled for dropping off work. Please bring your own boxes and packaging; no packaging should be left behind.

Green ware will be fired and generally available in 2 weeks. Please keep track of this firing schedule in regards to individual drop-off dates. The studio has limited storage space, and as such, it is required that all participants retrieve their personal items within a timely manner. It is extremely helpful for you to be picking up your fired work as it becomes available!

All broken pieces will be fired and placed on the pick-up racks. We will not be leaving any notes or explanations if things occur, but please know we will do our best to take the utmost care of your wares. We apologize in advance if items break. Thank you for your patience and understanding.
Purchasing Clay and Outside Clay
         Participants are limited to the use of 75lbs of clay per session.
         Clay is available for purchasing through The Umbrella Ceramics Studio and includes firing services. Clay must be purchased online.

         Clay purchased from outside of The Umbrella is allowed after consultation with the Studio Manager. A firing fee of $25/bag ($1/lb) will be charged for outside clays.
         Recycled clay can be purchased in our Main Studio area for $1/lb, payments to be made in cash into our cash box.
Glaze Service
In person glaze services are available through enrollment in The Independent Studio Program as well as for registered students.

Commercial glazes purchased from elsewhere may be fired at The Umbrella with advanced approval from the Ceramics Studio Manager. Please contact Zac Mickelson in advance with what glazes you are using.
Storage
Enrolled students and participants will receive a storage cubby for the duration of their enrollment. Participants are asked to remove any belonging at the end of a semester if they are not continuing with our programming. Any belongings left in a cubby after the end of a semester are subject to removal by the Studio Manager.
There are shared communal storage areas at the top of the cubbies.  These can be used when needed for additional space.  All items in communal storage must be labeled with a name and date, and not remain longer than 2 weeks.

Due to space limitations we are no longer able to reserve cubby spaces for anyone not enrolled in programming.
Additional Information
Please note: For the Independent Studio Program, early registration is offered to currently enrolled ceramics students.
Questions?
Please email zachary@theumbrellaarts.org for any further questions about the process!