Independent Studio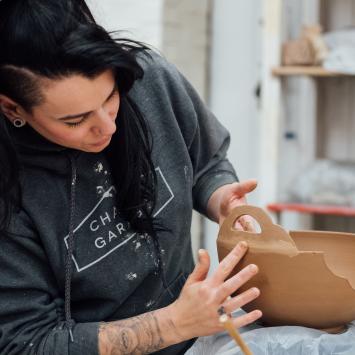 The Umbrella's Independent Studio Program offers participants access and use of our ceramic facilities when they are not in use by a scheduled class. Tuition includes use of all shared tools and supplies, use of our studio glazes, and firing of all work. Clay must be purchased from The Umbrella through our website. Absolute beginners to ceramics are required to take at least one ceramics class at The Umbrella as a prerequisite to joining the Independent Studio Program. If you are an experienced ceramics artist but are new to The Umbrella, you will only be required to take a 30-min orientation with the Ceramics Studio Manager. Please contact zachary@theumbrellaarts.org for details and scheduling.
Participants will be sent a weekly schedule with availability for our two studio areas.
Please note:   Availability for Independent Studio Program registration is limited by the number of persons our studio can accommodate. If registration is unavailable please consider enrolling in a class.
Registration links for semester long and monthly can be found below. They will be active when we can accomodate new participants. Please email zachary@theumbrellaarts.org to be placed on a waitlist for the program.

Please read through our About The Studio page for studio hours, information about clay and materials policies, firing policies and other details.

For a list of our clay bodies and prices visit our Clay Sales page.
Studio Hours
Main Studio: Room #104
Monday-Sunday 9:00am - 10:00pm

Note: Main Studio unavailable during scheduled class times. Available working times will be communicated through the weekly schedule.
Independent Studio: Room #108
Monday-Sunday 9:00am - 10:00pm

Note: Hours are subject to change at any time, access is limited during class time. The new sign-up sheet is made available on Fridays by 4:00pm for the following week.
Registration and Pricing
***New pricing as of the Spring 2022 semester***   $175 per month; $480 for the semester

To purchase Drop-In access for the entire Spring semester, please click here   CURRENTLY UNAVAILABLE

To purchase Drop-In access on a monthly basis, please click here: April 2022; May 2022; June 2022   CURRENTLY UNAVAILABLE

Upon registration for Drop-in, the email confirmation will contain a link to the official Drop-in Sign-up Sheet.
Please Note: The Umbrella's reservations, payment, and communications system provides streamlined account management, conveniences and benefits to our community members. First time registrants will need to create a new account and opt-in for communications. Already have an account? Simply login with your user email and password. Customer accounts can be used for ALL Umbrella purchases going forward! If you experience any difficulties, please let us know and our team will be happy to help.