Ceramics Studio Drop-in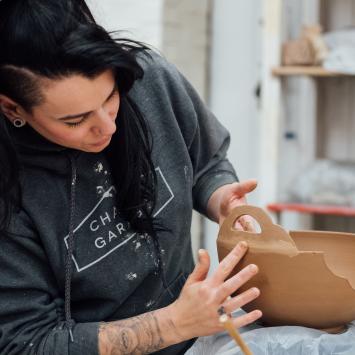 The Umbrella's Ceramic Studio Drop-in Program offers students a month of independant drop-in access to use the wheels, handbuild, or glaze.  Participants will be sent a weekly schedule with availability for our two studio areas.  Participants can reserve as many available time slots as they wish on a weekly basis. The number of drop-in spaces available for purchase may be adjusted according to studio capacity and use.
Please Note: Drop-in services are automatically included for students enrolled in semester long classes.
Clay is available for purchase online below and on the Ceramic Studio Services page. Students should observe signs on the mobile racks to store pieces coming in and out of the kilns.
The Ceramic Studio Drop-in Program is for experienced ceramicists only and those that are familiar with operations of a ceramics studio. Absolute beginners to ceramics are required to take at least one ceramics class at The Umbrella as a prerequisite to joining the Ceramics Studio Drop-in Program. If you are an experienced ceramics artist but are new to The Umbrella, you will only be required to take a 30-min orientation with the Ceramics Studio Technician.  Contact: Zachary@theumbrellaarts.org for details and scheduling.   
Studio Hours:
Main Studio: Room #104
Monday-Sunday 9:00 A.M. - 10:00 P.M.
Note:  Main Studio unavailable during scheduled class times. Available working times will be communicated through the weekly schedule. 
Independent Studio: Room #108
Monday-Sunday 9:00 A.M. - 10:00 P.M.
Note: Hours are subject to change at any time, access is limited during class time.  The new sign-up sheet is made available on Fridays by 4pm for the following week. 
Price: $175 per month. $90 after the 15th of the month.
Upon registration for Drop-in, the email confirmation WILL contain a link to the official Drop-in Sign-up Sheet. Save the link from your confirmation email to use for booking studio time throughout the month. Reservations for each month are active a week before the start of every month. 
Studio Rules:
Masks must be worn at all times.
No guests are allowed.
Wash hands with soap and water frequently.
Online sign up is required to reserve studio time, no other times admitted.
Notify the Education Director if exposed to COVID-19 for contact tracing.
---
Please Note: The Umbrella's reservations, payment, and communications system provides streamlined account management, conveniences and benefits to our community members. First time registrants will need to create a new account and opt-in for communications. Already have an account? Simply login with your user email and password. Customer accounts can be used for ALL Umbrella purchases going forward! If you experience any difficulties, please let us know and our team will be happy to help.