Ceramics Studio Drop-in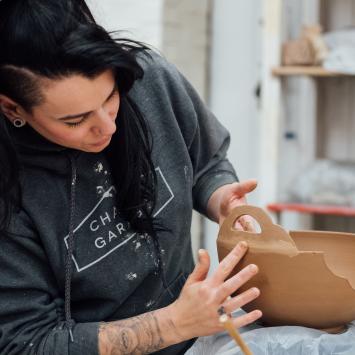 The Umbrella Ceramics Studio is pleased to offer experienced ceramics artists familiar with our facilities month-by-month independent drop-in access to the studio to use our wheels, handbuild, or glaze.
Enrolled students may reserve available 3-hour time blocks on a weekly schedule each month. Clay is available for purchase.
In studio safety will feature mandatory masks, increased cleaning and sanitation, and spaced out equipment to reinforce social distancing.
Please Note: Drop-in services are automatically included for students enrolled in semester long classes.
Please Note: The Umbrella is migrating to a new reservations, payment, and communications system! Our new system will provide streamlined account management, conveniences and benefits to our community members. You will need to create a new account and opt-in for communications. Your account will be saved and can be used for ALL Umbrella purchases going forward. If you experience any difficulties, please let us know and our team will be happy to help.