Umbrella Dedication, Open House, Welcomes 700+ to Concord Center
September 14, 2019 by Stewart Ikeda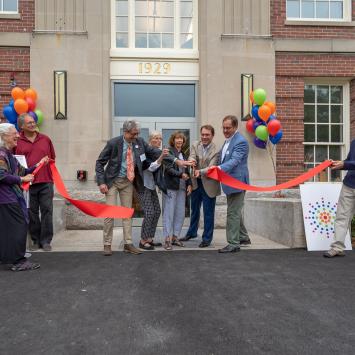 On Saturday, September 14, 2019, The Umbrella Arts Center kicked off a year-long series of grand re-opening programming with a festive "Building the Arts" Open House, welcoming the public for the first time into its renovated facilities at 40 Stow Street, in the heart of the Concord Center Cultural District.
The day began with a heartfelt ceremony at the entrance to the former Emerson School (streamed on Facebook Live here), which The Umbrella has painstakingly renovated for accessibility, sustainability, and expanded regional programming during a multiyear capital campaign and construction project. Recognition for the Center's transformation was shared all around, with thanks extended to the contractors, building committee, active board of directors, dedicated staff, and the original founding artists who first saw the potential of the abandoned school building to become a vital hub for arts and culture in Metrowest and Greater Boston.
Building the Arts Open House @ The Umbrella BitReel on Vimeo.
After a light-hearted ribbon-cutting, the festivities moved inside where the public was invited to a packed afternoon of creative activities, prizes, craft demonstrations, performances, Open Studios hosted by some 20 artists, and tours of the stunningly transformed space. Just some of the other highlights included:
Rehearsals for the musical spectcular, 42nd Street, the first production by The Umbrella's newly minted professional Stage Company, in the new state-of-the-art Main Stage theater
Flash tickets deals and announcement of Lyle Lovett as the first Concert headliner in the new space 
Arts class demonstrations from woodworking in the new Makerspace, Bollywood dance in the new dance studio, and wheel-throwing in the renovated Ceramics wing
Contribute to Earth Press Project: Witness, a new public participation installation by Nancy Winship MIlliken Studios that The Umbrella is coordinating for display at Minute Man National Historical Park
Exhibition of works by Nicholas Mancini, the 2018-2019 Umbrella Artist in Residence, and a new interactive installation by artists Pauline Curtiss & Rose Leitner in partnership with Heading Home, a nonprofit combatting homelessness in Greater Boston
Kids activities including youth classes, Umbrella tattoos, and free ice cream from the Reasons to be Cheerful "Chill Wagon"
Visitors could enter a drawing for prizes including vouchers from Trail's End Cafe, Colonial Inn, The Umbrella, and a spectacular hospitality gift basket valued at over $550 courtesy of Best Western Concord.
Among the 700+ visitors were former students of The Emerson School, past performers and resident artists, statewide arts activists and regional media representatives who remarked on the impressive transformation of the space and the expanded capacity it offered for connecting the regional creative community. Guests from as far away as Scotland and China enjoyed the chance to tour the facilities, meet artists, and participate in creative classroom and studio activities.
The Open House was just the first in a full season of free public events, opening celebrations, and extended programming planned to commemorate The Umbrella's expansion, to include:
For more information and a calendar of grand opening season events, download Building the Arts: The Umbrella Open House 2019