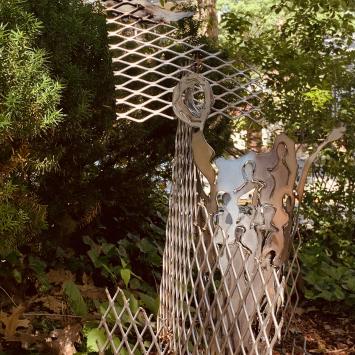 About
2021 Art Ramble
Something in the Air
September 1 - November 14
Hapgood Wright Town Forest
Hours: 30 minutes before sunrise to 30 minutes after sunset
Artist Reception: Friday, September 17, 4:30-5:30PM
Rain Date: Friday, September 24, 4:30-5:30PM
Curated by Laurie Bogdan and Kimberley Harding
The Umbrella Arts & Environment Art Ramble 2021 will be an outdoor art installation in the Hapgood Wright Town Forest in Concord, MA, from September 1 - November 14 in collaboration with Concord's Division of Natural Resources (CDNR), supported in part by the Foundation for Metrowest.
In keeping with this year's thematic focus on "Air," the 2021 Art Ramble "Something in the Air" Call for Art recognizes that Air is invisible and yet essential to life. Its quality affects our quality of life, as well as that of all living things. Our call seek works that illustrate human, animal and botanical interactions with air, and encourage exploration of the atmospheric aspects of the Hapgood Wright Town Forest.
The result was an exceptionally strong slate of regional artists creating what the curators call an exhibition marked by "drama, mystery, change, or movement".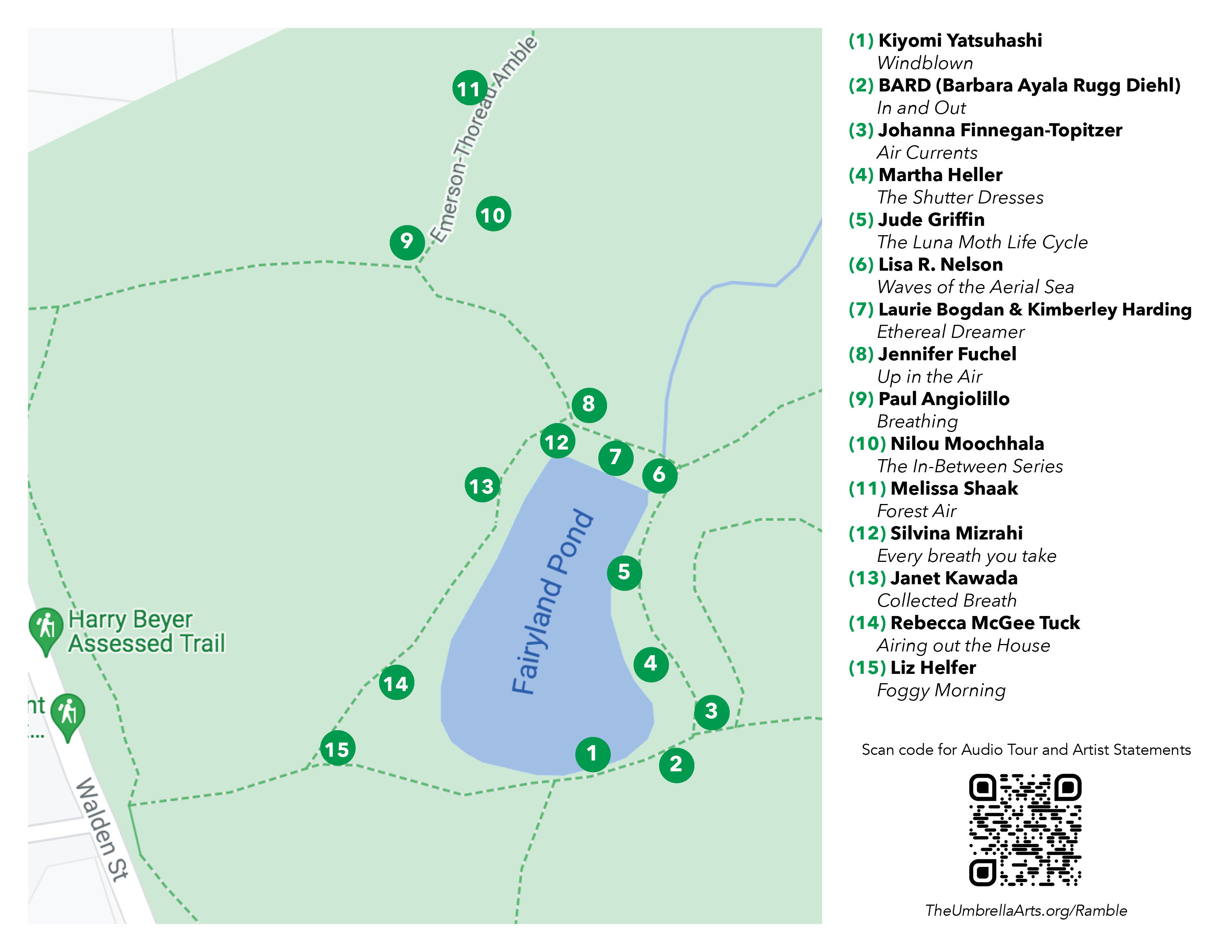 Art Ramble Artists
Paul Angiolillo - Breathing (9) | [audio]
Laurie Bogdan and Kimberley Harding – Ethereal Dreamer (7) | [audio]
BARD (Barbara Ayala Rugg Diehl) – In and Out (2) | [audio]
Johanna Finnegan-Topitzer – Air Currents (3) | [audio]
Jennifer Fuchel – Up in the Air (8) | [audio]
Jude Griffin – The Luna Moth Life Cycle (5) | [audio]
Janet Kawada – Collected Breath (13) | [audio]
Silvina Mizrahi - Every breath you take (12) | [audio]
Nilou Moochhala - The In-Between Series (10) | [audio]
Lisa R. Nelson - Waves of the Aerial Sea (6) | [audio]
Melissa Shaak – Forest Air (11) | [audio]
Rebecca McGee Tuck – Airing out the House (14) | [audio]
Kiyomi Yatsuhashi - Windblown (1) | [audio]
Paul Angiolillo - Breathing (9)
Wood, paint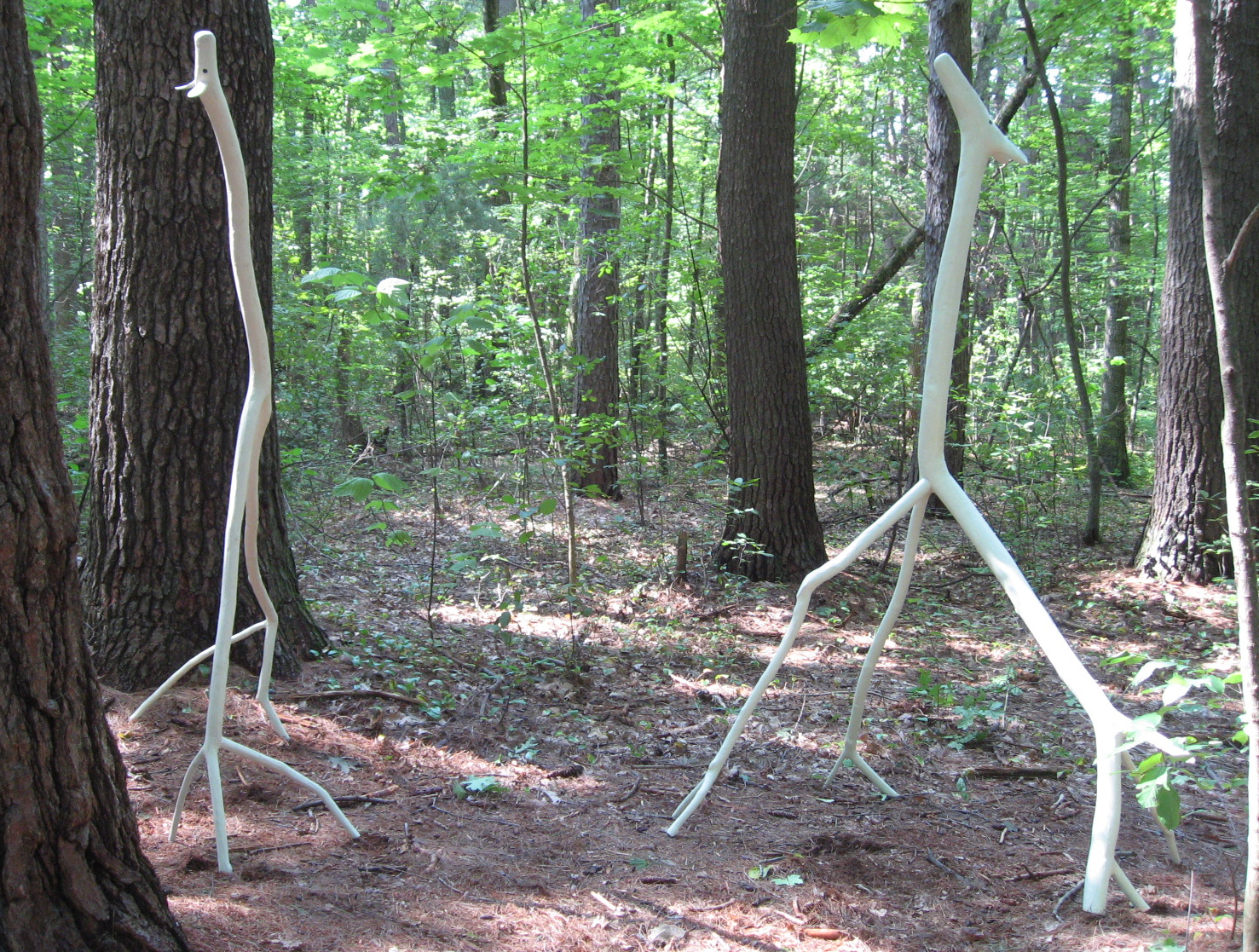 Bio
Paul Angiolillo studied wood carving with Boston-based sculptor Joseph Wheelwright and stone carving with Peter Smith (Princeton NJ). He makes indoor sculptures, outdoor pieces, and furniture art. Paul first took up sculpting as an avocation, while also working as a journalist and an editor, after getting an undergraduate degree from Yale U. in literature and Humanities. He works in mainly wood, stone, and other natural materials, as well as some salvaged objects. Experimenting with both representational and abstract forms and styles, he often gravitates toward the semi-organic--plant, animal, and human--as well as whimsical interpretations of common objects. His sculptures can be seen in art and craft exhibits, outdoor shows, fine-art centers and galleries, and museum gift shops. 
www.paulangiolillo.com
Artist Statement
Breathing is made up of two tall, animal-like figures, salvaged from parts of trees that I flipped upside-down, creating long necks and upturned heads sniffing the air. They're semi-abstract interpretations of forest denizens who're catching a scent or enjoying the breeze. You're invited to pause with them, view them as wood carving sculptures, and look up with them at the sky and forest canopy--like them, smelling, tasting, and listening to the environment.
[audio]
Laurie Bogdan and Kimberley Harding – Ethereal Dreamer (7)
Fused plastic, hand-dyed round reed, wire, thread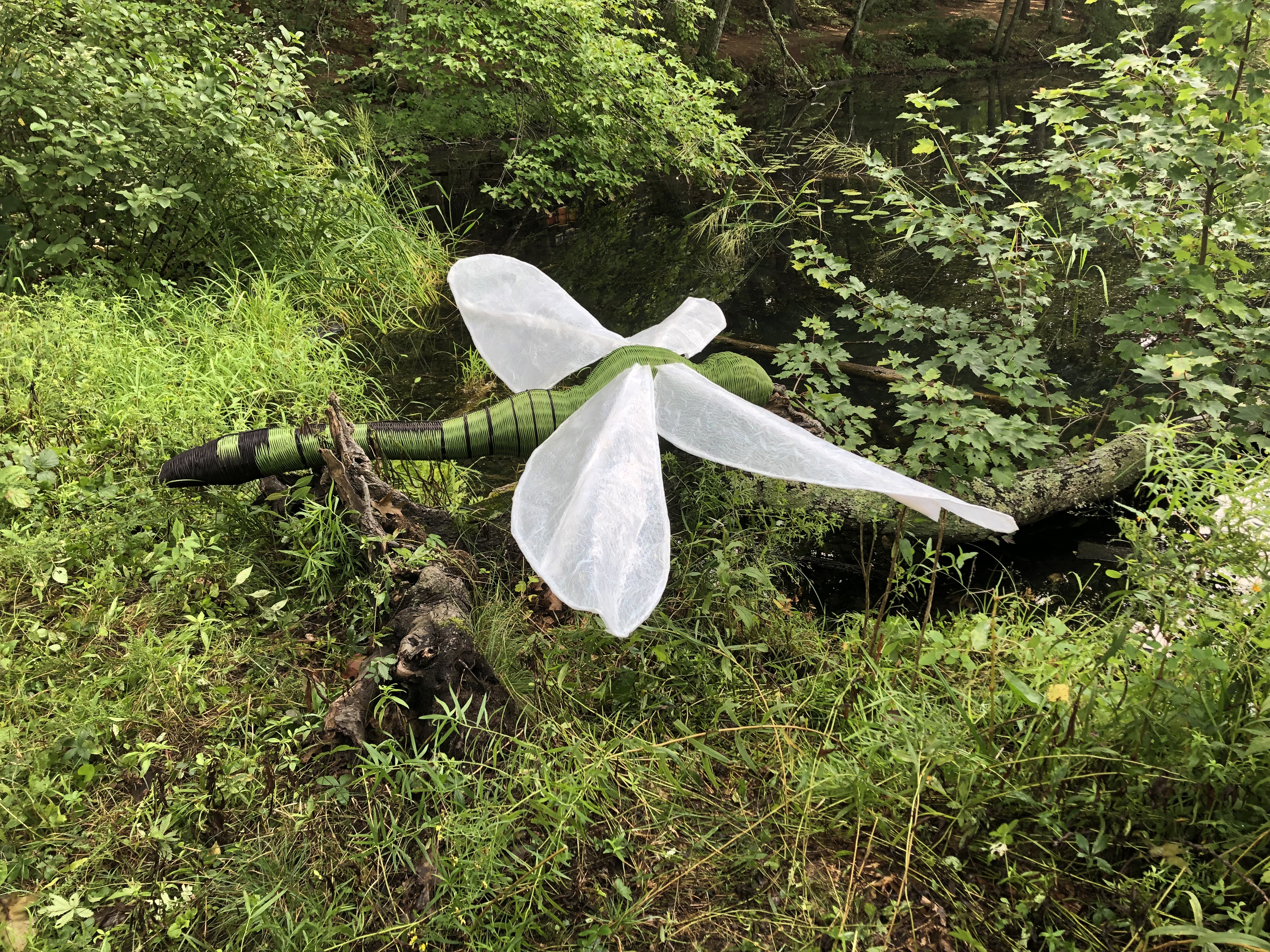 Laurie Bogdan Bio
I am a collage artist from Arlington MA. I am involved in the growth of ArtLinks, a local arts networking group and have contributed to a variety of public art and environmental projects. In a world where many ordinary objects and books are tossed away or not appreciated, I try to find a way to reimagine and bring new life to them.
yourturnart.blogspot.com  
Kimberley Harding Bio
Weaving sculptures using basketry techniques in my Arlington, MA studio feels primeval to me, both in the sense of belonging to an immensely early period of human history and as well as instinctive. I thrive on the connection I feel with the natural world and ancient peoples as I weave, while striving to connect with a modern audience with my commentary on personal, societal, and environmental issues. My work has been shown in galleries throughout Massachusetts, as well as in Basketry+ magazine and online exhibitions.
Artists Statement
Living most of her life below the surface of the water, the dragonfly transitions into a being of the air at adulthood. With her agile flight and iridescent wings, she appears to be a miniscule dragon inhabiting the realms of the fairies, such as Fairyland Pond in the Hapgood-Wright Town Forest. In many cultures, the dragonfly symbolizes change or transformation. One could view this ethereal creature as a messenger who encourages us to molt off the negativity that holds us back, and to fly forth to achieve our goals and dreams.
[audio]
BARD (Barbara Ayala Rugg Diehl)– In and Out (2)
Recycled fabric and steel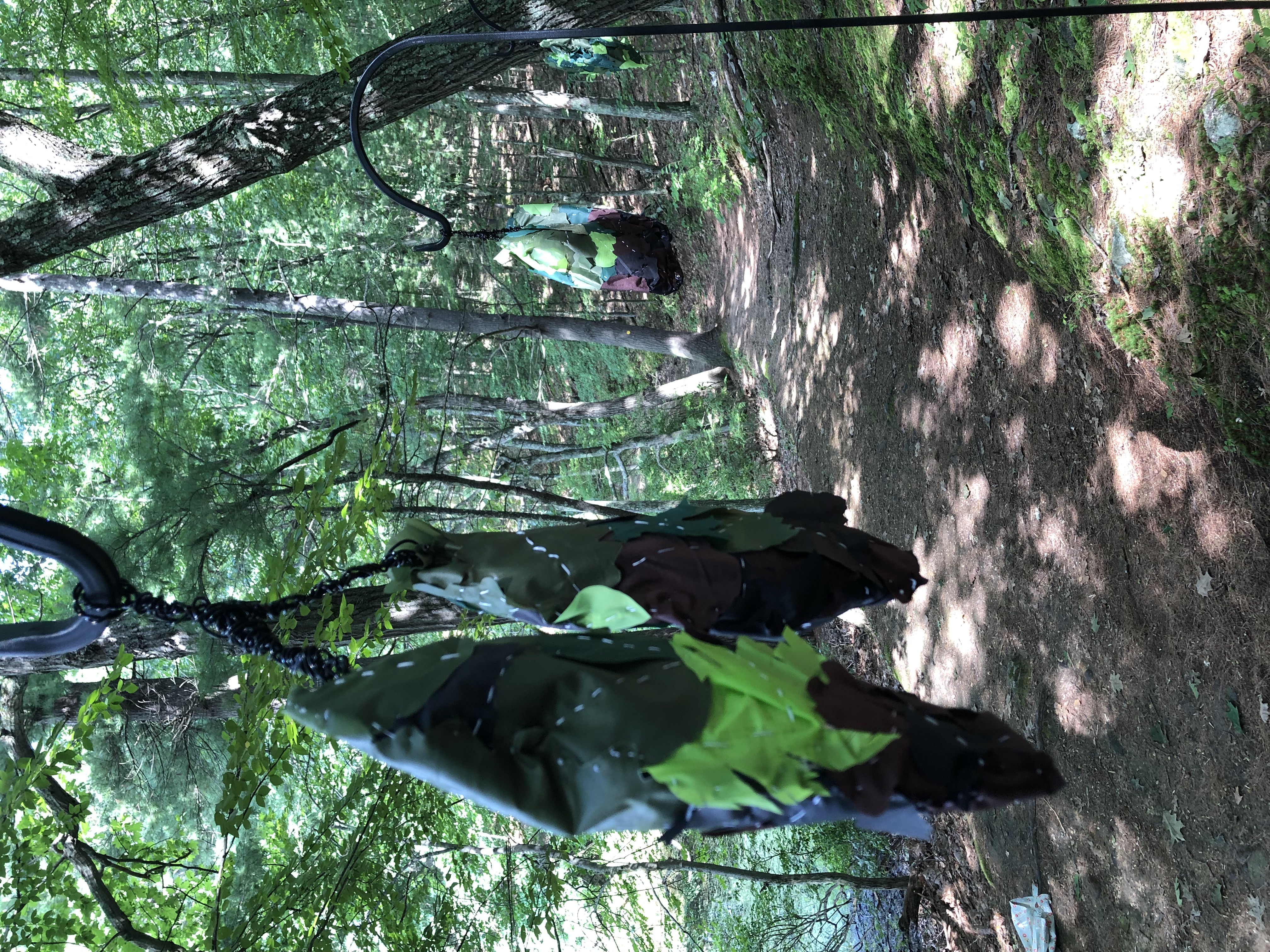 Bio
Originally from Nevada, BARD (Barbara Ayala Rugg Diehl) currently works and lives in Massachusetts. She brings her diverse backgrounds into her art subject matter and processes, having received her BA in Theater and English from Brandeis University and her MA in Sustainable International Development from the Heller School for Social Policy and Management. Her attraction to mixed media stems from both her work as an environmental educator and her creative curiosity. By using found items and reusing her own objects and clothes, she both reduces waste and explores the tangibility of art. In many of her pieces she utilizes 3-D elements to redefine who can interact with visual art, adding Braille and durable interactive elements to allow blind and low-vision audience members to enjoy her work. Her art has been featured in solo and group exhibits in seven states across the country, as well as internationally in Australia. 
Artist Statement
Sometimes called the "lungs" of the Earth, trees produce oxygen as well as purifying it by filtering and sequestering contaminants. This cycle of give and take between our carbon dioxide and their oxygen is like a breath itself, an essential part of our connection within ecosystems and the planet. "In & Out" explores this connection by combining human imagery with the photosynthesis process. A procession of lungs formed by leaves line the forest path, a gradient from black to green. Each lung hangs on a trunk and root system of its own, separate yet connected to the forest as a whole. Taken along this journey of air and breath, our inverse needs are demonstrated, and the project can take on new meaning either way it is experienced. From green to black demonstrates the sequestration of carbon dioxide, ammonia, nitrogen oxides, sulfur dioxides, and more. From black to green is the cleaning of the air in both our rural and urban areas. Being a project of opposites or two sides of the same coin, the installation has both positive and negative undertones. On the one hand the fade to black is a stark reminder of the increasing burden we put on trees to save our air, all the while continuing to decimate their populations. While on the other hand the fade to green is an appreciation for the work trees do, and a sign of hope for a cleaner future where we work in tandem with our breathing partners. Trees and green spaces ultimately are becoming increasingly important as we work to stave off heat islands and enjoy clean air. Learn more within my Conservation Law Foundation report, and follow my art at https://barbaraayalarugg.wixsite.com/artbybard 
[audio]
Johanna Finnegan-Topitzer – Air Currents (3)
Copper, enamel, wire

Bio
Johanna is a New England artist focused on wildlife and issues surrounding wildlife, particularly climate change. She creates in a variety of media from 2 dimensional gouache paintings to acrylic paintings with relief elements to 3 dimensional pieces. But always, the focus is on animals. Formerly of Somerville, MA, she was very involved with Somerville Open Studios being on the Board for 4 years and showing her work. She has been an Artist-in-Residence at Acadia National Park and Grand Canyon National Park where she took inspiration from the landscape and unique wildlife in those protected areas. She was also the recipient of a Massachusetts Cultural Council Fellowship for her 3 dimensional works. Her work has been shown in many galleries and shows in the area and she also teaches her art to others.
www.jfinnegantopitzer.com
Artist Statement
Birds depend on air currents to help them migrate long distances. The currents let them understand the direction of travel and when to leave as the seasons change. The wildfires out west create so much smoke, that migrating songbirds are thrown off course and suffocate. Last fall, hundreds of thousands of songbirds were found dead on the ground throughout the southwestern states as they migrated south. In the east, birds use the clues the currents bring to understand when to migrate north in the spring. Spring has been coming earlier and earlier so they follow the signals. However, they (and their hatchlings) often get caught in cold snaps as the season hasn't completely changed over. Both of these events in the air can be linked to a changing climate which brings with it hotter, drier air to produce intense forest fires and falsely signal a spring not yet ready. 
[audio]
Jennifer Fuchel – Up in the Air (8)
Mixed media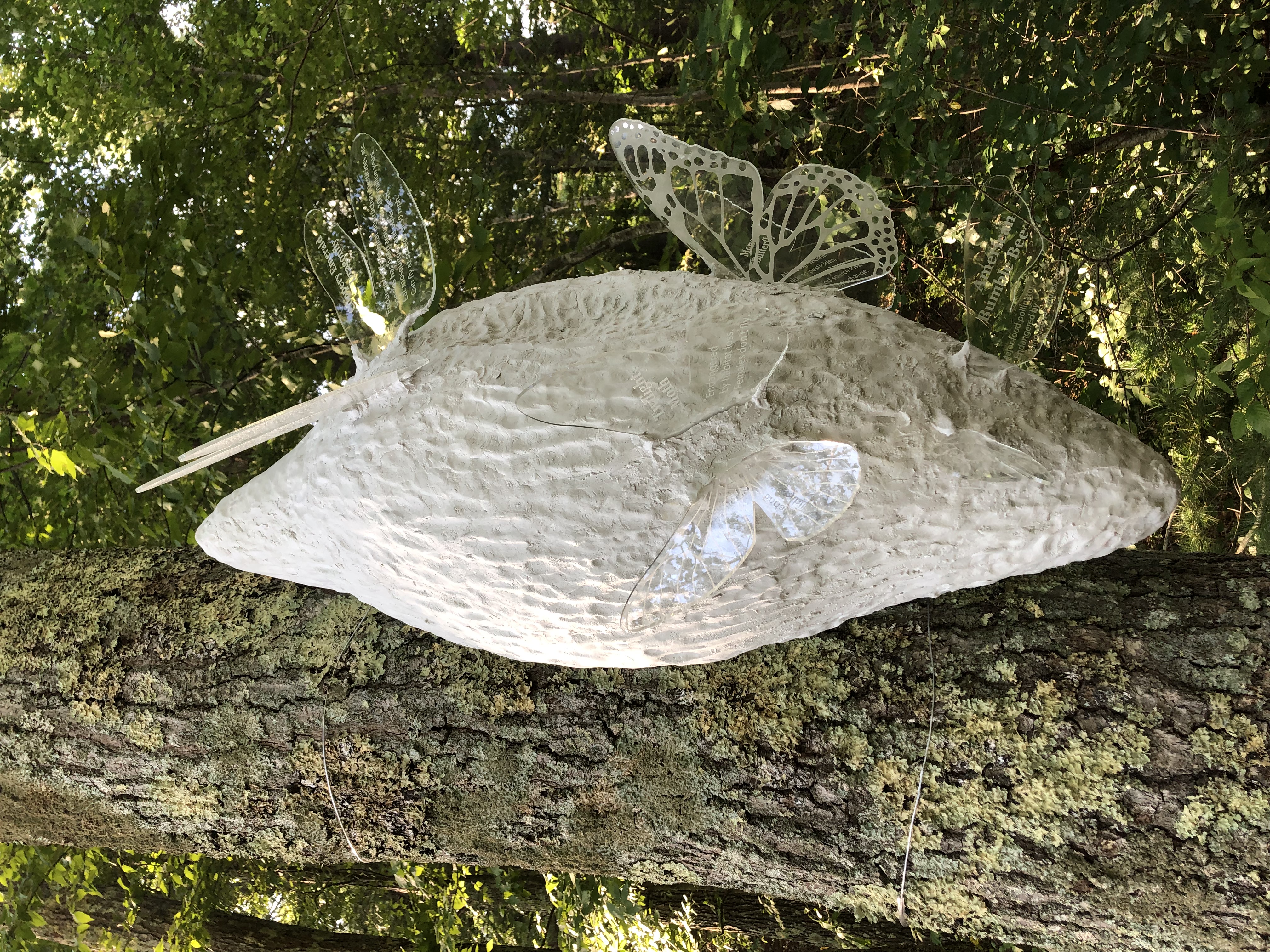 Bio
Jennifer Fuchel just retired from teaching graphic design at Suffolk University. She now has the time to pursue her own art interests, working in a broad range of materials from traditional to digital. Much of Jennifer's work is inspired by her love of nature. She has been involved in several exhibitions and collaborative projects both indoors and outside. Jennifer works at home in North Cambridge, at Mudflat, and at her Vernon Street studio in Somerville.
www.niftyarts.com
Artist Statement 
Inspired by the theme 'Something In The Air' and by being stung by several flying insects during my 2020 installation, I started thinking about the insects around us.
Entomologists believe that the first flying creatures were insects who evolved from crustaceans 400 million years ago. Most insects that existed 280 million years ago were larger than current ones — the North American Meganeuropsis had wings 12" long! Today, the insect population is being negatively affected by pesticides, loss of habitat, etc. and this is taking a toll on these smaller creatures. Most flying insects are seen as pests (including those who stung me!), but they are an essential part of our forest's ecosystem and the cycle of life. A reduction of insects means an eventual decrease in other animal populations.
When one takes the time to look at insects, one notices how amazing they are. Their lives are highly structured, each playing a significant role in their community. Their wings and bodies are fascinating, intricate and sometimes incredibly beautiful. I hope my art piece suggests stages of an insect's life cycle from birth, development, to death, and makes people realize how important it is to protect them from decline for the health of our world.
[audio]
Jude Griffin – The Luna Moth Life Cycle (5)
Metal, wire, paint, leaves, twigs, beads, silk thread, papier-mâché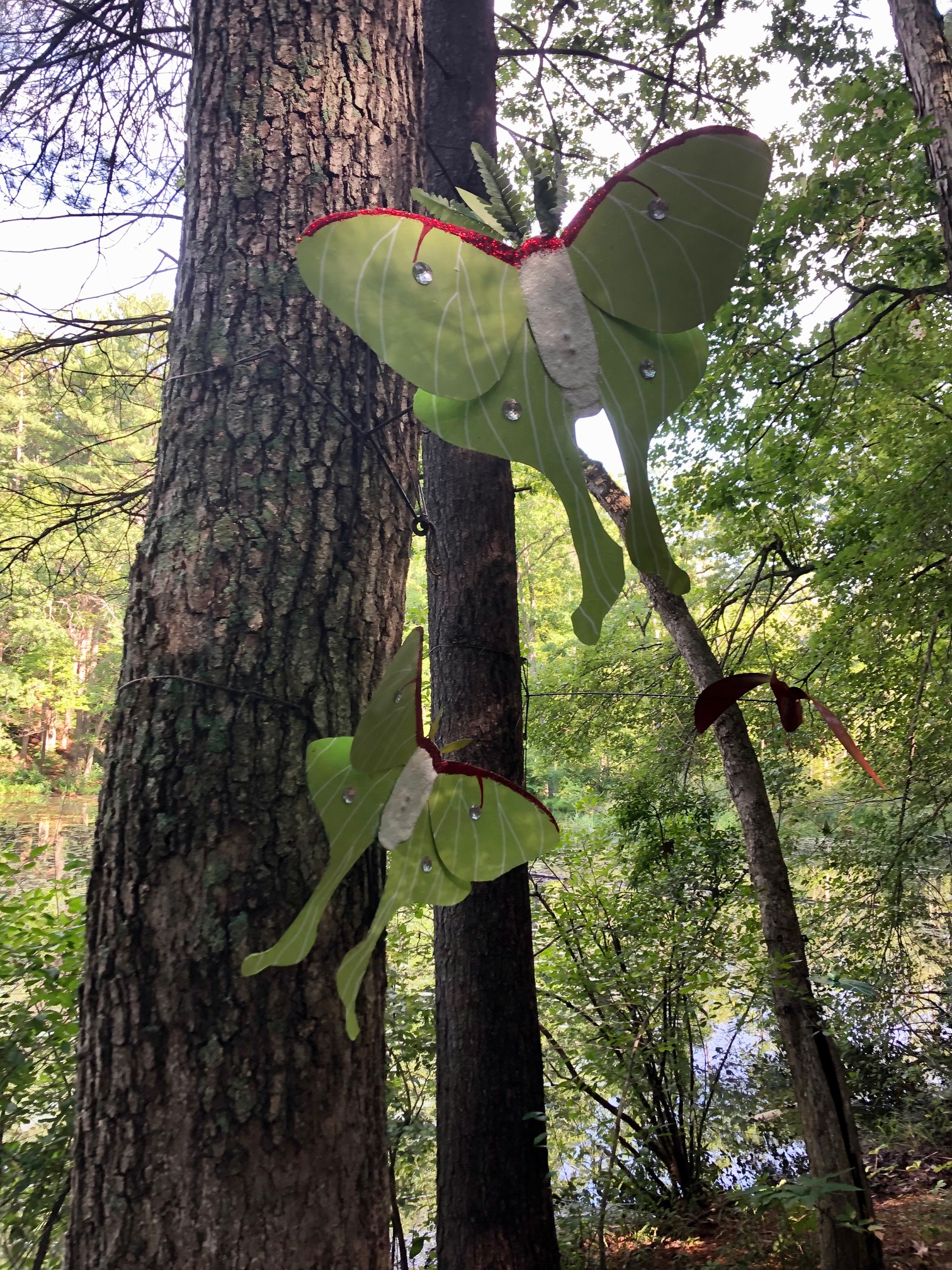 Bio
Jude Griffin loves arts and crafts of all kinds, but most especially public art. Her public artwork includes a street mural in Salem, MA; a painted piano sited nearby the New England Aquarium for the public to play as part of the "Play Me, I'm Yours" project; nature-inspired art mounted inside an old telephone booth in Somerville, and flash poetry on demand at Boston festivals. She was a selected artist for an innovative CSA in Cambridge: Community Supported Art, and, along with eight other artists, produced 50 pieces of art over the summer that were then "harvested" by the CSA subscribers at the end of the season.
Artist Statement
I love nature and art, and "Something in the Air" is a perfect opportunity to combine those two passions. "Luna Moth Life Cycle" takes the viewer through the life of one of our most beautiful and spectacular native moths: from egg to caterpillar to cocoon to butterfly. Luna moths, like far too many other native insects, are in steep decline due to habitat destruction, pesticides, introduced predators, and light pollution. Insects are critically important to the entire food web, including 96% of birds which feed insects to their young. Protection can take the form of chemical-free yards and parks, restoring native plants to the landscape, the reduction of lawns, and turning off our lights at night. The whimsical touches in this installation are a nod to the frequent attribution of sightings of luna moths to the presence of fairies. What better place to showcase this than Fairyland Pond?
[audio]
Liz Helfer - Foggy Morning (15)
Steel, chicken wire, nylon mesh, construction barrier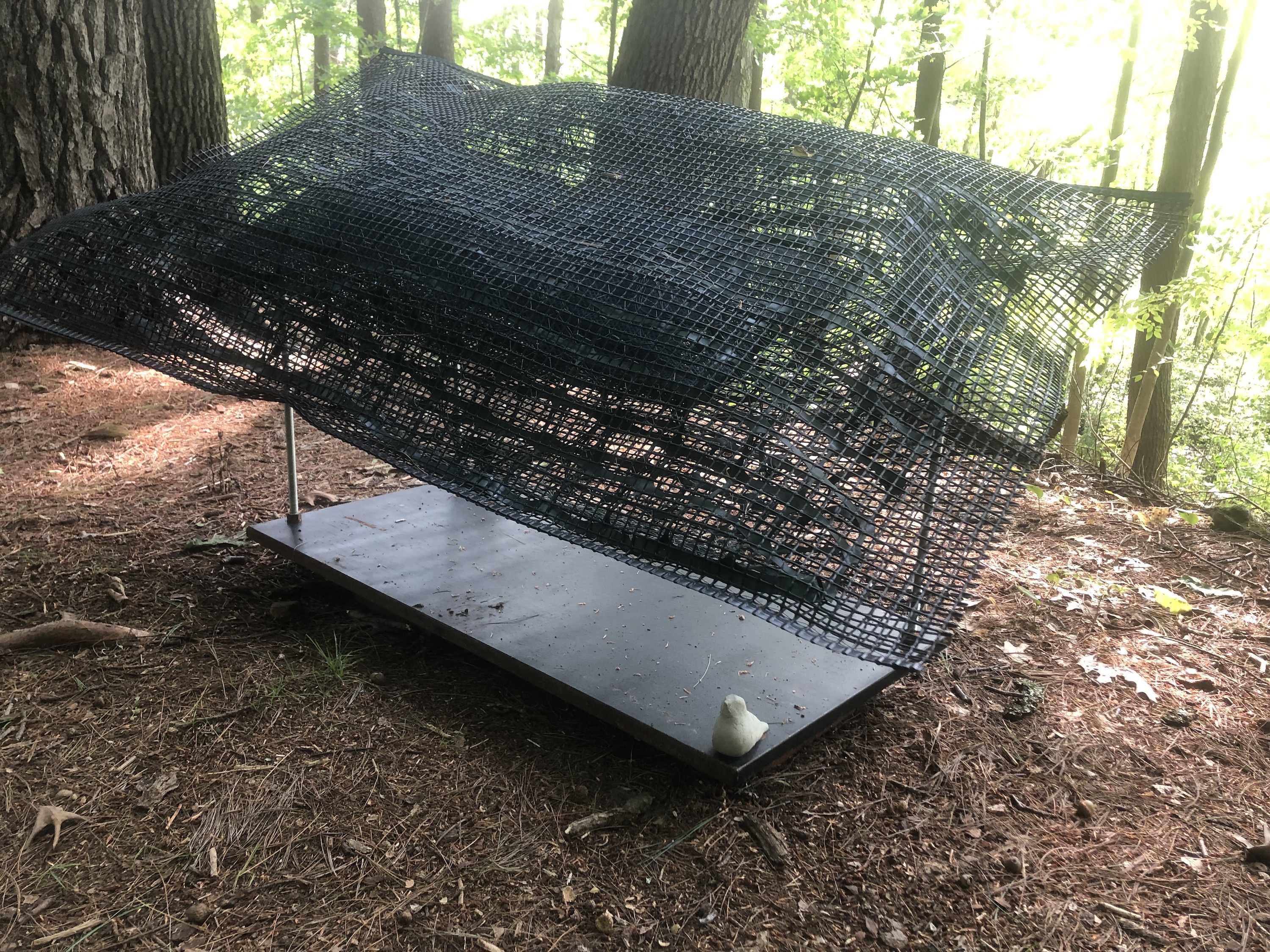 Bio
Material choice plays a critical role in my sculpture practice. I have focused on metal since 2009 because of its historical complexity and perceived value. However, I have been moving away from singular material choices and have moved into a mixed media practice that addresses our impending environmental peril. My studio is located in Waltham, MA.
http://www.elizabethhelfer.com/
Artist Statement
Foggy Morning connects the idea of rest, peace, and environmental innovation. As the planet heats up, new technologies have become increasingly important to human survival. One of these technologies pulls water directly from the air, a "fog net" that maximizes water collection from the morning dew. Foggy Morning is a pseudo fog net shaped like a large worn pillow. The pillow has many mesh layers that reveal the smaller layers within, a reflection of the complex and intersecting issues at work due to increased water scarcity. 
[audio]
Martha Heller – The Shutter Dresses (4)
Bio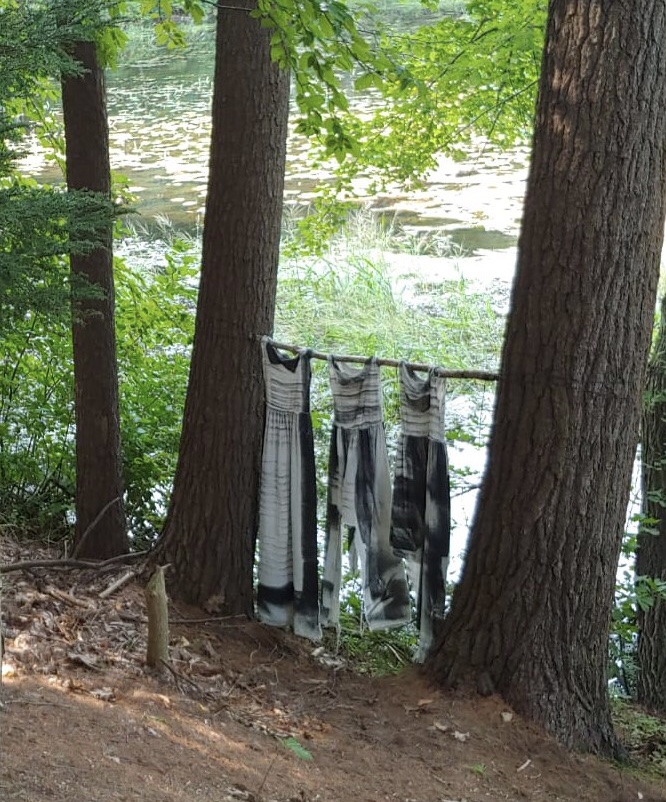 Martha Heller is a self-taught textile artist living in Newton, MA, whose art practice includes mixed media art quilts, textile sculptures, wall hangings, and framed thread drawings.   Influenced by her work as a costume designer and her work with the historical costume archives at Blithewold Mansion, Gardens and Arboretum in Bristol, Rhode Island, she often creates textiles that include artistic interpretations of constructed dress garments.  Martha has exhibited in galleries and museums including The New England Quilt Museum/Lowell MA, The Mosesian Center for the Art/Watertown MA, Belmont Gallery of Art, The Kathryn Schultz Gallery/Cambridge Art Association, and The Appalachian Center for Craft/Smithville TN.  In September her work will be included in "Honoring" at the Attleboro Arts Museum in Attleboro MA.
https://www.marthahellertextileartist.com/
Artist Statement 
For the Art Ramble I have taken an installation piece called The Shutter Dresses off my garage doors and adapted it to hang in the trees by Fairyland Pond. The fabric is a painter's drop cloth used to paint my house shutters. The striped patterns are made by the paint sprayed on the shutter slats. Some of the textile work I create uses the dress form as a starting point for the expression of themes or an exploration of materials and techniques. My "dress pieces" include outdoor installations, small tabletop sculptures, and wall hangings.  
Why include The Shutter Dresses here, at Something In The Air? The various dress installations that I have created are brought to life when they catch a bit of air moving through my backyard. Who can see the wind? To see the dresses come to life reminds me that the air is moving through the yard, spreading seeds and pollen --and sometimes insects!-- through the garden beds. Here at the pond, the wind can be "seen" in the trees, the grasses, the shrubs, and sometime on the surface of the water. What seeds and insects are moving through that wind today? 
Janet Kawada – Collected Breath (13)
Window screening, monofilament, steel rods, paint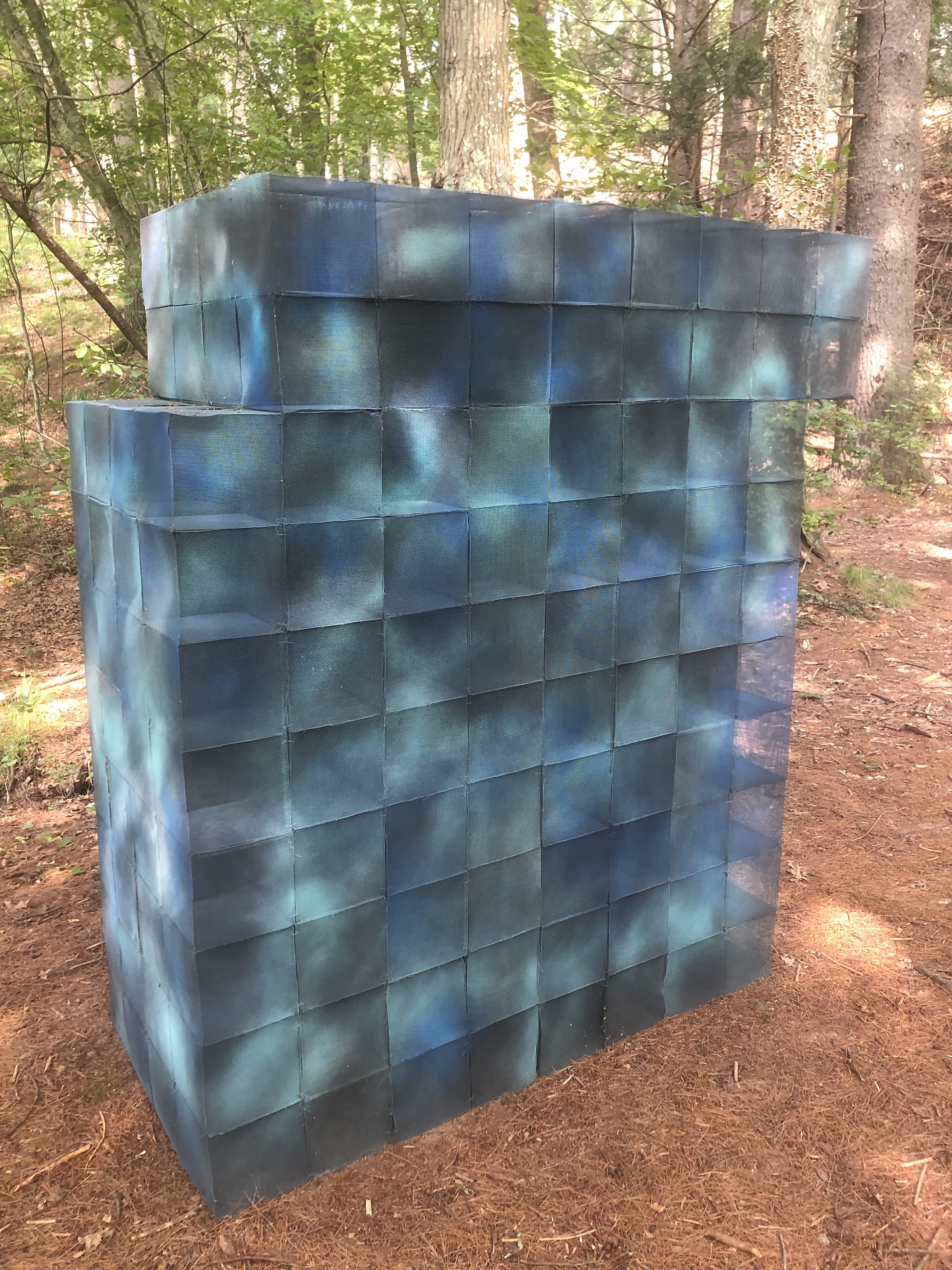 Bio
Janet Kawada received her BFA from Massachusetts College of Art and MFA from Vermont College. She taught at MassArt and NESAD for over 20 years and ran numerous workshops around the area in addition to curating. She is a member of the Studios Without Walls and New England Sculpture Association. Her work can be found in collections around the United States, Canada, and Japan. Kawada is included in the book, Artistry in Fiber, Volume 2, Sculpture. In her recent work she is interested in exploring the theme of place and home.
www.janetkawada.com
Artist Statement
Collected Breath represents a group that stands together in solidarity.  Made of screening, the structure demonstrates solidity through 320 pieces of screened boxes which individually would be fragile.  There is a quietness about the group as it remains stationary.  Through the wash of the color and the moray patterning of the screen itself, the viewer is invited to pause and reflect. The woods surrounding Collected Breath give it room to breathe. Wind moves around and through it. Scenery is glimpsed as air swirls or glide in and over. As the seasons change, so will the piece.  Be still, listen to the sounds of where you are.  Breathe.
[audio]
Silvina Mizrahi - Every breath you take (12)

Welded scraped steel and paint
Bio
I'm an interdisciplinary artist and art educator based in Boston. I like to work with different mediums and techniques. My work encompasses figurative bronze sculptures, abstract expressionist mixed media paintings, recycled materials sculptures (created with diverse communities) and public art. My art is a mirror of my experiences as a Latino immigrant, memories from my childhood, Jewish traditions, and my commitment to environmental causes. 
Artist Statement
We need oxygen from trees to survive; without forests humanity ceases to exist. Using the fired cut technique and welding on scraped steel, I created a group of figures that represent humanity and their environment. The negative spaces on the sculpture invite the forest behind to be an active and essential part of the whole sculpture, symbolizing our intrinsic relation as humans with nature.
[audio]
Nilou Moochhala - The In-Between Series (10)
Image fabric panels, poetry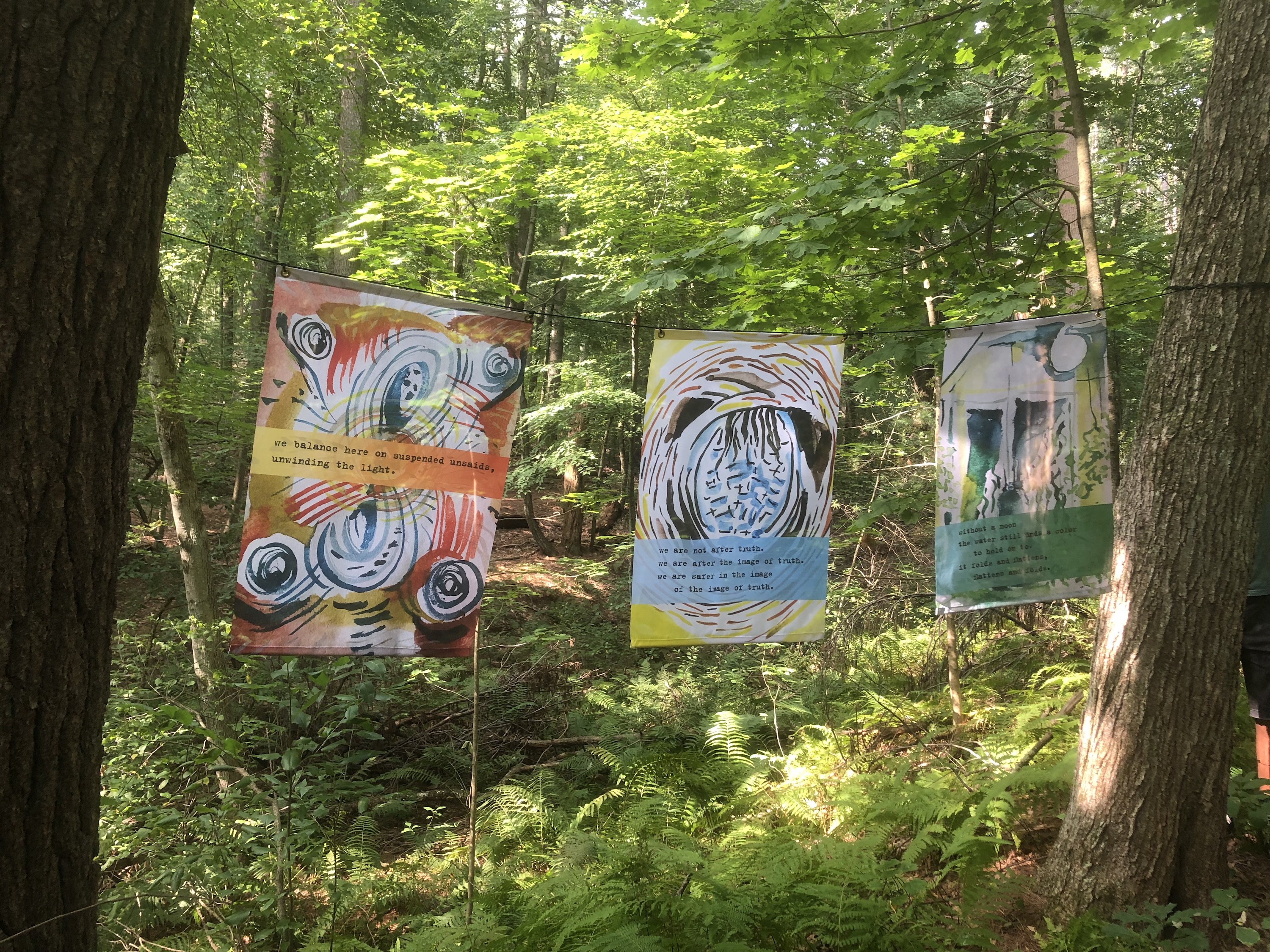 Bio
Nilou Moochhala's visual practice has been channeled into examining issues of cultural change and transformation by juxtaposing found objects, imagery, and language to create social and political narratives – be it in public art spaces or private galleries. Nilou has been an award recipient of numerous grants including the Massachusetts Cultural Council and New England Foundation for the Arts. She was selected as the 2021 Spring Artist-in-Residence by the Arlington Commission for Arts & Culture. Her work has appeared in publications such as the Boston Globe, Print, Arlington Advocate, and Big, Red & Shiny.
https://www.niloumakes.com/
Artist Statement
These pieces rest in the spaces 'in-between' - between the unconscious and conscious, the liminal and formed, the past and future. What does it mean to belong to a place, to breathe fully, to immerse oneself in our environment, to have a place in the world around us? These works have been created as a response to deep meditation practices in nature, and convey the fleeting sensations of transcendence, solitude, change, beauty, love, grief...and many more. The interwoven poetry was written by collaborator/writer Francesco Fiondella.
[audio]
Lisa R. Nelson - Waves of the Aerial Sea (6)
Wood panel, watercolor and acrylic paint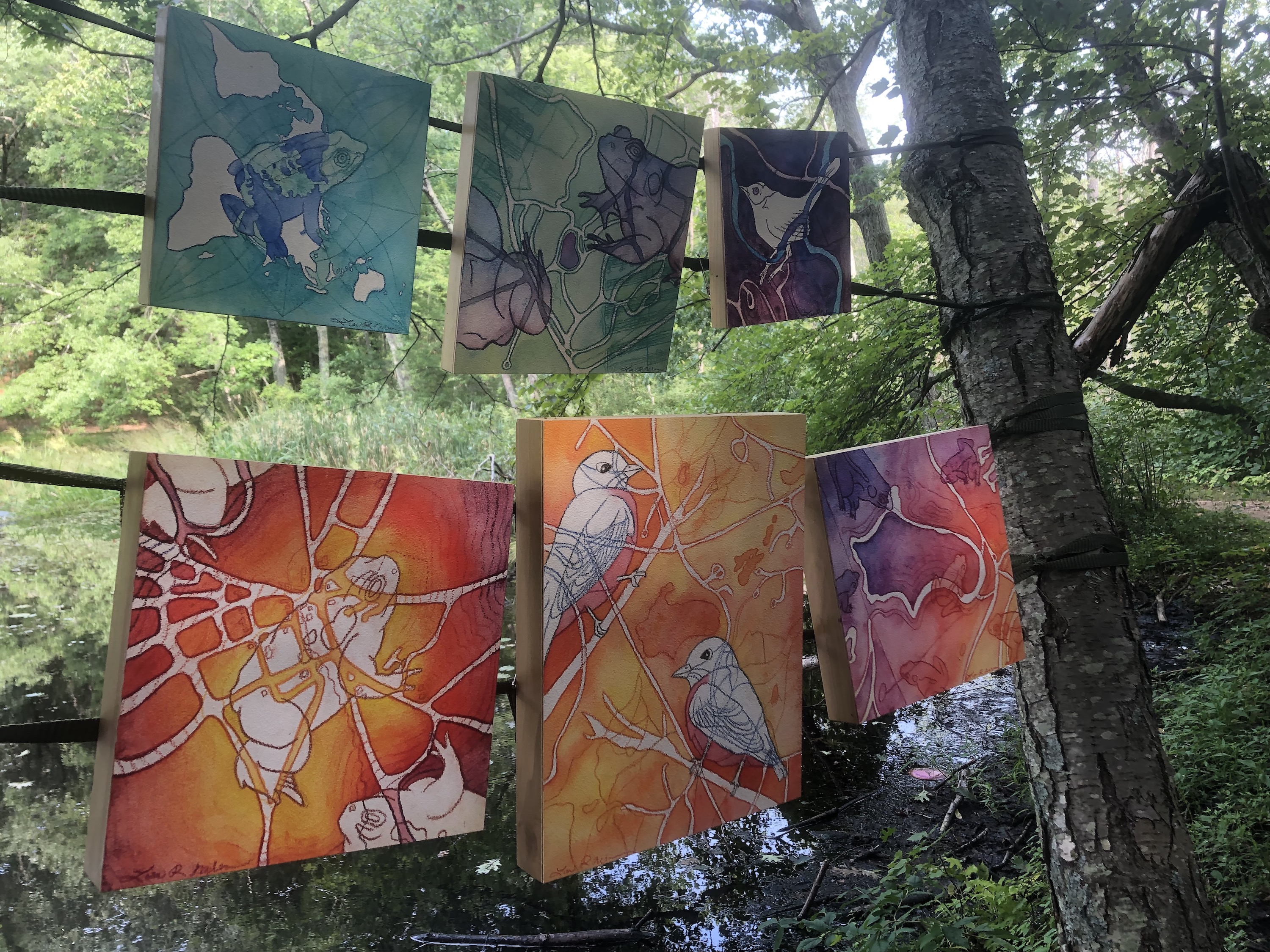 Bio
Based in rural Ayer, Massachusetts, I attended Massachusetts College of Art and Design (MassArt), receiving a BFA with a major in Illustration in 1998. I later returned to my alma mater for further study and received a graduate graphic design certificate and found work as a graphic designer/event planner. During this time my work became less design-centric and lacking the creative focus that originally drew me to art school, I found myself regretting the decision to not pursue a path in visual arts. With the arrival of the pandemic, I saw my work hours reduced and was eventually laid off and determined not to let a second chance pass me by and threw myself back into my artwork. Through all this time, art had always been extremely important to me. I made sure to keep painting and being creative whenever possible and found I was never as happy as when I was in the hallowed halls of a beloved museum. Now that I am pursuing my dreams of being a full-time artist, I know that I am doing what is finally right for me. And thus, I am currently taking continuing education classes from MassArt, Fivesparks Community Arts Collaborative, deCordova Sculpture Park and Museum, as well as the Fruitlands Museum. I am a member of the Concord Center for the Visual Arts and have done illustration work for both non-profits as well as corporations. As of March of 2020, my illustrative work has also appeared in print. I am now 100% dedicated to pursuing my art wherever it takes me and finding my place as an artist.
http://painterlisa.com/
Artist's Statement
I love maps. I have always been inexplicably drawn to them. I love what they say about a place, its history, and how it fits into our worldview. I love how they unlock the secrets to navigating our way through our world as well as finding our place within it. To understand the map of a thing is to understand that thing. This is true for buildings, parks, homes, people, animals, trees, anything and everything exists somewhere on a map. My work explores this through the creation of each map while also considering what makes each uniquely beautiful. There is so much is our world that is fleeting, and my work strives to capture and celebrate what I can before it fades from our view or morphs into something completely different. I want my art to document what was, what is, and what shall be. I do this by meticulously studying each subject and drawing and redrawing it until I find what is distinctive about it. I look for the eloquence in a meandering riverway or the forceful pace of a chaotic highway. I look for how the map can be abstracted until one is lost in the details of it and it no longer resembles a chart but more a feeling of a place. Once I find what I want my painting to focus on, I transform it into bright paint pigments transmuted by water with brushes until it becomes something uniquely mine.
[audio]
Melissa Shaak – Forest Air (11)
Acrylic cutouts on steel stands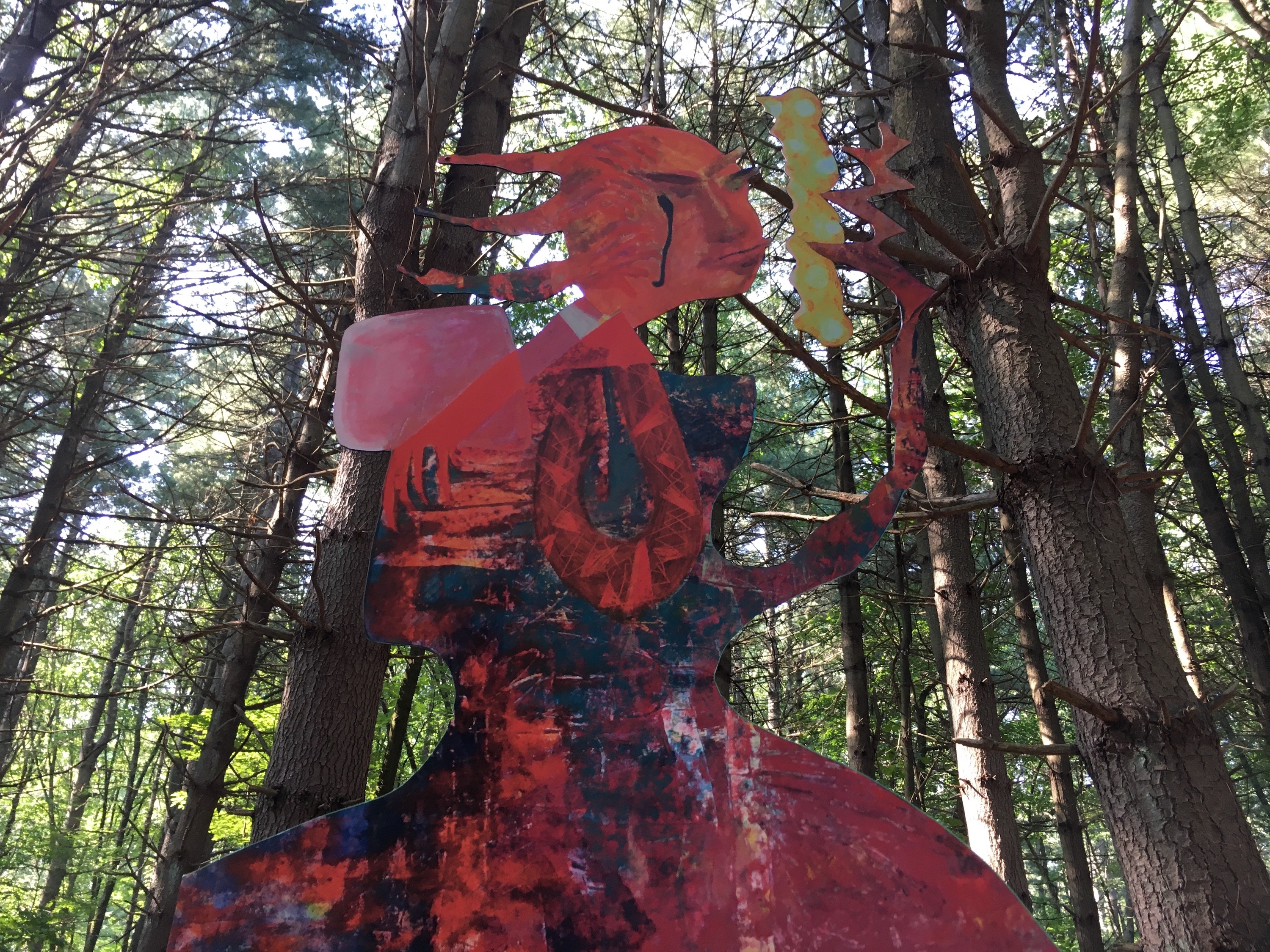 Bio
Melissa Shaak is a Somerville, MA artist working in acrylics and mixed media on paper. Her most recent ventures include stop motion animation and video. She is a core member of Fountain Street Gallery in Boston's SoWa Art + Design District. Her studio is located at River Street Artists/Waltham Mills. 
Statement
My artmaking process is full of creative sparks and enigmatic turns, as if there were indeed "something in the air." This is particularly true for my installation "Forest Air," in which seven life-size cutout figures stand in a large circle. They are an ensemble, and they've been on a fantastic journey together—going from two dimensions to three, from paintings into space and time, and now amidst the towering trees in the cool, fall forest air. They are trustworthy personas made manifest to help us navigate and mediate the world today. Each raises a torch, or scepter, holding the light for us, signaling and leading the way. You can see the original paintings, haiku, and a video starring the cutouts on my website www.melissashaak.net.
[audio]

QR code for music video
Rebecca McGee Tuck – Airing out the House (14)
Steel, wire, crowd sourced plastic bags, VCR tape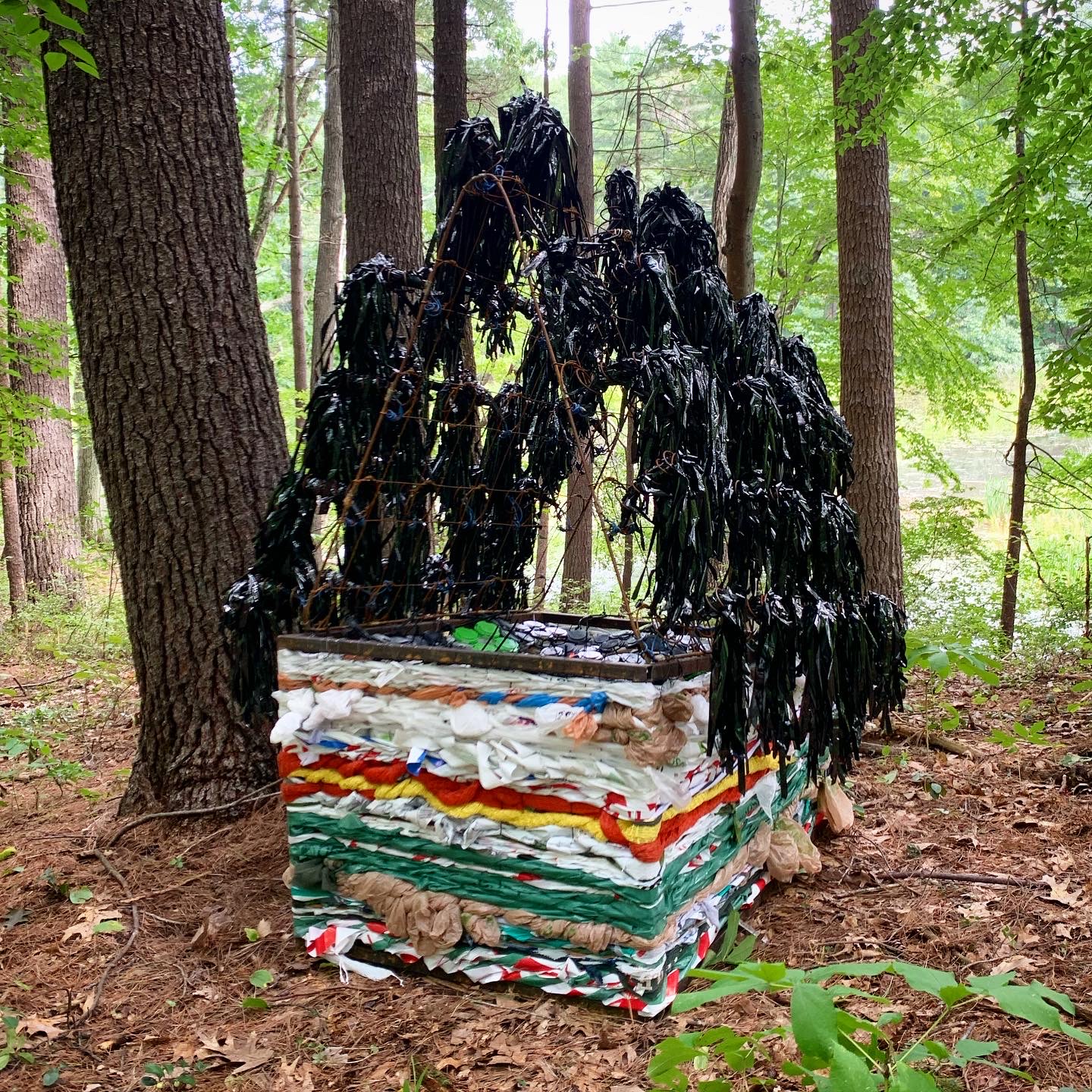 Bio
Rebecca McGee Tuck is a fiber artist, a sculptor and a collector of lost objects. Her work is a visual narrative of what she accumulates from a throwaway society and as a result she gives new life to what others discard. Tuck has shown her work in multiple juried shows throughout New England including the Beacon Gallery and the Fitchburg Art Museum, and has been invited to be an Associate Member of the Boston Sculptors Gallery. She recently won the Present Tense Award from ArtsWorcester which recognizes an artist whose work exemplifies new practices, artistic risk-taking, and excellence in execution. Tuck works among her menagerie of debris from her studio at the Mill Contemporary Art Studios in Framingham. 
https://www.rebeccamcgeetuck.com/
Artist Statement
We all were cooped up in our homes for over a year during the Pandemic and some must remain this way for longer. I had the idea for this sculpture from something my mother used to say. After a long winter there inevitably would be a spring cleanup of our childhood home -- closets cleaned, floors scrubbed, school and work papers organized and thinned out. Part of this ritual was to open up all of the windows in the house on the first nice day, to flush out the stale air of the closed up winter. Airing out the house felt like turning the page on the short and dark days in order to make way for the fresh bright start of spring. Though we seem to have more of a mountain to climb before the end of our troubles with the virus, I have chosen to take a deep breath and exhale. I suggest to everyone: Open up your windows wide and let in the fresh clean air, spruce up, reinvigorate and revitalize your spirits to take on what comes next with renewed moxie.
[audio]
Kiyomi Yatsuhashi – Windblown (1)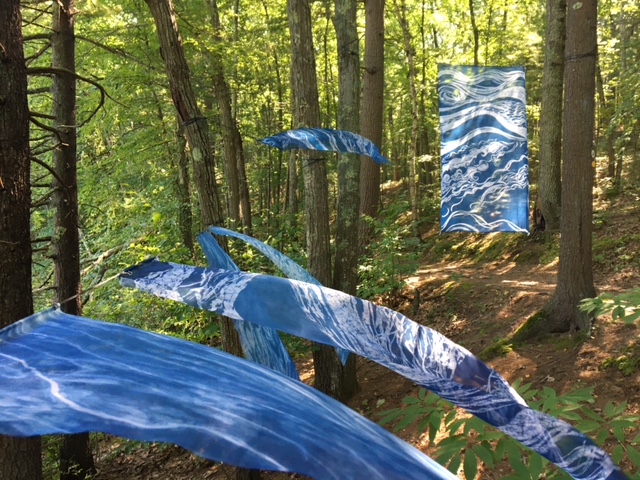 Shibori and rozome wax-resist dyed cotton and silk organza, indigo dye
Bio
Kiyomi Yatsuhashi has been working with Japanese textile techniques including rozome, katazome, shibori and aizome indigo dyeing for more than 20 years. Her work includes traditional crafts such as kakejiku scrolls, kimono and yukata, as well as large scale mixed media installations, and collaborations with visual and performing artists. Yatsuhashi studied Fine Art History at Tufts University, Studio Arts (printmaking, ceramics and mixed media) at the Museum School (SMFA), and Japanese textile dyeing at Kyoto City University. She has exhibited and collaborated extensively in Japan, Korea, Germany and the United States.
Artist Statement
My textile installation Windblown reflects the flow and energy of air as seen in pattern and movement in nature. As long as I can remember, I have been sensitive to air quality, and the growing concern of its significance to our personal and environmental health. As I pass by different pathways and terrain through Hapgood Wright Town Forest, I feel the changes in the temperature and quality of the air. I hear it rustle in the trees and see it moving all around me. With my flowing textiles, I hope to heighten your sense of wonder of these natural elements which are so key to the harmony and make-up of the Earth.
[audio]