Spring/Summer Classes Brochure Published
March 1, 2019 by Stewart Ikeda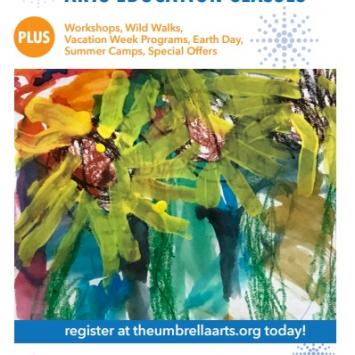 Registration Now Underway
The Umbrella Arts Education and Arts & Environment Programs have announced the release of the Spring/Summer 2019 Classes Brochure, listing the new classes and workshops coming up for youth and adult students. Registration for both terms is now underway.
The brochure also details an expanded range of youth summer camp options. This year, in addition to the popular Summer Arts Under the Umbrella camp and the hybrid Arts & Rec Camp offered jointly with the Concord Rec Dept, we're pleased to announce the launch of the new Ninjas in Nature Summer Camp, offered by The Umbrella Arts & Environment on the campus of Nashoba Brooks School.
Also featured are a whirlwind of creative activities surrounding EARTH MONTH, and several special offers including early-bird savings on April Vacation Week Art Explorers Program, this year's themed "Green Week".
The download/share a PDF of the brochure, click here.