2019 Art Ramble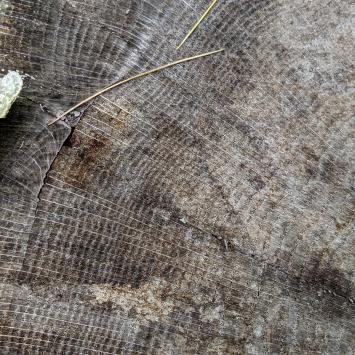 2019 Art Ramble: Witnessing Change
Call for Art
Submissions due July 7, 2019
Exhibition: September 1 - November 1 2019, Hapgood-Wright Town Forest, Concord, MA
Curated by Jess Muise and Nancy Lippe
About The Art Ramble
The Art Ramble is an outdoor public art installation in the Hapgood Wright Town Forest in collaboration with the Concord Natural Resources Division. The Umbrella's Musketaquid Arts & Environment Program is seeking work from artists that interrogate this year's theme of witnessing diversity in a changing climate.
The Call
As truth is increasingly manipulated and deconstructed and our experiences increasingly mediated through technology, we seek to be grounded in authenticity and connection. Forests are a living legacy to the history of a community. By bearing witness to important events, our forests create a sense of place, grounding us in our connection from the present to the past. 'Witness trees' can help us track changes in our forests like evidence, opening a window into ecological time, understanding our impact and our inextricable connection to a diverse ecosystem.
What does it mean to witness? To look-on as passive bystanders? Or does witnessing require our participation, an embodied and physiological 'bearing'? A sort of radical presence, seeing and acknowledging the presence of others - a beholding of all entities, past and present. A practice of noticing what needs attending to in order to widen our ability to hold onto for diversity in its complexity. How can witnessing ourselves and each other and the landscape transform this moment? What do we affirm (or not) by taking action (or not) in response to what we have witnessed? For whom will we stand, for what will we testify? 
We are seeking diverse responses to this theme, and are particularly interested in proposals that enlist the Hapgood Wright Town Forest and the public as key collaborators (perhaps corroborators!). Site-specific works made of natural materials or other media, as well as clearly interactive public art pieces are strongly encouraged. 
Perhaps the work records witnessing the seasonal change, invites nominations for witness trees, engages attendees in cultivating their attention, or invites our joy and connection. Will the audience be enlisted as corroborators, their act of witnessing essential to the work? Must they choose to be active, testifying to another their experience? What physical traces or artifacts on the site act as evidence of what the forest has witnessed? How is the work connected to the history of this place? Is the amble itself, a movement towards presence as witness, our wandering with wonder and delight through the forest? Can witnessing be a liberating practice?

Visit the Hapgood-Wright Town Forest in Concord, MA
Interested artists are invited to attend a guided walk with the curators, schedule permitting, prior to the application deadline. Please contact Jess Muise if you would like to set something up via email at jess@theumbrellaarts.org.
Independent exploration of the site prior to creating a proposal is encouraged. Additional information regarding the installation site may be found in the Hapgood-Wright Town Forest Guide at the following URL: 
https://www.concordma.gov/DocumentCenter/View/2090/Hapgood-Wright-Town-Forest-Trail-Guide
Here is the map of the group site-walk on June 12 for reference and notes on the most commonly walked and used parts of the trail for this exhibition. Let us know if you have any questions at all about the site or your submission!
To Apply
Email the following to jess@theumbrellaarts.org by July 7 2019, 11:59PM.
Resume
Project Statement: outline what you envision and accomplish with this work as informed by the site and interactions with the public (500 words)
1-2 visual images illustrating the proposed piece / design drawings / photo of a model of the proposed installation/art piece
Link to an online portfolio of past work and projects, or 5-10 high resolution JPEG images of past artwork and projects labeled: LastName_FirstName(1) include an image List with dimensions, medium, date. For time-based media, 3-5 video/sound recordings or writing samples of relevant past projects.

Exhibition Information
Selected artists will be notified by July 15, 2019. Selected artists will be awarded a small honorarium. Work must be installed August 18 - 31. The exhibition will be on view September 1 - November 1 2019. Please note this is a Leave No Trace exhibit; from installation to dismantling, nature must be left intact and all materials brought to the site must be removed at the end of the show. The Umbrella receives 30% commission on any works sold in the exhibit. By submitting a proposal, artists acknowledge The Umbrella Community Arts Center and the Concord Natural Resources Division assumes no liability for artwork on the property during the exhibition.
DEADLINE FOR ENTRIES JULY 7, 2019, 11:59PM