2019 Art Ramble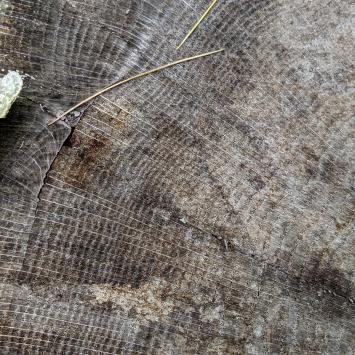 2019 Art Ramble: Witnessing Change
Exhibition: September 1 - November 1 2019, Hapgood-Wright Town Forest, Concord, MA
Curated by Jess Muise and Nancy Lippe
About The Art Ramble
The Art Ramble is an outdoor public art installation in the Hapgood Wright Town Forest in collaboration with the Concord Natural Resources Division. Work in this exhibition responds to this year's theme of witnessing diversity in a changing climate.
Participating Artists
Public Programs
Opening Reception: Friday September 6, 4:00-6:00pm
Full Moon Walk: Sunday October 13, 6:00-8:00pm
Curator Walks: Friday September 6, 3:00-4:00pm and Tuesday October 1, 12:00-1:00pm & 5:30-6:30pm
If you are visiting the exhibition with a group, please contact us to see if a staff member or volunteer is available to introduce the exhibition or walk with you.
Curator Statement
As truth is increasingly manipulated and deconstructed and our experiences increasingly mediated through technology, we seek to be grounded in authenticity and connection. Forests are a living legacy to the history of a community. By bearing witness to important events, our forests create a sense of place, grounding us in our connection from the present to the past.
What does it mean to witness? To look-on as passive bystanders? Or does witnessing require our participation, an embodied and physiological 'bearing'? A sort of radical presence, seeing and acknowledging the presence of others - a beholding of all entities, past and present. A practice of noticing what needs attending to in order to widen our ability to hold onto for diversity in its complexity. How can witnessing ourselves and each other and the landscape transform this moment? What do we affirm (or not) by taking action (or not) in response to what we have witnessed? For whom will we stand, for what will we testify?
We invite you to explore this theme, seeing the Hapgood Wright Town Forest as a corroborator. What physical traces or artifacts on the site act as evidence of what the forest has witnessed? How is the work connected to the history of this place? Is the amble itself, a movement towards presence as witness, our wandering with wonder and delight through the forest? Can witnessing be a liberating practice? We welcome your witnessing, participation and reflection.
More about Participating Artists and Installations
Delanie Wise - The Five Endangered
Delanie Wise is a potter and ceramic artist. While her work initially started in the realm of functional pottery, such as bowls and teapots, she eventually expanded her work into fine arts and has experimented with form, figure, and media.  This is Wise's second appearance in Art Ramble, on top of the many other exhibitions she has participated in before.
Wise's piece explores stewardship of endangered species native to the region through a ceramic installation.
www.delaniewise.com 
Freedom Baird - Exhortation
Freedom Baird is a sculptor and installation artist with a background in the performing, visual, and media arts. Much of her work involves the relationship between humans and nature, and has recently been inventing objects that blur the supposed line between humans and nature. Baird has featured in several exhibitions, and has given a number of lectures, presentations, and workshops on a variety of topics.
Baird's piece Exhortation places in close proximity: a tree, a person, and a text. In this activated space a visitor is invited to witness, to exhort, to become more aware.
https://freedombaird.org/ 
Jen Fuchel
Jen Fuchel is a fine artist, graphic designer, and associate professor at Suffolk University. She works in a broad range of media, both within the traditional and digital parameters of art, and encourages others to develop technical skills with various media as well. Much of Fuchel's work is nature-based, and she has been involved in several exhibitions and collaborative projects.
Fuchel's piece asks the viewer to witness themselves in the landscape amongst the pine trees, inviting a change of perspective for viewers.
http://www.niftyarts.com/ 
Karen Krolak & Nicole Harris
Karen Krolak is a free-range collaborator and mentor based in Boston, as well as the founder and artistic director of Monkeyhouse, a nonprofit choreography organization. Her choreography has featured in many events such as concerts, musicals, films, and site-specific exhibitions. Krolak has guest-taught at several institutions and schools, and has participated in several group exhibitions.
https://karenkrolak.com/
Nicole Harris is the co-founder, board president, and engagement director of Monkeyhouse, a nonprofit choreography organization. She first professionally presented her choreography at the age of nineteen, and has since shown her work in shows and exhibitions across the country. In Massachusetts, Harris works with high school and college theater and dance programs.
Krolak and Harris will bring their socially-engaging performance piece inviting visitors to remember the names of the lost and forgotten.
https://www.nicolemarieharris.com/ | @monkeyhouselovesme
Karin Sanborn - I write your name
Karin Sanborn is a site-specific and performance-based artist and sculptor. Much of her work is focused around wildlife, whether they be plants, animals, or microscopic organisms. Sanborn's work has featured in both group and solo exhibitions, and she has led a number of classes and collaborative projects.
Sanborn's installation I write your name is a series of sculptures "written" with a 3D pen with PLA resin, of living species lost from the dictionary.
https://karinsanborn.com/ | @universeofkarin
Lara Wilson - Forest Bathing
Lara Wilson is a published author and holistic practitioner. She is the founder of Be Well Be Here, a non-profit mindful wellness collaborative that educates people on holistic health. Wilson's experience as an author, teacher, and holistic practitioner has allowed her to partake in literary and educational events across the country.
Wilson's pieces are a series of mindfulness experiences, including forest bathing, walking meditation, grounding meditation, rambling with intention, and mindfulness and witnessing change.
https://bewellbehere.org/
Leah Medin
Leah Medin is a visual artist who works in a wide variety of media, including fibers, paint, sculpture, and photography. She is currently the weaving studio supervisor at Gateway Arts in Brookline.
Medin's piece will bring an installation of metal and fabric to interact with viewers and the landscape, an interplay between movement and stillness.
https://leahmedin.com/
Lisa Link
Lisa Link is a photography-based visual artist and a senior web designer at UMass Boston. Much of Link's work is community-oriented, and she has engaged with communities for many of her public works. This is Link's third year of participation in Art Ramble, and she has also participated in several other solo and collaborative exhibitions throughout her artistic career.
Link's installation is an art-based geocache for Hapgood Wright Town Forest, inviting visitors to participate in this community mapping/adventure practice.
https://www.creativeground.org/profile/lisa-link?page=1
Liz Helfer - Nesting
Liz Helfer is a mixed media and cast metal sculptor specializing in cast iron. Helfer's works are narratively-focused, and she draws a lot of inspiration from western folklore and fairy tales when creating her art. Helfer has shown her work in many exhibitions, and her artistic career has taken her across North America and Europe.
Helfer's sculpture Nesting comes from a place of fear and appreciation for nature's wonders. Created out of a need to explore themes of impending motherhood during a time of environmental peril, the process of building this sculpture was a coping mechanism. 
http://www.elizabethhelfer.com/
Max Payne - Trees Dreaming
Max Payne is a painter and mixed media sculptor working out of the studios at The Umbrella. She serves on the gallery committee as curator and exhibition designer.
Payne's delicate work asks us to ponder whether trees dream, and if they do, of what?
https://theumbrellaarts.org/person/max-payne
Nancy Winship Milliken Studio - Earth Press Project: Witness (excerpts)
Nancy Winship Milliken is an installation artist specializing in environmental and site-specific sculptures. She has worked in a variety of media and natural materials, and creates pieces that interact with environments and change over time. Milliken, along with her studio team, has created several installations all over the world.
The Nancy Winship Milliken Studio's piece is a series of adobe blocks imprinted with various publicly-generated words in response to the question, "What change would you like to witness today as inspired by or in response to the events that took place on this historical landscape?"
https://www.nancymilliken.com/ | @nancywinshipmillikenstudio
Paul Angiolillo - Three Dryads and Sky Watcher
Paul Angiolillo is a sculptor who creates both functional objects and art pieces. While he has worked with various materials, Angiolillo primarily sculpts with wood. Along with the many other solo and group exhibitions he has participated in, this is Angiolillo's second year in Art Ramble.
Angiolillo's pieces are playful activations of the landscape carved from natural materials.
https://www.paulangiolillo.com/
Paul Ruhlmann - I seek the blessing of the trees
Paul Ruhlmann is a professional woodworker specializing in rustic furniture. He teaches woodworking classes at Buckingham Browne and Nichols School in Cambridge, and he has published articles and videos for Fine Woodworking. Ruhlmann has created furniture and sculptures for galleries and private collections, and this is his second year of participation in Art Ramble. He currently works ouf of the studio spaces at The Umbrella.
Ruhlmann's piece is a handcrafted bench for forest bathing or exhortations, bearing the inscription, "I seek the blessing of the trees."
https://theumbrellaarts.org/person/paul-ruhlmann
Rebecca Tuck - The Clootie Wishing Tree
Rebecca Tuck is an artist and collector who creates sculptures using found objects and mixed media. Her work is narratively-oriented, and often revolves around the hidden pasts of found objects washed up from the sea. Tuck is a recent graduate from Massachusetts College of Art and Design with a BFA in Sculpture.
Tuck's piece invites visitors can hang pieces of fabric with their thoughts and wishes written on them.
https://www.rebeccamcgeetuck.com/
Sophia Dilibero
Sophia Dilibero is a sculptor and poet. Dilibero's large installation is an interactive piece emphasizing the idea that the little sustainable things we do have a huge impact on the environment, and that our individual actions can grow into something great.
Related