Performing Arts Camp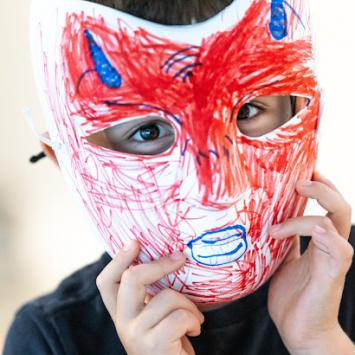 THE UMBRELLA PERFORMING ARTS CAMP 2022!
The Umbrella Performing Arts Camp is the perfect program for students that enjoy performing & making art.
This 2 week camp program immerses students in all aspects of the theatre from creating and performing an original play to building & painting set pieces and prop making. At the conclusion of the 2 weeks the original play will be performed for an audience of family & friends on our Main Stage Theatre!
Open to all students ages 8-14 regardless of acting & theatre experience. Guaranteed featured roles for every student with no auditions.
This program includes all of the typical popular art making disciplines of: Woodworking, Ceramics, Painting and more in addition to acting & performing! The mornings will be spent creating the set, props and costumes for the show while the afternoons will be spent building their acting skills through: Acting Techniques, Voice & Movement, Character Development, Theatre Games and more.
Session 1 July 11 – 22: REGISTRATION IS CLOSED
This session's performance will be inspired by the camp week theme of "Artistic Aces Solving Cases". If you have ever imagined being a spy or solving mysterious cases this week will allow you to perform a mystery on stage. Performance will occur in the evening on Friday July 22.*
Registration Closes: Sunday June 19, 2022
Session 2 August 1 – 12: 
This session's performance will be inspired by the camp week theme of "Time Travel: Art Throughout Time". If you have ever wanted to travel through time into either the past or the future this week will allow you to perform a time traveling tale on stage. Performance will occur in the evening on Friday August 12.*
Session 2 Registration
Session 2 Extended Day Registration
Registration Closes: Sunday July 10, 2022

*More performance details to come!
AGES: 8-14 years (Grades 3-8)
Students enrolled may be separated into smaller groups throughout the day based upon the activity. This is to ensure age appropriate programming and will be adjusted when necessary at the discretion of the Camp Director and Show Directors. In general all students enrolled in the performing arts camp program will work together throughout the day and are guaranteed to rehearse and perform together.
PROGRAM HOURS:
Students enrolled in the program must attend camp Full Day for both weeks of the 2 week program.
Full-Day: 9:00am - 4:30pm
Includes two morning art classes in a variety of different media, followed by lunch and then performing art classes in the afternoon. Full day students must be provided with a NUT-FREE lunch from home for the mid-day break & NUT-FREE snacks for a mid-morning & mid-afternoon break. Weather permitting we eat lunch at Emerson Field, where they can have outside play time!
Tuition: Before / After April 1st = $1200 / $1250
REGISTRATION DETAILS
HOUSEHOLD SIBLING DISCOUNT:
A tuition discount of 5% off additional registrations is available when two or more children are registered for the same week(s).

EARLY REGISTRATION BENEFIT:
Register now and save! Before April 1st : $1200 | On or after April 1st: $1250
Tuition Assistance: A limited amount of tuition assistance is offered by The Umbrella through the Babette Newburger Art Education Fund to cover partial tuition costs for families in need. Application and approval are necessary. Awards are made first come, first served on a rolling deadline. Please contact the Education Director at 978.371.0820 ext. 202 for more information.
WAITLIST OPTION:
Should a camp week sell out, we will open a waitlist. We encourage interested families to register for the waitlist option, as spots may open up and/or more spots may be added depending on staffing and final program enrollment. If you have any questions about the waitlist please contact rebecca@theumbrellaarts.org.

LATE REGISTRATIONS:
Registrations will close 11:59pm EST on Sunday, 3 weeks prior to the start of the respective Summer Program week. Registrations after a deadline date may be accepted on a space available basis with an additional fee of $50. Parents must contact The Umbrella office by phone or in person and be ready to make payment at the time of registration and complete all of the required camp forms.
WITHDRAWAL FEES:
Tuition, less a $50 registration fee, will be refunded if the request is made PRIOR to the registration deadline for the week for which the registration was intended to begin. 50% of tuition payments may be refunded on a case by case basis after a registration deadline up to the start of each camp week. On or after the first day of each registered camp week, no refunds are given. In the case of an accident or illness, please contact the Umbrella office. We may be able to arrange a later start date.
EXTENDED DAY:
Extended Day is available as an add-on for students enrolled in the Full Day Performing Arts Program. Extended Day is a combined afternoon program we run for students enrolled in all of the Summer Arts Under The Umbrella Camp Programs from 4:30pm-6:00pm daily Monday-Friday. Tuition is $100 for all week (Monday-Friday) and can be purchased as an add-on with camp registrations. If you have any questions regarding our Extended Day Afternoon please contact The Umbrella office.
SUMMER ARTS UNDER THE UMBRELLA - CAMP POLICIES AND AGREEMENTS
***Note: Programming is subject to change as new safety protocols are put in place***
Questions?
For additional questions about Summer Camp contact:
Rebecca Campbell, Camp Director at rebecca@theumbrellaarts.org or 978-371-0820 x200
Camp must comply with regulations of the Massachusetts Department of Public Health and be licensed by the local board of health. The Umbrella will be following the most up-to-date COVID-19 safety guidelines.