Frequently Asked Questions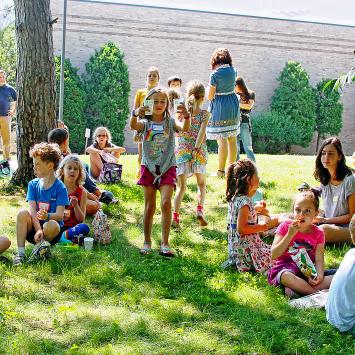 What is the difference between SAUU and Summer Arts @ Home?
SAUU (Summer Arts Under The Umbrella) is our flagship in-person summer camp. Campers enrolled in either the SAUU full-day or half-day will spend all of their time at The Umbrella participating in arts-based classes and activities. 
SummerArts@Home is our virtual program and take-home summer activities program. Those enrolled can participate from home in synchronous and asynchronous online classes and have access to a variety of arts-based activities.
What health & safety measures are being taken this Summer?
Our Camp Administration will be continually researching and receiving training on the best Covid-19 practices prior to the start of camp. Some of the resources and guidelines we are following are:
CDC's Guidelines for Youth and Summer Camps 
American Camp Association Field Guide for Camps on Implementation of CDC Guidelines 
Massachusetts Minimum Requirements for Child Care and Youth Serving Programs 
Town of Concord Board of Health Camp Requirements for Licensure 
As more details and recommendations from the State of Massachusetts and CDC develop, our specific plans may change to comply with the most up to date guidelines.
Access to our full Covid-19 Health & Safety Procedures & Policies is here: Covid-19 Health & Safety Procedures & Policies
Are there any forms or documents I need to fill out?
For SummerArts@Home only class registration is required for participation.
For SAUU – The following is required PRIOR to any child beginning their week of camp:
Immunization record that is up to date. 
A physician's note or record of a recent physical, signed by your child's physician. (Dated within 12 months of camp start)
Emergency contacts.
Health and medical questionnaire.
(if necessary) Medication Authorization Form.
These documents are mandated by the Board of Health for all Summer camps. No child will be admitted to camp without complete paperwork and no refunds will be issued.
The Umbrella has adopted CampDoc for camp.  We feel that this platform will provide families with convenience and security for the collection of health, medical, and emergency contact information.  All confirmed registrations will be invited to create a CampDoc account and use it to manage their children's camp forms.  The Concord Recreation Department as well as other local camps have adopted this same system. By The Umbrella joining this group we feel that it only adds to the convenience for parents in submitting camp forms.    https://www.campdoc.com/
Please note that all forms are required 4 weeks before the start of any camp week.
Are you able to give my child MEDICATIONS during camp?
We require explicit written permission and instructions to administer medications to your child. If your child will require medication during program hours, a separate medication consent form MUST BE COMPLETED with 30 days advanced notice. Any medication must be in its original bottle or container with a valid prescription label. Your child's name, physician's name and dosage amount must be clearly noted.  Medication Admiration Forms should be submitted through a CampDoc profile.  Contact The Umbrella office for further questions or concerns.
Who should I list as EMERGENCY CONTACTS?
Listed parents and guardians are always contacted first in the event of an emergency.
"Emergency Contacts" can be ADDITIONAL adults that are authorized to pick up campers and can be someone you wish to be contacted in the event of an emergency or situation. Most common emergency contacts are: babysitter, nanny, au-pair, grandparents, neighbors, or family friends, adult age siblings and relatives, for example. 
Which group will my child be in?
Generally*, groups will be divided as follows:
Full Day: Ages 5-7 (Generally Grades K – 2 )
Full Day: Ages 8-12 (Generally Grades 3 - 6)
Half Day: Ages 5-7 (Generally Grades K – 2 )
Half Day: Ages 8-12 (Generally Grades 3 - 6)
*groups are subject to change based on number of enrollments.
Will my child bring home art at the end of each day?
At the beginning of each week, your child will create and decorate a bag that will be used to transport all artwork home at the end of the week. Artwork will be brought home at the END of each week so that campers can easily keep their artwork and be inspired to make changes and modifications. Artwork bags once brought home, must remain at home. They cannot be brought back the following week due to health & safety protocols. 
Does my child need to have "artistic talent" to participate in SAUU?
No, the arts are for everyone!  Artists of all levels are welcome!  Learning, growing, and experimenting through art is at the heart of what we do. Our small classes ensure plenty of individual attention and a supportive, nurturing environment ensures that everyone will receive the guidance and assurance they need in order to succeed in the arts. 
What should my child bring with them each day?
If your child is participating in our Half-Day program, they should bring a personal bag with a NUT-FREE snack, water bottle, and extra face coverings. 
If your child is participating in our Full-Day program, they should bring a personal bag with 2 NUT-FREE Snacks, a NUT-FREE Lunch, water bottle, and extra face coverings. 
Will my child get to choose what they do each day?
A great aspect of Summer Arts Under the Umbrella is that children are exposed to as many art mediums as possible. This gives them a chance to discover the arts as a whole and discover new mediums they might not have the chance to experience otherwise!
I have two children who will attend camp together – do I receive a discount?
Yes!  We offer a Household Sibling Discount which gives a tuition discount of 5% off additional registrations when two or more children are registered for the same week(s).
Do you offer tuition assistance?
A limited amount of tuition assistance is offered to cover tuition costs for families in need. For more information email: education@theumbrellaarts.org
Financial Aid Request Form 2021 [Link Coming Soon]
Can my child be grouped with a friend?
Yes, we will do our best to group friends or siblings together as long as they are close to the same age & doing so aligns with current Covid-19 safety guidelines. This information should be brought to the attention of the SAUU Director as soon as possible in order for us to accommodate any request. Online registrants: Please put this request in the "Special Requests" section of the registration.
More questions?
For additional questions about Summer Camp contact:
Rebecca Campbell, Camp Director