Head Over Heels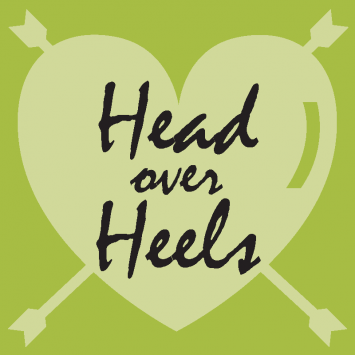 SEASON SUBSCRIPTIONSHEAD OVER HEELS
May 13th - June 6th 
 
Directed by Brian Boruta 

Presented on the Main Stage 

Head Over Heels is the bold new musical comedy from the visionaries that rocked Broadway with Hedwig and the Angry Inch, Avenue Q and Spring Awakening. This laugh-out-loud love story is set to the music of the iconic 1980's all-female rock band The Go-Go's, including the hit songs, "We Got the Beat," "Our Lips Are Sealed," "Vacation," Belinda Carlisle's "Heaven is a Place on Earth" and "Mad About You." 

A hilarious, exuberant celebration of love, Head Over Heels follows the escapades of a royal family on an outrageous journey to save their beloved kingdom from extinction—only to discover the key to their realm's survival lies within each of their own hearts. 
KNOW BEFORE YOU GO: For admission into the theatre, all event attendees (of all ages) MUST provide proof of full vaccination by showing an original vaccination card, a photo of the card, or a digital vaccine record. Anyone exempt from/ineligible to receive the vaccine or unable to verify vaccination status must present proof of a negative PCR COVID-19 test result taken within 72 hours of the time of entry OR a rapid test administered by a healthcare professional within 24 hours of the time of entry (self-administered at-home tests will not be accepted). Regardless of vaccine status, ALL patrons must wear a properly fitted CDC-approved face mask inside the building. The Umbrella will operate at limited capacity with distanced seating. We reserve the right to reseat patrons as needed in accordance with our COVID protocols. All tickets will be held at the box office to ensure the safest, most accurate experience for all patrons. These policies are in effect as of September 23, 2021 and are subject to change.
Our 2021-2022 Season was created in collaboration with members of The Umbrella Stage family, including Board, Staff, Directors, Designers, and Performers. We would like to extend our deepest thanks for their time, insights, and perspectives. 
Michelle Aguillon, Director 
Casey Carlson, Board Member 
SeifAllah Sallotto-Cristobal, Lighting Designer 
Shani Farrell, Performer 
Stewart Ikeda, Director of Marketing and Communications 
Kara Chu Nelson, Performer 
Barbara Pierre, Performer 
Jerry Wedge, Executive Director 
Nancy Curran Willis, Director 
Eileen Williston, Director of Development 
Deb Yamin, Board Chair