Pop Punk Revival Finds Its Beat on The Umbrella Stage in Head over Heels
April 13, 2022 by Pam Ellertson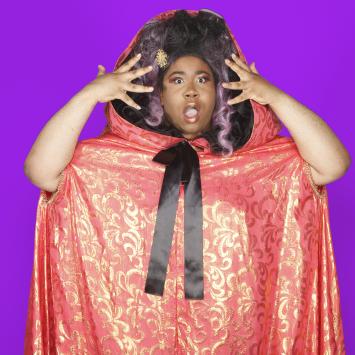 Article by Pam Ellertson 
Hitting The Umbrella's stage April 15th is Jeff Whitty's juke box musical Head Over Heels, which juxtaposes some of the Go-Go's most iconic pop-punk classics against a book originally published in 1593 -- an unexpected pairing to say the least. But after watching an earlier production of the two-act show and finding it impossible to go without laughing or dancing for longer than three minutes, one wonders if the Oscar-nominated and Tony-award winning playwright, screenwriter, and actor was challenging himself.
When Head Over Heels premiered in 2015 at the Oregon Shakespeare Festival, Whitty defined a jukebox musical as setting an existing sound catalogue to story. He referenced hits like Mama Mia and Jersey Boys as examples. The idea for Head Over Heels came to him when he was offered the Go-Go's music catalogue but did not want to place the story in the 1980's, the era the Go-Go's rose to fame, becoming founders of the pop-punk genre in the process. Remembering a Renaissance novel he read while a student at the University of Oregon, The Countess of Pembroke's Arcadia by Sir Philip Sidney, however, he wondered if setting the show in the late 1500's would work.
"It was just an idea," said Whitty in 2015. Talk about a throwdown.
The entire play is written in iambic pentameter, a writing structure favored by Shakespeare.
The goofy jokes woven into the script, however, which Whitty describes as "very, very third-grade sexual humor that if you get it, you get it," are anything but highbrow. When combined with jubilant songs like the show's opening number "We Got the Beat" and "Mad About You" the effect on one's feet and soul is gravity defying.
"My goal at the very beginning was to send the audience out absolutely giddy and absolutely with their hearts full," said Whitty while speaking on a panel at the Oregon Shakespeare Festival in 2015.
Full of strongly LGBTQIA-positive messages, the play is "bright, it is bold, and it is unabashedly brave in its celebration of love and identity," says director Brian Boruta.
In this (almost) post-pandemic world, pop-punk, described as songs with angsty lyrics and pop beats, is currently experiencing a revival. Not only are the Go-Go's themselves resurgent, as new Hall of Fame inductees back on tour. With the help of the video app TikTok, new artists like jxdn, Willow, and even former pop-punk stars from the early 2000's like Avril Levine are turning out music reminiscent of earlier pop-punk.
"Part of the Go-Go's formula, we like sunny, catchy melodies, and have a little bit of lyrical darkness to throw in there, to give it balance -- a yin-yang thing," said Jane Wiedlin, Go-Go's cofounder, rhythm guitarist, and backing vocalist, in a 2020 interview with Hillary Hughes for the National Public Radio show Turning the Tables.
When in 2018 TheaterMania asked members of the group which of their songs they were happy made the cut for Head Over Heels, Wiedlin again emphasized lyrics:
For me, when I heard "Good Girl" in this show I got so excited because we did that song, what was it 1994? And I always felt like nobody understands what it's about … so it was really about how girls, at least in our generation, were raised to be seen and not heard, to always be good, to never get angry, to keep everything stuffed inside, but then that message never got out there. But then, in this show, there's a character where she is exactly that person and then she gets to sing that song. So, every time I hear it, I start crying a little because now the song is fully realized and there is no way to miss the message of that song."
The show is about "what happens when the royal court of Arcadia is threatened by the mystical Oracle of Delphi with the loss of its "Beat," the divine power that ensures the kingdom's prosperity," according to TheaterMania. The audience accompanying the King's diverse court in its quest to keep its "beat" are in for a hilarious celebration of love and beauty in its infinite varieties.
The show runs from April 15-May 8 at The Umbrella Arts Center, 40 Stow Street, Concord.
Also of Interest