Head Over Heels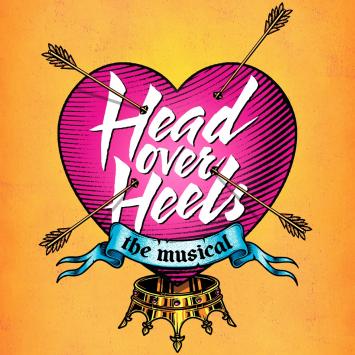 April 15 - May 8, 2022 (7:30 May 8 performance ADDED) 
Adapted by James Magruder
Concept and Original Book by James Whitty
Music by The Go-Go's
Directed by Brian Boruta
Head Over Heels is the bold new musical comedy from the visionaries that rocked Broadway with Hedwig and the Angry Inch, Avenue Q and Spring Awakening. This laugh-out-loud love story is set to the music of the iconic 1980's all-female rock band The Go-Go's, including the hit songs, "We Got the Beat," "Our Lips Are Sealed," "Vacation," Belinda Carlisle's "Heaven is a Place on Earth" and "Mad About You." 

A hilarious, exuberant celebration of love in all of its infinite varieties, Head Over Heels follows the escapades of a royal family on an outrageous journey to save their beloved kingdom from extinction—only to discover the key to their realm's survival lies within each of their own hearts.
NOTICE
Head Over Heels patrons impacted by April 29 & 30 and May 1 cancellations will be contacted by Umbrella staff. Goldstar and ArtsBoston ticketholders should contact those services directly. For more details, see https://theumbrellaarts.org/cancel
FEATURED
Head Over Heels @ The Umbrella from The Umbrella on Vimeo.
What Audiences Are Saying
"My wife and I saw #HeadOverHeels yesterday - it was TRANSCENDENTLY FABULOUS - GO-GO SEE IT!" - J.S.
"Absolutely sensational! We had a wonderful time. My husband said to me afterwards, 'We should come here for every production.' So, we will definitely be back!" - L.B.
"Full of laughs, dancing and great music, it's also a celebration of love in its many forms and acceptance...performed with high energy and great choreography." - B.E.
"This was a great show in every way; the costumes, fabulous, the dancing, fantastic, the music, phenomenal, the acting, superb. A must see!" - M.M.B.
Great fun! Killer voices. Go see this! - L.P.
"My heartfelt THANK YOU to the AMAZING cast, band, crew, and Umbrella Arts Center for a phenomenal performance....As a lifelong Go-Go's fan, I saw the Broadway show in NYC at the Hudson Theater and loved it. This production was beyond the Broadway show in every way. The voices, the acting, the venue, the humor the characters conveyed. It is impossible to see that performance and not leave in a better mood. THANK YOU for this stellar performance."
KNOW BEFORE YOU GO: Regardless of vaccine status, ALL patrons must wear a properly fitted CDC-approved face mask inside the theater. The Umbrella will operate at limited capacity with upgraded MERV-13 HVAC filters. We reserve the right to reseat patrons as needed in accordance with our COVID protocols. All tickets will be held at the box office to ensure the safest, most accurate experience for all patrons. These policies are in effect as of April 1, 2022 and are subject to change.
The Umbrella's full Covid safety guidelines can be found here.

Our 2021-2022 Season was created in collaboration with members of The Umbrella Stage family, including Board, Staff, Directors, Designers, and Performers. We would like to extend our deepest thanks for their time, insights, and perspectives. 
Cast
Damon Singletary* as Basilius
Katie Pickett as Gynecia
Bri Ryder as Pamela
Temma Beaudreau as Philoclea
Robert Saoud* as Dametas
Lillian Salazar as Mopsa
John Breen as Musidorus
Kai Clifton as Pythio
with
H.C. Lee
Erica Lundin
Ashley Nicole Martin
Isabella Rivera
David Rodrigues
Hannah Shihdanian
Staff
Produced by Brian Boruta
 
Directed by Brian Boruta

Music Directed by David Wright  

Choreography by Lara Banister

Stage Manager: Michael T. Lacey

Assistant Stage Manager: Nicole O'Keeffe

Sound Designer: James Cannon

Scenic Designer: Janie Howland
Lighting Designer: Ben Rush

Costumes Designed by Brian Simons and Johnny Cagno
Costumes provided by Emerald City Theatrical Costumes
Props: Sarajane Morse Mullins 
Dance Captain: Hannah Shihdanian
Technical Director: Al Forgione
Scenic Charge: Page Evett
Run Crew: Abi Lora and Nick Miller
Intimacy Director: Kayleigh Kane
Covid Safety Officer: Cathie Regan
Rehearsal Accompanists: Samantha Prindiville & Brandan Kenney