COVID-19 Updates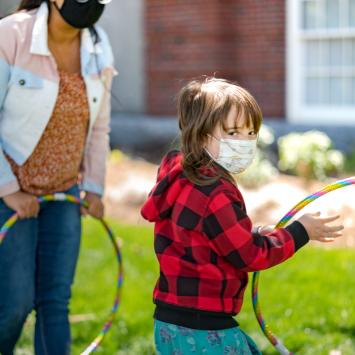 As we plan for a return to live productions and in-person classes, the well-being of our audiences, students, artists, staff and volunteers has been, and will continue to be, of paramount importance to our decision making and policies.
Alongside many of our regional colleagues across theaters, arts centers, museums, and educational institutions, The Umbrella is proactively enacting health and safety protocols to safeguard our communities against the coronavirus and delta variant. These policies will be in effect until further notice, are subject to change at any time, and will be periodically amended here according to public health guidelines from CDC and local boards of health.
The Town of Concord has issued the following guidance regarding face coverings in indoor spaces: "During the February 15th Board of Health meeting, the board voted to rescind the mask mandate effective 12:01AM on Wednesday, February 16, 2022. As such, masks are no longer required in indoor public spaces within the Town of Concord."
On April 27, 2022, the Town Health Division issued the further advice: "With a recent rise in COVID-19 cases locally and statewide, the Concord Health Division strongly encourages all individuals to wear a mask when gathering with others. Vaccinations and booster shots, especially for those over age 60 and immunocompromised, are also strongly recommended." 
In response to this public health guidance, The Umbrella will take the following steps with regards to events and activities:
Performing Arts:
Masks are recommended in the theatre. The Umbrella currently does not require proof of vaccination for admittance. If on the day of a performance or class you experience any COVID-like, cold-like, or flu-like symptoms, or simply aren't feeling well, please stay home and contact our office. The Umbrella offers a number of exchange and credit options and we are happy to work with you to adjust your plans. You can find more information about our exchange policy here.
Education Department:
Effective April 1, 2022: Masks and proof of full vaccination are no longer required for students participating in spring semester education programs. Exceptions may apply – see full COVID-19 policy for details. The Umbrella will continue to require proof of vaccination for all faculty, staff and volunteers.
Additional Policies:
The Umbrella recommends that individuals regardless of vaccination status should wear a properly fitted CDC-approved face mask indoors if you have a weakened immune system, or if you are at increased risk for severe disease because of your age or an underlying medical condition, or if someone in your household has a weakened immune system, is at increased risk for severe disease, or is unvaccinated. The Umbrella strongly recommends vaccination as the best way for an individual to reduce the risk of severe COVID-19 illness.
 
The Umbrella became a fully vaccinated workplace effective September 20, 2021. Staff, Contract Employees, and in-house Volunteers are required to sign an attestation certifying that they are fully vaccinated against COVID-19 (two weeks after second dose in a two-dose series or two weeks after a single-dose vaccine) as a condition of employment.
 
The Umbrella is operating in a new facility that was completed in 2019. We have a state-of-the-art displacement air HVAC system and our filters have been upgraded to MERV-13.
 
The Main Stage Theater will meet or exceed union requirements for a fully vaccinated workplace.
 
The Umbrella will continue to provide sanitizers, spare masks, and increased frequency of cleaning high-trafficked spaces.
 
The Umbrella Stage Company will make available eco-friendly, touchless digital Playbills in PDF and Flipbook editions, including enhanced content and special day of show partner offers.
PLEASE NOTE: We will continue to evaluate and update these policies as the situation evolves, and as such, these policies are subject to change at any time. We are most grateful to all of you who work to keep The Umbrella a safe place so we can all come back to our theaters and classrooms.
Updated April 29, 2022