Behind the Scenes with the Set Designer for Head Over Heels!
April 13, 2022 by Stewart Ikeda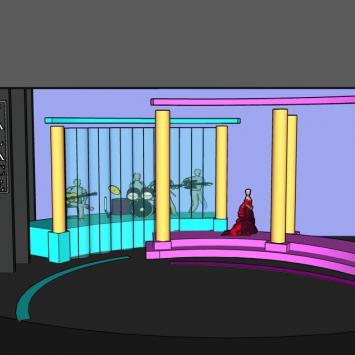 The Umbrella is thrilled to welcome back Set Designer Janie Howland to bring the boisterous world of Head Over Heels to life.  As the production gets ready to open on Friday night, April 15, we were lucky to grab a few minutes together…and a sneak peek of the magic happening behind the scenes. Janie had to get back to the stage quickly so we asked her 3 questions in 3 minutes…
1.      What excited you about working on HOH? 
I was excited to come back to The Umbrella after the shut down and cancellation of War Paint. (Canceled due to COVID.) I am especially excited to work with Brian Boruta as the director. 
2.      Has there been any particular challenge in designing HOH?
I usually lean toward designing darker dramas, so an over-the-top musical is challenging for me. I am not used to such bright colors! 
3.      Can you share one moment, element, or secret that audiences should be looking for in your design for HOH?
Look for gender symbols in the topiaries….. and always look for the rainbows!
Thank you, Janie!  And if we can squeeze in just one more…In 10 words or less, let audiences know why they don't want to miss HOH…
Your mood will surely be lifted by the splash of this very colorful musical. 
We can't wait to see you at the theater!
More about Janie: Janie Howland is a member of United Scenic Artists, Local USA 829 of the IATSE, the union representing Scenic, Costume, Lighting, Sound and Projection designers in Live Performance. At The Umbrella, she previously designed Tuck Everlasting. Other recent designs include Book Of Will, Be Here Now (Lyric Stage); Richard III (Bridgewater State University), Charlie Brown (Prescot Park Arts Festival), Baskerville (Gloucester Stage), and Firebird (Abilities Dance Boston). A four-time Elliot Norton Award winner, and four-time IRNE Award winner, she is an adjunct faculty member at Emerson College and Wellesley College, a Stage Source Board member, and founder of the prop co-op.